Drunken Noodles Recipe - Pad Kee Mao
If you love noodles, then this Drunken Noodles Recipe will soon become your favorite. These noodles are made sweet, spicy and tangy and perfect to for a weekend dinner along with a Thai Papaya Salad and a Curry of your choice.

Archana's Kitchen
On

Sunday, 07 October 2018 09:00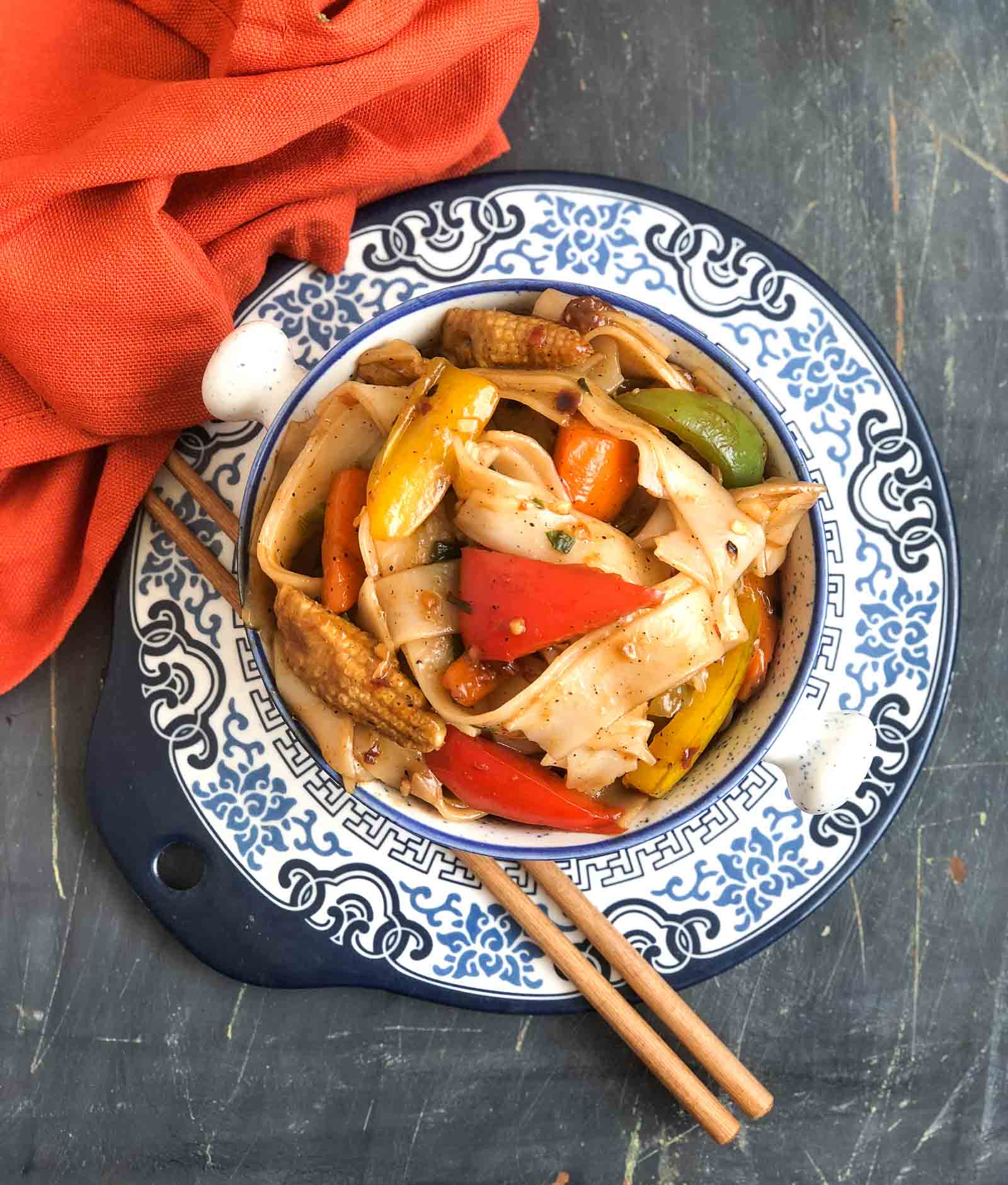 Drunken Noodles Recipe is a Thai style flat rice noodles, that is tossed with vegetables and made saucy with the addition of ingredients like soy sauce, fish sauce, sriracha sauce and honey.
Slippery flat noodles, crunchy vegetables and flavourful sauces all in one dish, that are bursting with flavours, in the first bite you take.
A great way to camouflage vegetables and serve it to your kids , as most kids absolutely love noodles.
Serve Drunken Noodles Recipe along with Thai Basil Chicken Recipe-Pad Krapow Gai or Sweet And Spicy Thai Style Paneer Recipe for a simple weekend meal followed by a dessert of Tender Coconut Ice Cream Recipe
Try our other Noodle recipes:
Ingredients
200 grams

Rice Noodles (Flat)

1/2 cup

Baby corn

, cut into diamonds
1/4 cup

Red Bell pepper (Capsicum)

, cut into diamonds
1/4 cup

Yellow Bell Pepper (Capsicum)

, cut into diamonds
1/4 cup

Green Bell Pepper (Capsicum)

, cut into diamonds
1/4 cup

Thai basil leaves

, roughly torn
1/3 cup

Spring Onion (Bulb & Greens)

6 cloves

Garlic

, finely chopped
1 inch

Ginger

, finely chopped
To make the drunken noodle sauce
1/2 tablespoon

Brown Sugar (Demerara Sugar)

1/2 tablespoon

Honey

1 tablespoon

Soy sauce

1 tablespoon

Fish sauce

1 tablespoon

Sriracha sauce
How to make Drunken Noodles Recipe - Pad Kee Mao
To begin making the Drunken Noodles Recipe, we will first boil the flat noodles.

Heat a saucepan with 2 cups of water, a pinch of salt and a few drops of oil, on high heat.

Once the oil comes to a rolling boil, reduce the flame to medium-high and add the flat noodles into it.

Allow it to cook for a couple of minutes, just about about soft, ensuring it does not get over cooked.

Turn off the flame and drain off the excess water using a colander.

Hold the colander under running water to cut off the heat and stop the cooking process of the noodles

Once the water is completely drained off, transfer the rice noodles to a bowl, grease your hands with cooking oil and run it through the noodles, to avoid the noodles sticking to each other.
To make Drunken noodle sauce
In a mixing bowl, combine the brown sugar, honey, soy sauce, fish sauce and sriracha sauce. To this add a tablespoon of hot water, mix well and set aside.

Getting ahead with Drunken Noodles Recipe; heat a wok with oil on medium flame, once the oil is hot add in the ginger and garlic and saute for about 30 seconds.

Into the wok add the onions and cook for about a minutes.

To the onions, add the red, green and yellow bell peppers along with the baby corn and stir fry on high heat until the vegetables are cooked, yet are crunchy when we bite into them.

At this stage add in the salt and the boiled rice noodles, and give the Drunken Noodles a good mix.

Finally add in the the Drunken noodle sauce and toss well for 3 to 4 minutes on high heat.

Turn off the flame and transfer the Drunken Noodles to a serving bowl and serve hot.

Serve Drunken Noodles Recipe along with Thai Basil Chicken Recipe-Pad Krapow Gai or Sweet And Spicy Thai Style Paneer Recipe for a simple weekend meal followed by a dessert of Tender Coconut Ice Cream Recipe