Eggless Herbed Focaccia Bread Recipe
A great appetizer that goes well with any kind of dips and also a perfect tea time bread to munch on.

roshni
On

Monday, 01 August 2016 00:10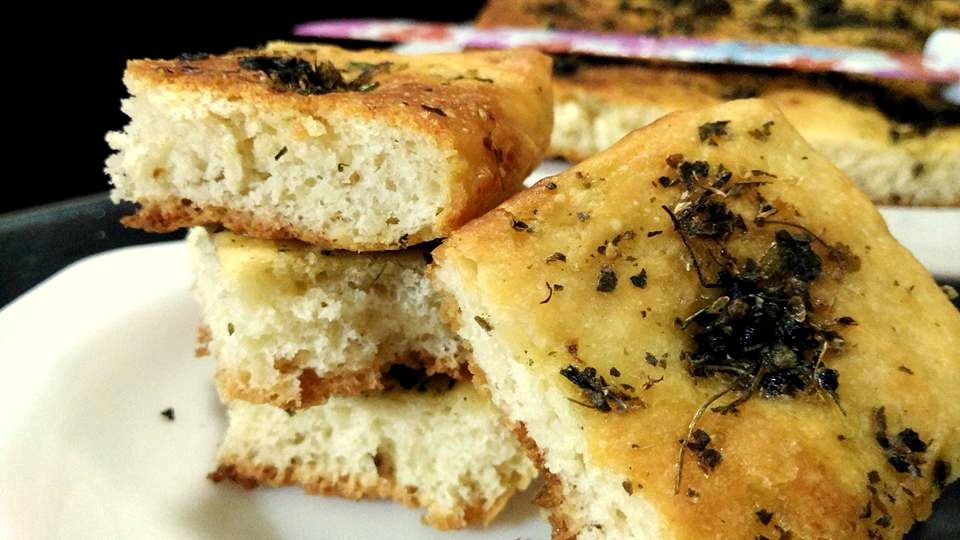 This Eggless Herbed Focaccia Bread makes a great tea time snack and as a side for pasta night. This is an easy recipe to make. The recipe requires 2 hours for doubling in size; but let me tell you, the wait is totally worth it! I could get it right in the first time baking. So could you!
Serve this Eggless herbed focaccia bread with Spicy Mexican Salsa Verde and Roasted Vegetable Pasta Primavera.
Have a look at the other bread recipes that we have
Ingredients
For the Dough
2 cups

All Purpose Flour (Maida)

1-1/4 cups

Milk

1 teaspoon

Sugar

1 teaspoon

Salt

1 tablespoon

Active dry yeast

1 teaspoon

Olive Oil

Cooking oil

, to grease the baking tray
For the Topping
2 tablespoon

Tulsi (holy basil)

2 tablespoon

Methi Leaves (Fenugreek Leaves)

, mint and coriander leaves
2 teaspoon

Kasuri Methi (Dried Fenugreek Leaves)

2 teaspoon

Dried oregano

Olive Oil

, as required
How to make Eggless Herbed Focaccia Bread Recipe
To prepare Eggless Focaccia Bread, get prep with all the ingredients. First take hot milk and add sugar to dissolve completely. Also, grease your Baking tray.

When the milk and sugar mixture reduces to lukewarm temperature, add yeast and mix well. Keep aside for at least 10 minutes so that the yeast is proven.

Mix dough and salt. Add oil and the proven yeast mixture.

Knead to make a medium tight dough.

Roll the dough to one-inch thickness. Cut the dough according to the size of your baking tray.

Place the rolled dough on the greased baking tray and leave it to prove for at least 2 hours.

Meanwhile, to prepare topping, heat the oil and sauté the chopped green and fresh herbs in it for about half a minute and keep the mixture aside.

Once the bread is proven for 2 hours and almost double size, preheat Oven for 10 minutes at 200 degrees Celsius.

Make depressions using the forefinger all over the bread about 1 inch apart.

Now put the topping mixture on the bread n spread it equally.

Place the baking tray in the oven and bake for 15-20 minutes. Check after 15 minutes and then continue for another 5 minutes if yet to be done. (If you are using an OTG oven, bake for 15 minutes in baking mode and 10 minutes in grill mode just to get golden color on the upper part).

Remove from the oven, cut the bread into squares and serve the eggless focaccia bread with Spicy Mexican Salsa Verde and Roasted Vegetable Pasta Primavera.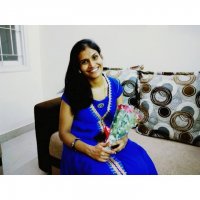 hi friendz... I am Roshni...a mother of two caring n sweet kids...truly a homemaker... Initially i am uploading some recipe pics in facebook,some of friends asking me how to prepare this.So thught to start a blog and it well goes for few years... With GOD's grace, now trying my hand in video recording in which my sweet daughter has a major support...just started uploading videos n continuously recording simultaneously ...sometimes my husband also do recording The main motto in video making is the viewer can more easily understand the recipe procedure and its more convenient...I got lots of support n love from my well wishers n frndz...relatives WAY to GO...