Eggless Orange and Apple Ice Cream Recipe

Pooja Nadkarni
On

Tuesday, 26 April 2016 00:15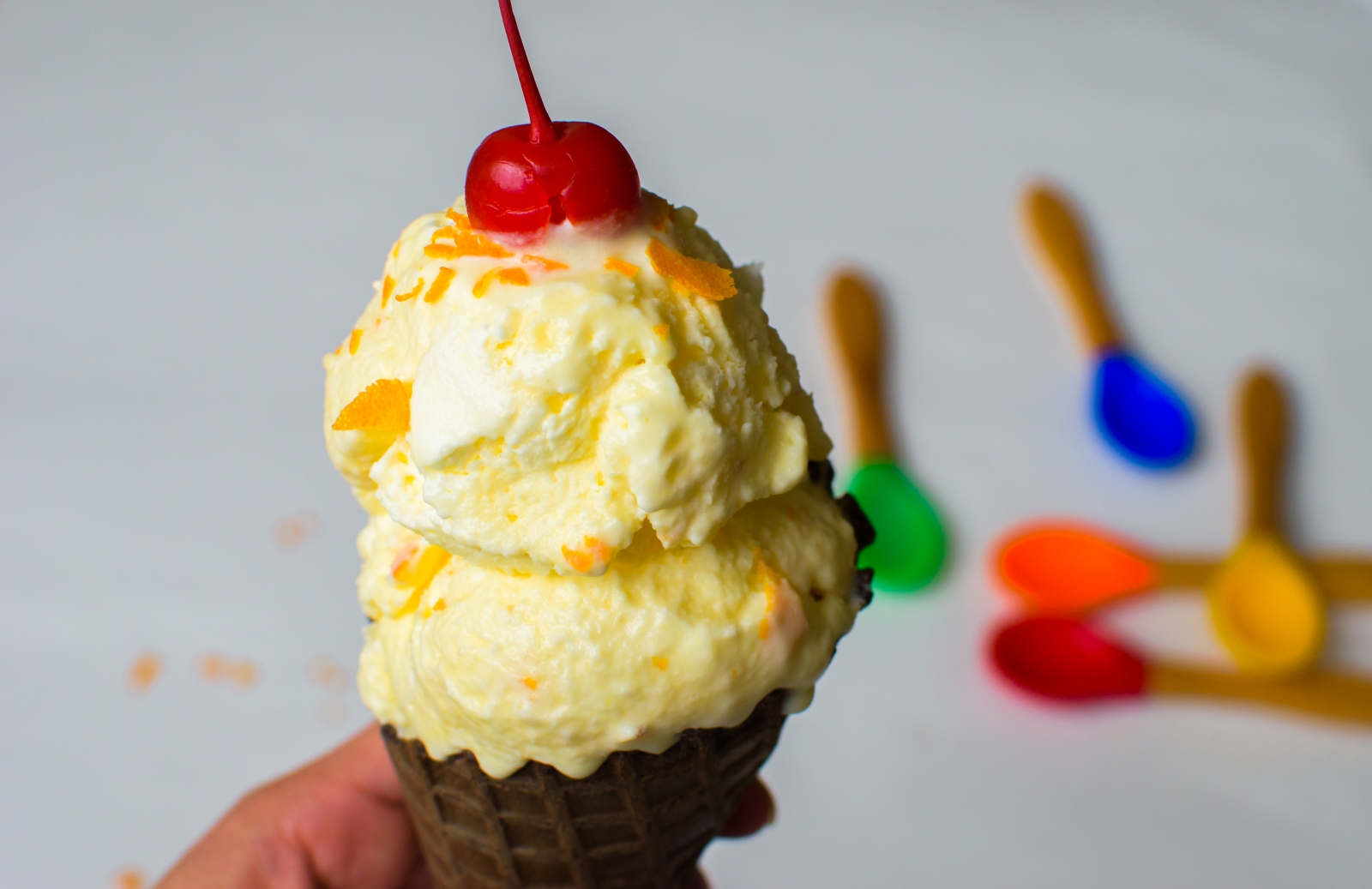 This Eggless Orange and Apple Ice Cream Recipe prepared at home beats the store-bought fruit ice creams hands down. The creamy dessert melts in the mouth with a delicious combination of Orange and Apple flavors. Its variation can also be created by combining fruits like Mango, Chickoo or Pineapple. Besides the taste, the satisfaction with the creation is all yours to enjoy!
Here are a few more fruit dessert delicacies to play frozen:
Ingredients
1/2 cup

Fresh orange juice

1 tablespoon

Orange Zest (Rind)

1/2

Apple

, peeled and cubed
1/2 cup

Condensed Milk

, sweetened
1 cup

Heavy whipping cream

4 tablespoons

Caster Sugar

1/2 teaspoon

Orange Zest (Rind)

1

Canned Cherries

, for garnish (optional)
How to make Eggless Orange and Apple Ice Cream Recipe
To begin making the Eggless Orange and Apple Ice Cream Recipe, prep and bring all the ingredients together and keep them ready to make the ice cream.

Blend orange juice, apple cubes, and condensed milk together in a blender. Pour the mixture into a bowl and fold in the orange zest. Keep aside.

In a big bowl, beat heavy whipping cream using an electric beater or wire whisk until stiff peaks.

Pour a half of the whipped cream into the blended mixture. Blend it by cutting and folding in further slowly using a spatula.

Once this is thoroughly mixed, add the remaining whipped cream into the mixture and repeat cutting and folding. There is no cause to worry even if the zest doesn't blend in completely since the mixture blends very well upon freezing.

Pour this ice cream mixture in a pan or a container. Cover the container (preferably with a silver foil) and freeze in the refrigerator for 5 to 6 hours.

Take the Orange and Apple Ice Cream out before 15 minutes of serving.

Scoop it out into a bowl or on a cone. Sprinkle some orange zest over it and press a Cherry atop the scoop (Optional step).

And here you present the refreshing homemade Eggless Orange and Apple Ice Cream with lots of goodness of fruits for your sweet tooth.