Eggless Red Velvet Beetroot Muffins Recipe
Try this fabulous recipe of Red Velvet muffins that are easy to make and healthy to eat. In this recipe we have used beetroot puree to add that dense "Red" colour that is so attractive in a Red Velvet Cake. Serve the muffin along with a warm cup of Gul Khan Chai and you can as well pack it for Kid's Lunch Box.

Navneet Kaur
On

Wednesday, 18 April 2018 09:00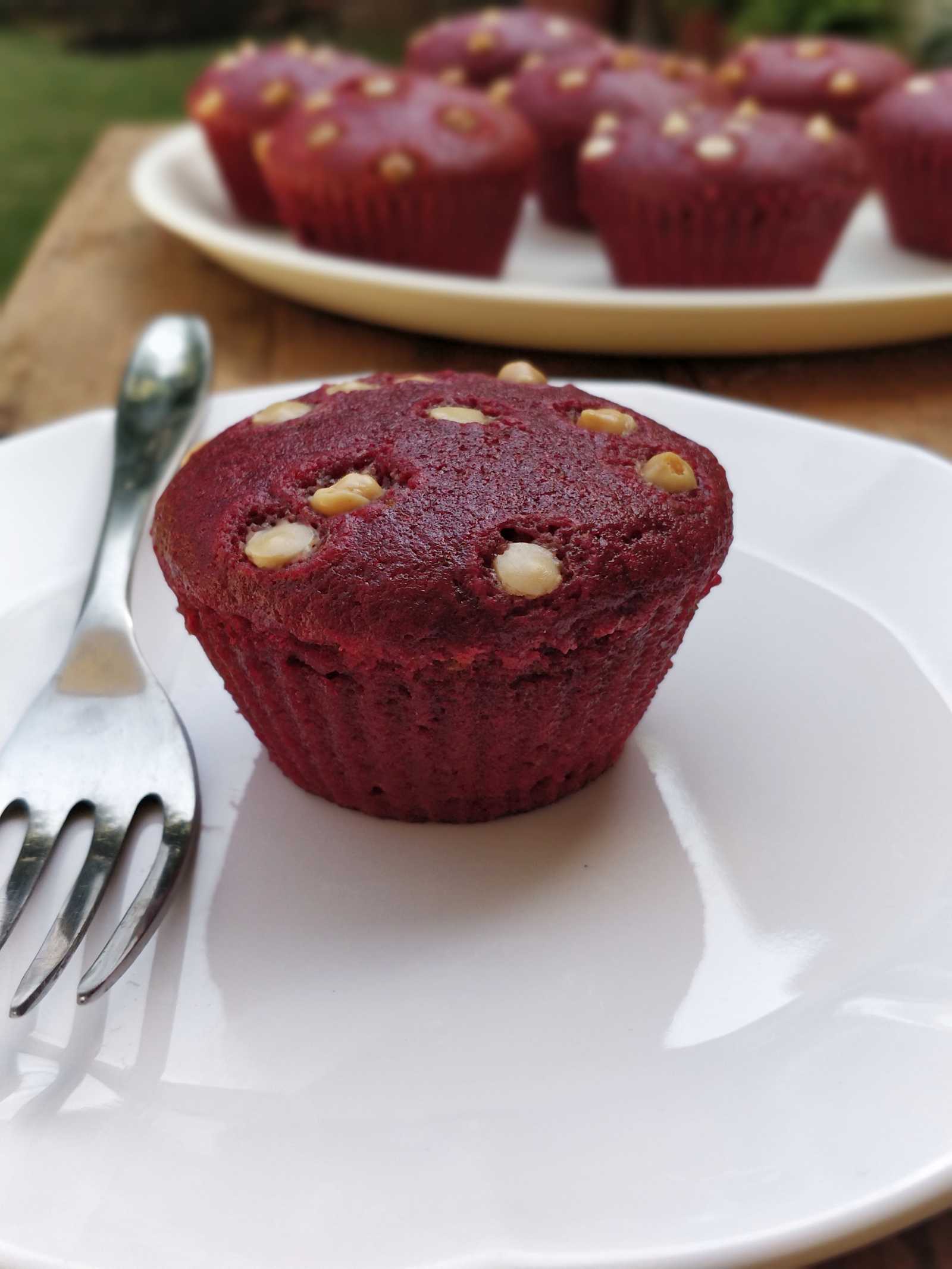 A brilliant and moist muffin recipe of Red Velvet Beetroot prepared with beetroot puree that gives it a deep red colour. This recipe of Red Velvet Beetroot Muffin is prepared without the use of red dye which is typical to a red velvet cake. Red Velvet comes with a distinct taste unlike the chocolate cake due to the acidity that lemon juice or vinegar provides, along with the mild sweetness that powdered sugar adds and a slight taste of cocoa.
Serve Eggless Red Velvet Beetroot Muffins along with a cup of Masala Tea or pack in as a snack in your kid's snack box
If you like this recipe of Red Velvet Beetroot Muffins, here are a few muffin recipes you can try
Ingredients
1 cup

All Purpose Flour (Maida)

3/4 cup

Sugar

, powdered
1-1/4 teaspoon

Baking powder

2 teaspoons

Cocoa Powder

1/4 teaspoon

Salt

1/4 cup

Cooking oil

1/3 cup

Curd (Dahi / Yogurt)

1/2 cup

Beetroot

, pureed (around 2 medium sized beets)
1 teaspoon

Lemon juice

, or Vinegar
1 teaspoon

Vanilla Extract

Chocolate chips

, a handful
How to make Eggless Red Velvet Beetroot Muffins Recipe
To begin making Eggless Red Velvet Beetroot Muffins, we have to first prepare the beetroot puree

To make the beetroot puree along with 1/2 cup of water in a pressure cooker for about 4 to 5 whistles. Once cooked well, allow it to cool and then puree the beetroot in a mixer grinder.

Measure 1/2 cup beetroot puree and keep aside. (only add a little water to the blender if necessary)

Put your oven on preheat at 180°C and line your muffin tray with cupcake liners.

In a bowl, sift together flour, cocoa powder, baking powder, and salt. Keep aside.

In another bowl, add curd and sugar, and beat it at high speed till sugar gets dissolved.

Next, add oil and vanilla essence to the curd mixture and beat till oil is well incorporated.

Now add the beetroot puree and lemon juice (or vinegar) and beat at low speed till everything is well mixed.

Next, add the sifted flour mixture in 3 parts and mix at lowest speed till just combined. Do not over mix the Eggless Beetroot muffin batter.

Pour the prepared muffin batter into the moulds and sprinkle some white chocolate chips on top.

Bake the Eggless Beetroot muffins at 180°C for about 25 minutes or until a toothpick inserted comes out clean.

Once done, take the Eggless Beetroot muffin out of the oven and keep them on a wire rack to cool down. Your Eggless Red Velvet Beetroot Muffins are ready to be served.

Serve Eggless Red Velvet Beetroot Muffins along with a cup of Masala Tea or pack in as a snack in your kid's snack box
These muffins takes a little longer than the usual muffins because of the added moisture from the beetroots.
Baking times also vary with ovens. So the best way to check if the muffins are done is to insert a toothpick or a knife and if it comes out clean then the muffins are done.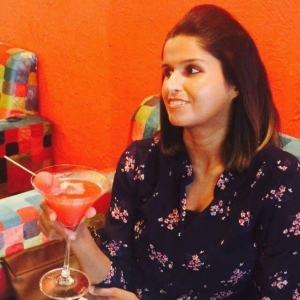 I have worked with Infosys for a year and a half, but due to some health issues, I had to resign from the job. After that I found solace in baking. Baking is therapeutic for me. In simple words, it makes me happy. As a kid, I always used to binge on the cakes which my mother used to bake on weekends. So my mother is the inspiration behind my love for baking. The best part is the appreciation you get when you cook something with so much love & passion. It's like instant reward. But the thing that really makes a cook happy is when someone gets inspired by you. And thats what I want to achieve. That's the reason I would like to share my recipes on this platform. You never know... who you might inspire!!