Flourless Mud Pie Recipe

Shyma Menon
On

Wednesday, 11 February 2015 16:07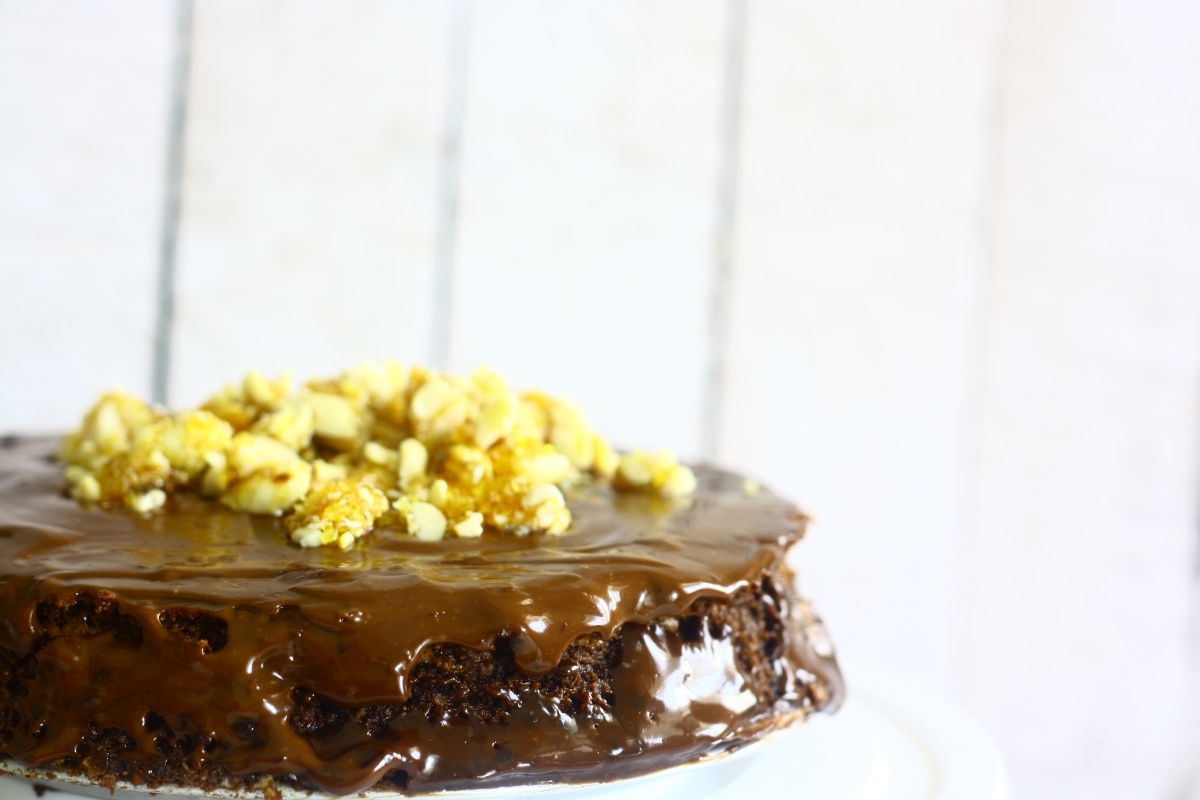 The Flourless Mud Pie Recipe makes a perfect dessert for Valentine's Day, that is a dessert that is drenched in chocolate. The Chocolate Mud pie is a decadent dessert loved by all. The method of baking a mud pie is very similar to that of a cake. However, mud pie is more dense than a slice of chocolate cake. This version is a gluten free one with a secret ingredient to substitute all purpose flour. The glaze is a simple ganache with a high quality bar of chocolate.
Here are more party dessert recipes to try
This recipe calls for beaten egg whites. This can be easily achieved by an electric beater whereas the manual method with a wire whisk may take longer yielding the same result.
Ingredients
115 grams

Dark chocolate

65 grams

Butter (Unsalted)

65 grams

Caster Sugar

1/2 teaspoon

Vanilla Extract

50 grams

Almond Meal (Badam Powder)

3

Whole Eggs

, (or Flax meal Egg Replacer)
1 tablespoon

Chikki (peanut brittle)

, optional
How to make Flourless Mud Pie Recipe
To begin making the Flourless Chocolate Mud Pie Recipe, we will first melt the chocolate using the double boiler method. First, place a saucepan on medium heat with 250 ml of water and bring it to a gentle simmer. Place a heat proof bowl over the saucepan such that the water is not in direct contact with the heatproof bowl. We will henceforth refer to this arrangement as bain-marie.

In the bain-marie, melt bite size pieces of chocolate and butter until a smooth mixture is formed. We will now take the bowl off heat and set it aside until partially cooled.

Meanwhile, let's separate the egg whites and the yolks. Beat the egg whites with an electric beater or wire whisk until stiff peaks are formed.

Note: If you plan to make this recipe eggless (egg free) then prepare the Flax meal Egg Replacer and keep it aside.

When the chocolate mixture cools, fold in the sugar, ground almonds, vanilla essence and egg yolks with a rubber spatula. Note: Add the Flax meal Egg Replacer at the above stage.

Further, fold the beaten egg whites gently into the chocolate mixture by taking care, not to deflate the egg-chocolate mixture. This step is crucial to help maintain the consistency of the mud pie. (Skip this step for egg free cake)

Now, we shall pour the chocolate mixture into a lined and greased spring foam tin and bake in a preheated 180C oven for 30 to 35 minutes until just set. You will notice when a tester like a pick or a knife inserted into the center comes almost clean, but not completely. The mud pies most often will have a few cake crumbs that get stuck to the center, but it's not raw.

Once the mud pie is baked, remove the cake from the oven and allow it to cool. Take care to unmould the cake only when completely cooled.

An optional step would be to whip up a simple chocolate ganache and slather it all over the mud pie.

I also topped it with store bought peanut brittle to give it a little crunch. Butterscotch will work wonders too.

Serve the Flourless Chocolate Mud Pie chilled or at room temperature for your parties or even as a tea time snack