Guava Empanadas Recipe
Guava, sweetened cheese and mixed nuts stuffed in dough baked to perfection

Smitha Kalluraya
On

Monday, 07 August 2017 07:00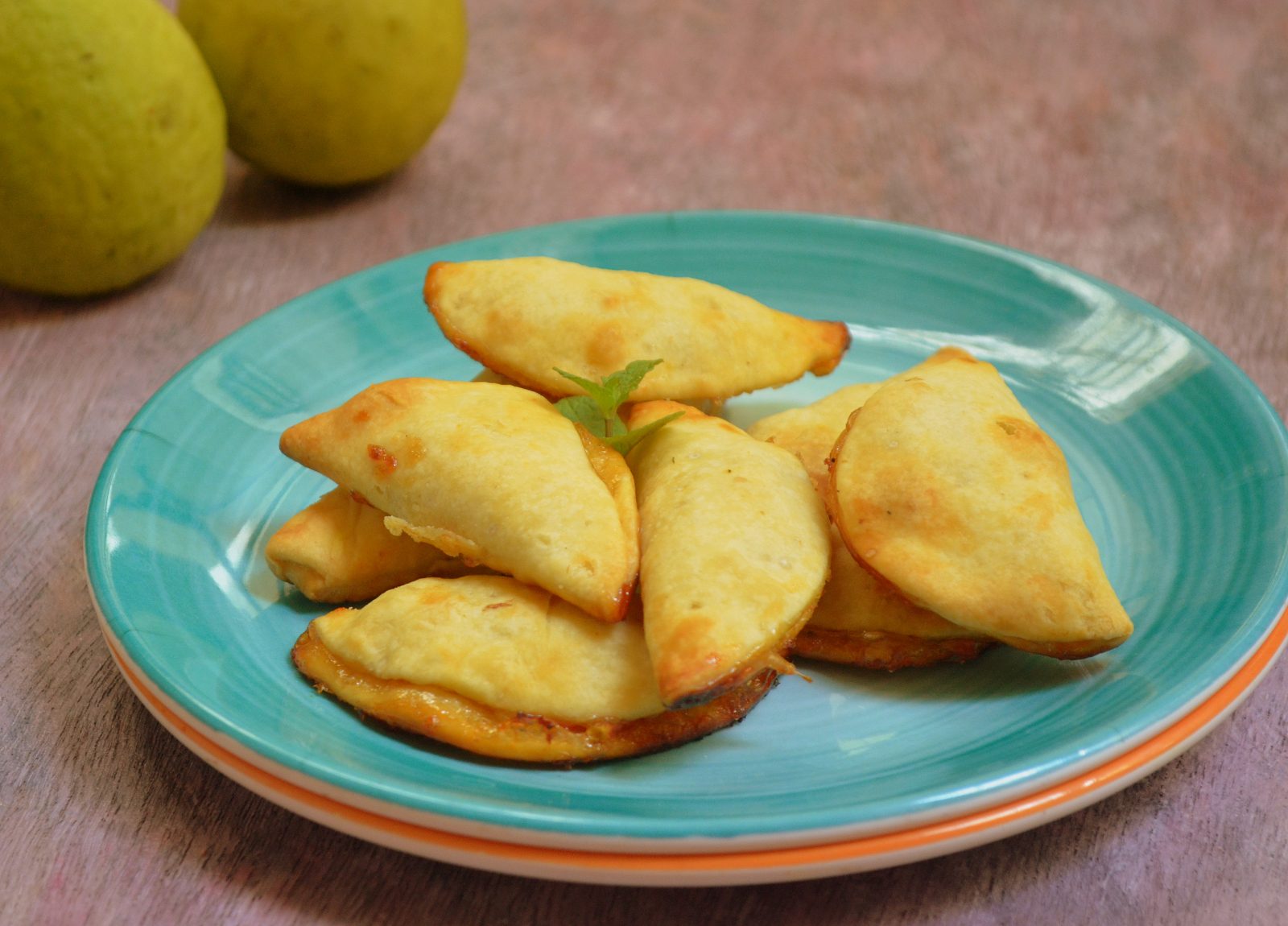 Guava empanadas is a tasty snack or dessert with guava, cream cheese and nuts stuffed inside a pastry dough. One can make big size empanadas or cute bite sized ones too. This can be a nice option for the kids party and snack parties too. This can make a party dessert or an evening snack. Serve Guava Empanadas Recipe along with Cinnamon Spiced Orange Iced Tea Recipe and Baked Potato Wedge Recipe during tea time.
If you like this recipe, try more recipes like
Makes:

15 number Servings
Ingredients
For Making Outer Dough 
2 cups

All Purpose Flour (Maida)

1 teaspoon

Salt

1 teaspoon

Sugar

1/2 teaspoon

Baking powder

1/2 cup

Butter (Unsalted)

1/2 cup

Chilled water

For the Stuffing 
1 cup

Britannia Cream Cheese

1/2 cup

Guava

, finely chopped
1/4 cup

Mixed nuts

, chopped finely
1/4 cup

Caster Sugar

, or more, as needed
How to make Guava Empanadas Recipe
Method for the Outer Dough:
To begin making Guava Empanadas Recipe, make the dough for the crush first. For the crust dough, sift together flour, sugar and salt in a large mixing bowl. Reserve butter to brush while baking and chop butter into small pieces and mix it into the flour mixture till it is crumbly.

Make a well in the centre and add chilled water. Mix gently with palm and fingers until a pliable dough is formed, and then wrap the dough in cling wrap and keep in refrigerator for 1 hour.
Method for the Stuffing and Baking:
Now time to make the stuffing. Mix together the cream cheese, finely chopped guava, mixed nuts, and sugar. Mix nicely till cheese is creamy and coats other ingredients.

To assemble empanadas for baking, remove the dough from refrigerator and divide into equal portions of about a big lemon size. Roll each ball of dough into about 6-inch circle. The roundel should not be too thin to give away the stuffing but should be thick enough just to hold it together, about the thickness of a phulka.

You can as well make smaller roundels, depending on the preference.

Brush a little water around the edge of the circle (to bind the edges) with your forefinger, and place about 1-2 tablespoons of filling in the middle of the roundel, such that the filling won't ooze out when done..

Fold into half circles and crimp the edges with a fork; then gently pierce the centre with the fork to allow steam to escape.

To bake the empanadas in oven, preheat oven at 215 degree for about 10 minutes.

Once all empanadas are ready with filling, you can bake them.

Brush butter on the baking sheet and arrange the guava empanadas on it. Make sure you leave a space of about an inch between them to bake evenly.

Bake for 25 minutes or till they are crisp from outside.

Serve Guava Empanadas Recipe along with Cinnamon Spiced Orange Iced Tea Recipe and Baked Potato Wedge Recipe during tea time.