Gujarati Khaman Dhokla Recipe - Savory Steamed Lentil Cakes
A must try recipe, this lip smacking Gujarati Khaman Dhokla can be serve for breakfast or even had as an evening snack along with spicy Green Chutney and a hot cup of tea.
In association with Preethi Kitchen Appliances


Archana Doshi
On

Thursday, 10 September 2009 11:18
The Gujarati Khaman Dhokla is a very popular farsan from the Gujarati cuisine. It is traditionally made using the bengal gram dal, which is soaked and the ground to make the dhokla batter.
Serve the Khaman Dhokla along with Dhania Pudina Chutney or Tomato Onion Chutney and a hot cup of Masala Chai Recipe - Indian Spiced Tea for breakfast or as an evening snack.
If you like this recipe, you can also try other Indian appetiser such as
Ingredients
For Khaman Dhokla Recipe
1 cup

Chana dal (Bengal Gram Dal)

1/4 cup

Curd (Dahi / Yogurt)

2

Green Chillies

, chopped
1 inch

Ginger

, chopped
1 tablespoon

Lemon juice

1 teaspoon

Cooking oil

1/4 teaspoon

Turmeric powder (Haldi)

1 teaspoon

Sugar

Salt

, to taste
1 teaspoon

Enos fruit salt

For seasoning of the Khaman Dhokla
1/2 teaspoon

Mustard seeds

1 teaspoon

Sesame seeds (Til seeds)

1

Green Chilli

, slit
2 teaspoons

Sugar

1 teaspoon

Lemon juice

5

Curry leaves

1 teaspoon

Cooking oil

1/4 cup

Water

For Garnish
1 tablespoon

Fresh coconut

, grated
1 tablespoon

Coriander (Dhania) Leaves

, freshly chopped
How to make Gujarati Khaman Dhokla Recipe - Savory Steamed Lentil Cakes
To begin making the Gujarati Khaman Dhokla Recipe, soak the chana dal for 4 to 6 hours.

Once soaked, drain the excess water and grind the chana dal, green chillies, ginger along with salt into a smooth batter.

Set the batter aside for 3 to 4 hours and allow it to ferment.

Once fermented, add the turmeric powder, oil, salt, sugar and enos fruit salt. Stir to combine well.

Prepare the steamer by preheating it with 2 cups water at its bottom. Grease the dhokla plates with oil.

Pour the Khaman Dhokla batter into each plate, filling only up to half its level.

Steam for about 12 to 15 minutes on high heat with the lid covered, until the dhoklas are cooked, that when a tester like a clean knife when inserted into the centre comes out clean. Turn off the heat and allow it to rest for 5 minutes in the steamer.

Take out the dholka plates from the steamer and allow it to cool completely before you can cut them into square or diamond pieces. Arrange them on a serving platter.

Heat oil in a small pan on medium heat; add mustard seeds, sesame seeds, slit green chilli and curry leaves and allow them to crackle.

Turn off the heat. Stir in the four tablespoons of water, sugar, lemon juice and salt to the above seasoning. Using a small quarter spoon, evenly sprinkle the seasoning mixture over the cut dhokla pieces. Garnish with coriander leaves and coconut and serve.

Serve the Gujarati Khaman Dhokla's along with Dhania Phudina Chutney or Tomato Onion Chutney.
To make Sandwich Khaman Dhoklas
Arrange a set of khaman dhoklas on a serving platter. Spread the Dhania Phudina Chutney on the top side of these dhoklas and place another dhokla on top. Finally season these sandwich dhoklas with the seasoning mixture. Garnish the Sandwich Khaman Dhokla with coriander leaves and fresh grated coconut and serve.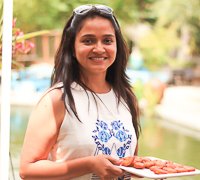 Archana Doshi is the founder of Archana's Kitchen. Archana launched Archana's Kitchen in 2007 as a way to keep track of her and family's recipes, and along the way grew it into one of the most popular cooking websites in the world. Archana is dedicated to helping home cooks be successful in the kitchen. Archana says "I hope you enjoy cooking recipes from my website where the sole effort is to make cooking simple for you. When you try out one of our recipes, we are longing to hear back from you. Do take your time to come back and share your comments, as your feedback means a lot to me"