Gujarati Methi Na Dhebra Recipe - Multigrain Jowar Bajra Paratha
Gujarati Methi Na Dhebra Recipe is a recipe packed with healthy nutrients, that's great to be served for breakfast to kick start your day on a healthy note. The added goodness of methi leaves not only lends its flavouor buts alos increases the nutritive value of this delicious debhra.

Archana Doshi
On

Friday, 21 March 2014 20:42
Methi na Debhra is a multigrain millet paratha made from jowar and bajra and flavoured with methi leaves and spices.
Eating multigrains in the morning ensures a supply of dietary fibre and additional nutrients essential for the body. Gujarati women, especially the grandmothers, love to make the bread fresh and serve them hot along with butter and jaggery. It is fun and satisfying for the grandmothers to see the children smile and enjoy the food she has cooked for them with love. Here is a recipe Gujarati Methi na Debhra that comes straight from my grandmother's heart.
Serve Methi na Debhra along with Aam Chunda Pickle Recipe - Gujarati Mango Chunda Recipe, and Boondi Raita.
If you like this recipe, here are more Gujarati delicacies to try
Course:
North Indian Breakfast
Ingredients
1/4 cup

Bajra Flour ( Pearl Millet)

1/4 cup

Jowar Flour (Sorghum)

1/4 cup

Gram flour (besan)

1 cup

Whole Wheat Flour

250 grams

Methi Leaves (Fenugreek Leaves)

, chopped
2 tablespoons

Sesame seeds (Til seeds)

1/2 teaspoon

Red chilli powder

1/4 teaspoon

Asafoetida (hing)

2 tablespoons

Jaggery

, powdered
1/4 cup

Curd (Dahi / Yogurt)

2

Green Chillies

, finely chopped
1 inch

Ginger

, grated

Cooking oil

Salt

, to taste
How to make Gujarati Methi Na Dhebra Recipe - Multigrain Jowar Bajra Paratha
To begin making Methi na Debhra Recipe, in a large bowl combine the bajra flour, jowar flour, gram flour, whole wheat flour, fenugreek leaves, sesame seeds, red chilli powder, asafoetida powder, jaggery, and salt

Stir in the yogurt and knead well to make a firm dough, adding water if necessary. Add 2 tablespoons of oil to the dough and knead for a couple of more minutes until smooth. Cover the dough and allow it to rest for 10 to 15 minutes.

Divide the debhra dough into 15, 2-inch diameter balls. Using the palm of your hands flatten each ball, dust the surface of the ball on whole wheat flour and roll into a 4 to 6 inch diameter circle. You can roll them thick or thin, it is purely your preference.

Pre-heat an iron skillet on high heat; place the rolled debhra dough on the skillet; after about a few seconds you will notice that smalls bubbles start rising on the dough.

Turn the heat to medium; flip the rolled dough over and drizzle about a teaspoon of oil around the debhra. Cook with a press and turn motion with a flat spatula or a wooden press.

You will notice the bottom side begins to brown, at this point flip over again cooking in the same press and turn motion to maintain even cooking.

Once both the sides are cooked and have a few brown spots, you will also notice the texture of the debhra is crisp on the outside and soft inside.

Continue the similar process with the other portions of the dough.

Serve the Methi Na Dhebra | Multigrain Paratha along with jaggery and fresh butter.

Serve Methi na Debhra along with Aam Chunda Pickle Recipe - Gujarati Mango Chunda Recipe, and Boondi Raita.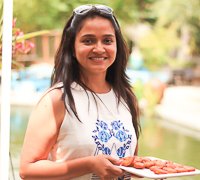 Archana Doshi is the founder of Archana's Kitchen. Archana launched Archana's Kitchen in 2007 as a way to keep track of her and family's recipes, and along the way grew it into one of the most popular cooking websites in the world. Archana is dedicated to helping home cooks be successful in the kitchen. Archana says "I hope you enjoy cooking recipes from my website where the sole effort is to make cooking simple for you. When you try out one of our recipes, we are longing to hear back from you. Do take your time to come back and share your comments, as your feedback means a lot to me"