Homemade Italian Calzones Recipe
They are actually like pizza turnovers, filled with different vegetables and cheese.

Vanitha
On

Tuesday, 21 June 2016 01:09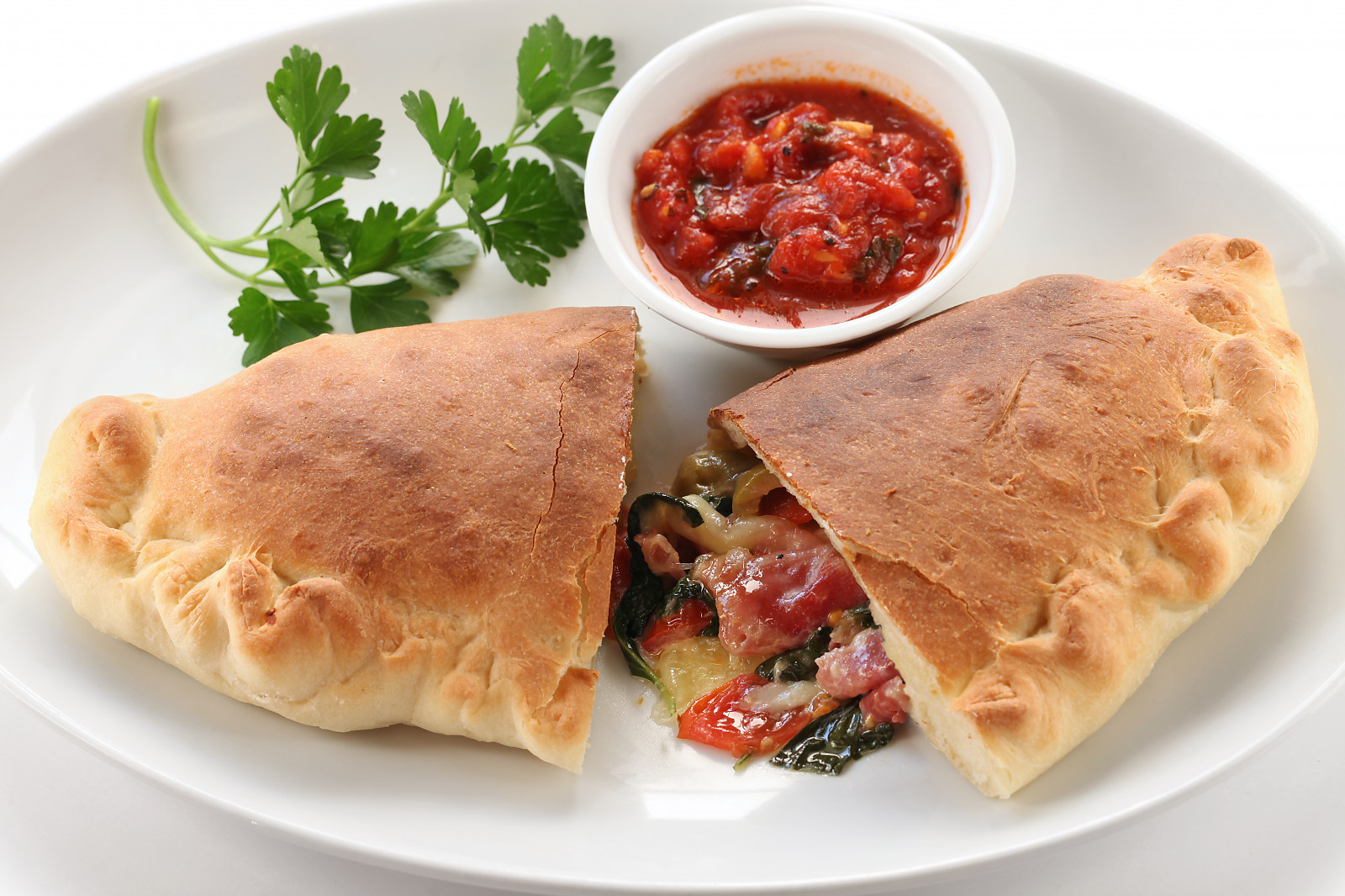 Homemade Italian Calzones are stuffed pizzas (crescent shaped), normally served as such. They are actually like pizza turnovers, filled with chopped bell peppers, mushrooms, onions, green chillies or jalapenos, olives, mozzarella cheese and if you want, any meat you prefer. Once baked, they are served hot, smothered in marinara or pizza sauce.
Raw Mango And Spring Onion dip can be served along with the Calzones for your house parties.
Here few more Calzone recipes which you will like, try them at your home.
Ingredients
For the calzone:
1-1/4 cup

Lukewarm Water

2-1/4 teaspoon

Active dry yeast

2 teaspoon

Sugar

3 tablespoon

Extra Virgin Olive Oil

1 teaspoon

Salt

3 cups

All Purpose Flour (Maida)

1

Green Bell Pepper (Capsicum)

, chopped
1

Onion

, chopped
10

Button mushrooms

, washed well and chopped
2

Green Chillies

, chopped
1/2 cup

Del Monte Black Olives

, sliced
1 cup

Mozzarella cheese

, grated
For the pizza sauce:
6

Tomatoes

, cut into quarters
2

Onions

, peeled and cut into big chunks
2

Green Chillies

, slit
2 cloves

Garlic

, chopped
1/2 cup

Homemade tomato puree

1/2 teaspoon

Dried oregano

1/2 teaspoon

Italian seasoning

Salt

, to taste
How to make Homemade Italian Calzones Recipe
To begin with the Homemade Italian Calzones first, let's start with making the dough.

In a large bowl, sprinkle the yeast along with the sugar. Add the warm water and mix gently.

Cover and let it proof for about 5 minutes. If the yeast is active and good, it will bubble and froth.

Now add the Del Monte olive oil, salt and 3 or more cups of flour. Mix well to form a soft dough and knead for about 2 to 3 minutes.

Place the dough in a greased or oiled bowl, roll it to coat with the oil. Cover the bowl and place in a warm place to rise until doubled, about 2 hours

Now in a pressure cooker, place the tomatoes, onions, and green chillies and give one whistle.

Remove and blend it to a smooth paste with the garlic.

Pour this into a deep pan, add the tomato puree or paste, salt, oregano and Italian seasoning, mix well and bring to boil.

Once it comes to a boil, lower the heat and simmer for about 20 minutes.

Preheat the oven to 400 degrees Fahrenheit or 200 degrees Centigrade.

Take 2 inch balls of the dough and roll into a medium thin circle. On one-half of the circle, layer the bell pepper, onions, mushrooms, green chillies, Del Monte olives and cheese.

Divide the fillings among the calzones.

Fold the other half of the dough over the filling and seal the edges.

Place the uncooked calzones onto greased baking sheets and bake in the preheated oven for about 15 minutes till they are well baked and light golden brown.

You can brush the top of the calzones with any Olive oil before baking; these give a brown crust to the calzone.

Serve these warm calzones with the hot prepared sauce on the side.

You can serve them with a sprinkling of grated Parmesan cheese for a more authentic Italian touch.

Raw Mango And Spring Onion dip can be served along with the Calzones for your house parties.