Homemade Soft Mysore Pak Recipe
Famous sweet recipe from Mysore, Karnataka - Here's a step by step Home made Mysore Pak Recipe, that is so soft just like your Krishna Sweets Mysore Pak

Archana's Kitchen
On

Monday, 11 November 2013 14:14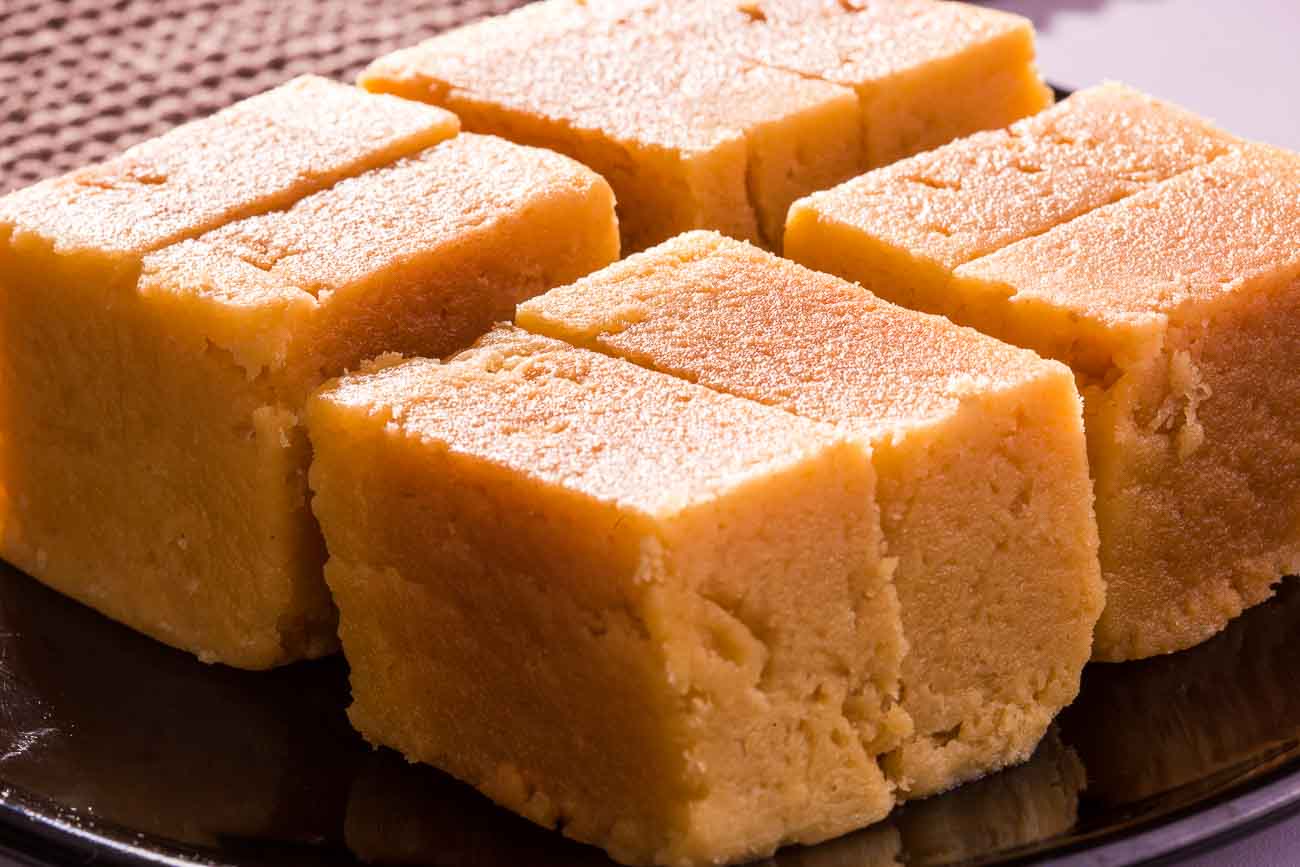 Mysore Pak is a delectable Indian sweet made from roasted gram flour and pure homemade ghee. A very traditional south Indian sweet is rich and makes a perfect sweet to be made for special occasions and festivals like Diwali.
History of Mysore Pak: Long Long time ago, in the Mysore Palace (in Karnataka, India), a petty little cook, made a dessert for the King. He made paagh (basically sugar syrup in the local language), then added gram flour and to make it rich and worthy for the king added loads of clarified butter to it. It dripped of butter, and glowed, the gram flour gave it the look of Gold, the sugar gave the King a rush and the entire ensemble made the King super duper happy. The King asked for the name of the dessert and all the simple cook could say was Mysore Paagh( Basically Sweet of Mysore). He was asked to open shop outside the palace and sell the Mysore Paagh, to all. The King wanted all his men to taste this.
No one knows when the Paagh became paak, and since then Mysore pak, is enjoyed by one and all. These days everyone loves to buy soft and melt in the mouth Mysore Pak from Krishna Sweets and they are quite famous for it.
Serve Homemade Mysore Pak Recipe as a dessert after Onion Tomato Podi Masala Dosa Recipe and Chutney for breakfast or after lunch.
If you like this recipe, try more recipes like
Ingredients
1 cup

Gram flour (besan)

1 cup

Ghee

1 cup

Sugar

1 cup

Water
How to make Homemade Soft Mysore Pak Recipe
To begin making Homemade Mysore Pak Recipe, in a heavy bottomed pan on medium heat, roast the gram flour until it begins to turn golden brown and gives a roasted aroma. Transfer immediately to a paper towel or a large wide bowl and allow it to cool, as you don't want the color to change too much.

In the same pan; add sugar and 1 cup water and bring to a boil. Stir the sugar in water until it dissolves, and allow it to come to boil. Turn the heat to low and simmer until you get a one string consistency – it should feel sticky between your fingers.

Once it attains a stringy consistency add in the roasted gram flour and continue to stir until well combined. Turn the heat to low and keep stirring continuously until it becomes a smooth consistency and continue to stir.

Add ghee little at a time and repeat the addition of ghee after 3-4 minutes of stirring. Once the entire mass comes together and looks smooth, add the last portion of ghee and continue to stir till the whole masses rises up like froth.

Once it comes to this consistency, remove from the heat and pour the gram flour mysore pak mixture into a greased tray. Bang the tray lightly to allow the mass to spread all over and looks evenly spread.

Sprinkle a little of granulated sugar over the top and allow the Mysore Pak to set and cool completely until set. Cut the soft Mysore Pak into desired shapes.

Serve Homemade Mysore Pak Recipe as a dessert after Onion Tomato Podi Masala Dosa Recipe and Chutney for breakfast or after lunch.