Kollu Masala Dosa Recipe - High Protein Horse Gram Dosa
Make this Kollu Masala Dosa Recipe for a high protein breakfast stuffed with a delicious masala. Serve it for a South Indian breakfast along with Coconut Chutney And Vengaya Sambar.

RUBY PATHAK
On

Tuesday, 20 February 2018 08:00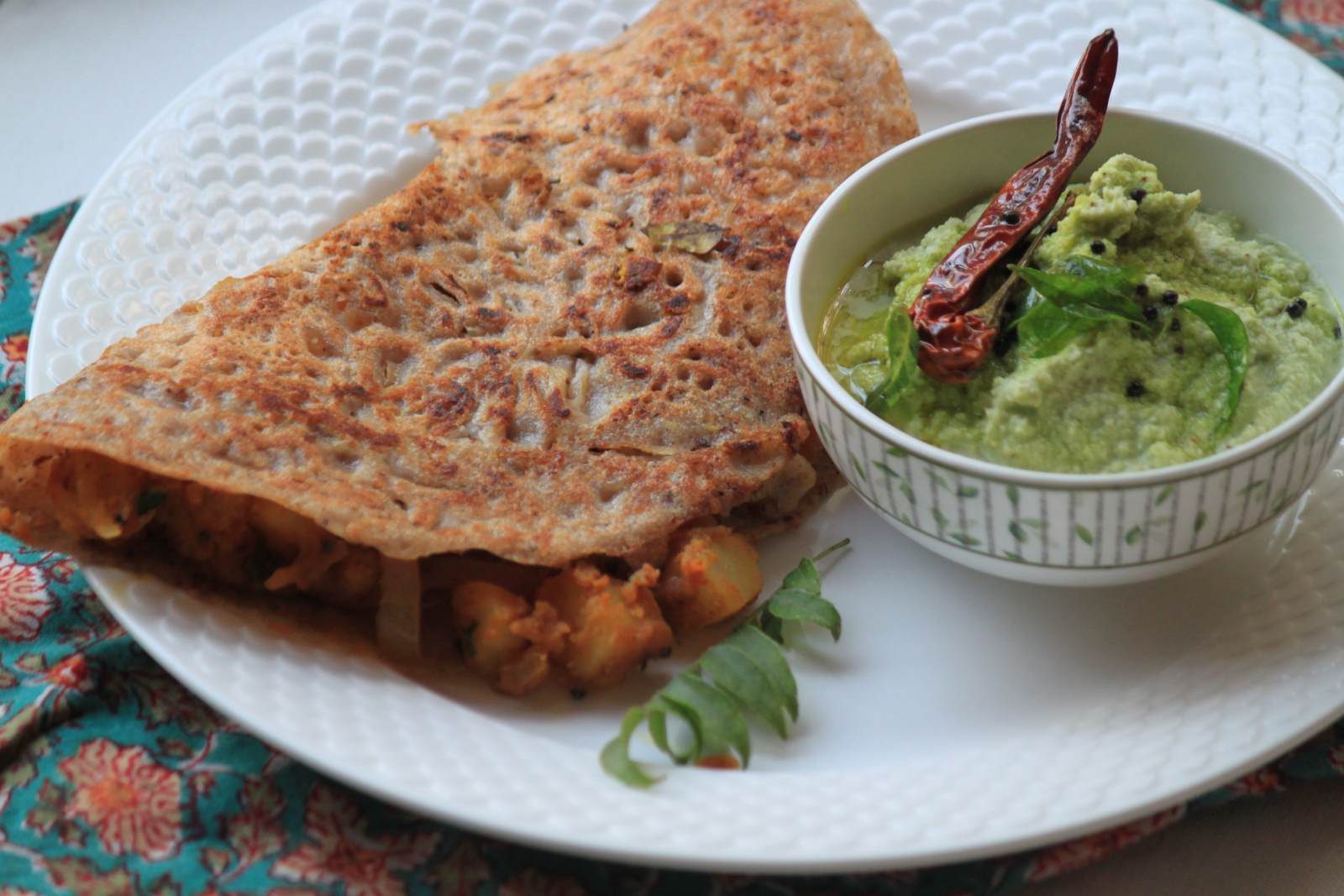 A famous Konkani cuisine recipe, Horse Gram dosa also known as Kollu Dosa is both nutritious and tasty. Dosa is a universally accepted as one of the top hundred breakfast or fast food healthy recipes. In this recipe,
Horse Gram is used to make this dosa batter which has immense health benefits from weight loss to aiding diabetics in maintaining sugar levels. Try this recipe to make your breakfast meals even more power packed from today.
Did you know : Horse Gram / Kollu contains the highest protein content of any lentil in the world. This grain is fed to horses to keep them energetic and maintain weight, hence the namesake. Horse gram is also rich in iron and calcium among other nutrients. It is a poor man's food as it provides a lot of energy for a small portion consumed. It is a drought tolerant crop that can be grown in a low rainfall area and even on rainfed dry agricultural lands.
Serve Kollu Masala Dosa/ Horse gram Dosa with Coconut chutney and Vengaya Sambar for an ultimate South Indian Breakfast.
If you like this recipe, here are a few more Horse Gram Recipes
Course:
South Indian Breakfast
Ingredients
1 cup

Rice

1/2 cup

Horse Gram Dal (Kollu/ Kulith)

1 teaspoon

Methi Seeds (Fenugreek Seeds)

Water

, to make the batter

Oil

, for frying

Salt

, to taste
For the Potato Stuffing:
2

Potato (Aloo)

, cooked and cubed
1

Onion

, sliced
1/2 teaspoon

Mustard seeds (Rai/ Kadugu)

1 sprig

Curry leaves

1/2 teaspoon

Turmeric powder (Haldi)

1/2 teaspoon

Red Chilli powder

1

Green Chilli

1/2 cup

Coriander (Dhania) Leaves

, chopped for garnish
1 teaspoon

Oil
How to make Kollu Masala Dosa Recipe - High Protein Horse Gram Dosa
To make Horse Gram Masala Dosa Recipe, first clean and wash the rice, horse gram and fenugreek seeds. Soak them together for 5 hours in water.

Grind the rice, horse gram, fenugreek seeds along with just a little water until you get a thick batter. Place the kollu dosa batter in a deep vessel, cover it and allow it ferment for 8-10 hours or overnight.

The next step is to make the masala for the Kollu Masala Dosa.

In a pan, add 1 tablespoon of cooking oil. Once the oil is hot, temper with mustard seed, curry leaves and fry the onions and green chilli.

Once the onions are soft, add the turmeric powder and chili powder, boiled potato cubes. Roughly the boiled potato cubes and mix all the ingredients well. Add salt, give it all a good stir and turn off the flame. Garnish with chopped coriander leaves and keep the aloo masala aside.

The final step is to make the kollu dosa and stuff it with the potato masala.

To prepare the kollu dosa, mix the fermented batter well with salt and water (if required) and bring it to a smooth and yet spreading consistency.

Heat the dosa tawa on a medium flame. Add a teaspoon of oil and spread it on the dosa tawa.

Pour a cup of batter on the tawa and spread the batter evenly into a circle. Drizzle, oil around the kollu dosa and cook on medium heat until the dosa is browned and crisp.

Once you see the dosa has slightly browned at the bottom, flip the dosa upside down and cook the other side of the dosa.

Once done, flip the Kollu dosa once again and add the potato masala stuffing in the centre of the dosa and fold the dosa in half.

Serve Kollu Dosa along with Coconut chutney and Vengaya Sambar for an ultimate South Indian Breakfast.