Homemade Corn Tortilla Recipe
Homemade Corn Tortilla Recipe is a simple Mexican flat bread made with cornmeal also known as Makki Ka Atta. Serve these corn tortillas along with Salsa, Sour Cream, Guacamole and spicy refried beans.

Archana Doshi
On

Wednesday, 05 March 2014 18:25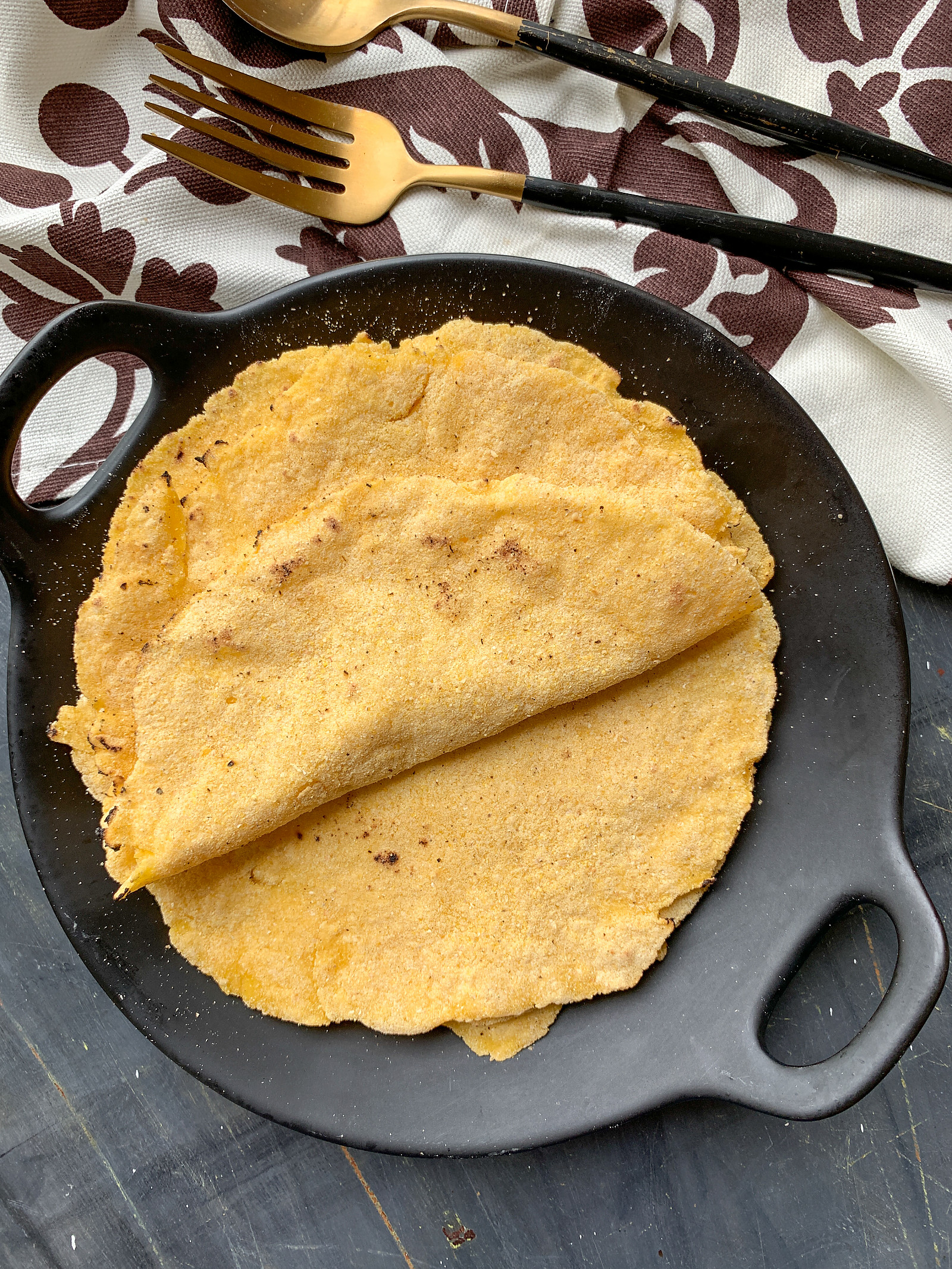 The Homemade Corn Tortilla Recipe is simple and quick with just a few ingredients like maize flour, salt and hot water. The hot water acts like a binding and the corn partially cooks itself in the heat allowing it to bind itself into a dough. Although the traditionally recipe does not add wheat flour, you can optionally add 1/4 cup recipe, so it becomes easier to roll it out.
Serve the Corn Tortillas with Roasted Vegetables and Mexican Salsa.
If you like Mexican Cuisine, then you must try a few of the recipes below.
Ingredients
1 cup

Makki Ka Atta (Yellow Corn Meal Flour)

, also known as masa harina or makki ki atta
1/4 teaspoon

Salt

1/2 cup

Hot water

, plus a few tablespoons

Whole Wheat Flour

, or maida or dusting and rolling
How to make Homemade Corn Tortilla Recipe
To begin making the Homemade Corn Tortilla Recipe, keep all the ingredients ready.

Into a sauce pan, add the water and salt and bring the water to a boil.

Once it comes to a boil, turn off the heat.

Add the corn flour/ makki atta to the hot water and keep stirring it.

It will come together to form a dough.

Cover the pan and allow the tortilla dough to rest for 20 to 30 minutes.

After 20 to 30 minutes, knead to make a smooth dough. If the dough is still sticky, add a little corn flour at a time and knead to make smooth dough.

If it is too dry, then sprinkle a little water at a time and knead to make a smooth dough.

Place the dough onto a clean surface and knead until pliable and smooth. Knead for a good 5 minutes until the dough is smooth.

The humidity in the hands and the heat from the water will bring the dough together and make it smooth.If dough is too sticky, add more masa harina; if it begins to dry out, sprinkle with water.

Preheat a cast iron skillet or a heavy bottomed skillet.

Divide dough into 8 to equal size balls. Using a rolling pin or a tortilla press, dust the dough portions on wheat flour flour or maida and roll out into a 6 inch diameter circle.

Ensure you use enough flour for dusting the tortillas so it does not stick to the rolling pin and tear away.

Also ensure when you roll, you roll with light pressure and not put too much pressure.

Place the rolled out tortillas on to the preheated skillet and allow to cook for approximately 30 seconds. You will notice that the tortillas will start to puff.

Flip over to the other side and cook the tortillas until they puff this side as well.

You can optionally place them on a flame and make them puff fully.

Repeat the process with the remaining dough portions and store the tortillas covered with a towel to stay warm and moist until ready to serve.

Serve the Corn Tortillas with Roasted Vegetables and Mexican Salsa.