Ice Cream Cake Recipe With Chocolate Mocha Frosting
Ice cream sandwiched between chocolate mocha frosting and cake drenched in ganache

Vanitha
On

Saturday, 20 May 2017 09:00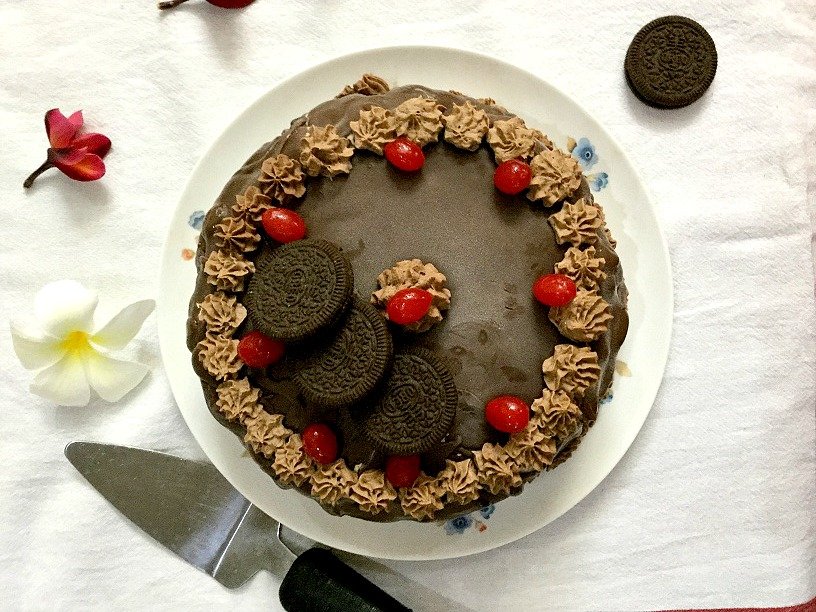 Note:
Though I have used black currant ice cream and tutti frutti ice cream flavours, you can use a combination of any ice cream flavour you prefer.
Soften the ice cream by stirring to make layering much easier.
Ingredients
For Chocolate Mocha Cake:
1-1/2 cups

Whole Wheat Flour

3 tablespoons

Cocoa Powder

1 teaspoon

Instant Coffee Powder

1 teaspoon

Baking soda

1 cup

Brown Sugar (Demerara Sugar)

1/2 teaspoon

Salt

5 tablespoons

Oil

1 teaspoon

Vanilla Extract

1 tablespoon

Vinegar

1 cup

Chilled water

For Ice Cream Layers:
1 liter

Black Currant Ice Cream

, (or any flavour you prefer)
1 liter

Tutti frutti ice cream

, (or any flavour you prefer)
2 cups

Chocolate ganache

For Chocolate Mocha Icing
1/2 cup

Butter (Unsalted)

, Softened
2 cups

Icing Sugar

1 teaspoon

Instant Coffee Powder

1 pinch

Salt

1/2 teaspoon

Vanilla Extract

Milk

, Few teaspoons
How to make Ice Cream Cake Recipe With Chocolate Mocha Frosting
To make Chocolate Mocha Cake:

To begin making Ice Cream Cake Recipe With Chocolate Mocha Frosting, start with making the chocolate mocha cake first.Also keep the ice cream and all the other ingredients ready for later use.

Preheat oven to 350 degrees Centigrade or 180 degrees Fahrenheit.

Grease and flour an 8-inch spring form pan. I have lined the bottom with foil and then greased and floured it to make removing the cake easier. Keep aside.

In a small bowl, mix the dry ingredients of the cake- whole wheat flour, brown sugar, cocoa powder, instant coffee powder and salt. Mix well with a wire whisk.

To this mixture, add oil, vanilla essence, 1 tablespoon vinegar and 1 cup water.

Mix well with a spoon or fork until thoroughly blended.

Pour the batter into the prepared pan and bake for about 30 to 35 minutes until a toothpick inserted in center comes out clean.

Remove the cake pan from oven and cool the cake without removing it from the pan, on a wire rack for about 10 minutes.

After 10 minutes, remove from springform pan and foil; cool the chocolate mocha cake completely on cooling wire rack.

After the cake has completely cooled, using a large sharp knife, cut the cake into half horizontally - to form two thin layers of cake. Return one layer to the spring form pan and close the latch. Place the pan in a deep freezer for about 1 to 2 hours to chill the cake.

Meanwhile, remove one flavor of ice cream (I have used black currant ice cream) and let it soften at room temperature. Ice cream should be soft enough to be spread easily on the chilled cake, and also should not be melting. You can alternatively take out the chilled ice cream and beat in a hand mixer to smoothen it up.

Once the ice cream is soft enough to spread, remove the pan with the first layer of cake from freezer. Spread softened ice cream on top of that layer and smoothen with an offset spatula. I have used about 1 liter of ice cream for the first layer of ice cream. Place the second layer of cake over this and return the pan to freezer to let the ice cream to set completely; about 2 to 3 hours.

Remove the second flavor of ice cream from freezer and let soften at room temperature until soft and spreadable.

Remove the cake pan from freezer and spread second layer of ice cream evenly and smoothen the top to level as much as possible. Return the springform pan to the freezer for about 3 to 4 hours to freeze it completely. It is best to keep it overnight in the freezer.

The next day, prepare chocolate ganache and chocolate mocha icing.

Once you prepare the chocolate ganache, as the ganache is cool but still in liquid form, remove ice cream cake from freezer and release the latch of the springform pan and remove the vertical side of the pan, leaving the ice cream cake on the base of the pan.

Gently pour ganache over the cake to cover the top fully and let the glaze drip over the sides of the cake. This process should be done quickly, taking care not to allow the ice cream to melt.
For Chocolate Mocha Icing:
In a small bowl, sift icing sugar, coffee powder and salt; mix well. Keep aside.

In a large mixing bowl, beat ½ cup of softened butter until soft and creamy, with the help of a hand mixer. Stir in vanilla essence and beat again.

To this, add icing sugar mixture in batches on low speed until it is well combined with the butter-vanilla mixture; scraping down the sides as required.

Add milk a teaspoon at a time until you get the consistency you want. I used about 2 teaspoons of milk to get a frosting soft enough to flow through the cake decorating nozzle, but stiff enough to form chocolate kisses on top of cake using the star tip.

Once the cake is fully frozen again, remove from freezer and using a decorating tip, pipe borders on top and bottom of cake. Decorate with cherries and return to freezer to freeze again until serving time.

Although the whole process is time consuming, the end result is worth it! Remove cake from freezer about 10 minutes before serving time.

Serve Ice Cream Cake Recipe With Chocolate Mocha Frosting with Crunchy Baked Cheese Crisps Recipe, Cottage Cheese Dip Recipe With Pepper and Olives, Grilled Spicy Potato Sandwich Recipe and Ice-Apple And Plum Rose Juice Recipe to celebrate a birthday bash or an evening party.