Kathal Biryani Recipe- Raw Jackfruit Biryani Topped with Caramelised Onions
There can be nothing as filling and comforting as a pot full of biryani, this unique version of Vegetarian Biryani is made using raw jackfruit. This biryani tastes nothing but delicious.

Shaheen Ali
On

Thursday, 21 April 2016 00:44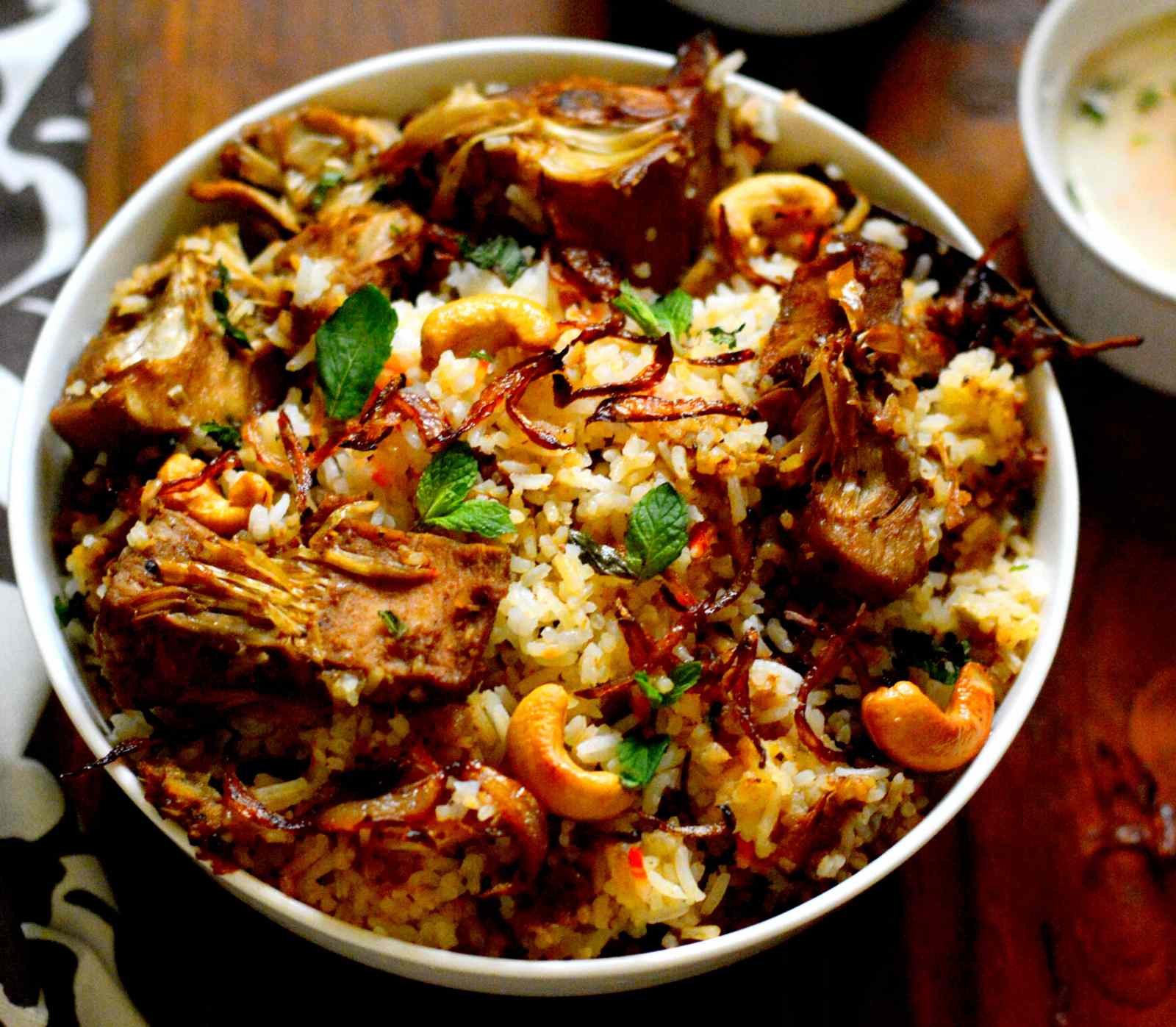 Kathal Biryani is the most amazing one pot meal for the vegetarians who always wanted to know what a biryani means. Though it cannot be compared to the non veg version but still it somewhere reaches to the original flavor in it's unique vegetarian version.
Raw Jackfruit being a fibrous fruit leaves it's own amazing juicy flavors to the rice that gives an awesome aroma and flavour to this super filling one pot meal.
Did you know: Raw Jackfruit is great for diabetes. It is found that raw jackfruit has a much lower glycemic load than rice and wheat. That means, when you replace a cup of rice or two rotis with a cup of raw jackfruit, your blood glucose will not increase as much.
Raw Jackfruit is rich in Vitamin C and is a great source of carbohydrates. Due to its rich fiber content, it aids in digestion.
Serve the Kathal Biryani as a one dish meal for a weeknight dinner or as a party food along with Sweet & Spicy Coriander Tadka Raita and Mirchi Ka Salan Recipe for a sumptuous meal.
If you like Biryanis, the you must try some of our favorites like :
Ingredients
500 grams

Basmati rice

500 grams

Jackfruit Raw (Kathal)

1 cup

Curd (Dahi / Yogurt)

3

Onions

, finely chopped
2 inch

Ginger

, grated
4 cloves

Garlic

, grated
2 tablespoons

Ghee

4

Bay leaves (tej patta)

4

Cardamom (Elaichi) Pods/Seeds

2

Black cardamom (Badi Elaichi)

4

Cloves (Laung)

, 4 cloves
1 teaspoon

Whole Black Peppercorns

1 inch

Cinnamon Stick (Dalchini)

2

Star anise

1 teaspoon

Mace (Javitri)

1/2 teaspoon

Nutmeg powder

6

Green Chillies

, slit
1 teaspoon

Red Chilli powder

1 tablespoon

Coriander Powder (Dhania)

Salt

, to taste
1

Mint Leaves (Pudina)

1

Coriander (Dhania) Leaves

, finely chopped

Lemon juice

, from 1 lemon
Few

Saffron strands

, soaked in 1/2 cup milk
For Garnish
1/2 cup

Caramelized onions

1/4 cup

Cashew nuts

1/4 cup

Sultana Raisins

1 tablespoon

Ghee
How to make Kathal Biryani Recipe- Raw Jackfruit Biryani Topped with Caramelised Onions
To begin making the Kathal Biryani Recipe, let us first cut the raw jackfruit. In order to do that we have to first, grease our hands and the knife that we are going to use, with some oil.

This important tip ensures that the hands don't get sticky from the natural fruit latex/sap present in the fruit does not get onto your hands and makes the cutting process hassle-free.

Keep a bowl of water mixed with some salt, ready to put the cut raw jackfruit pieces to avoid discolouration of the fruit.

Now that your hands and knife are well greased, cut the the jackfruit in half, discard the skin and start making 1 inch pieces and soak them in the salted water.
To make rice for the Kathal Biryani :
Wash and soak rice in water for 30 mins before you start cooking.

In a heavy bottomed vessel, heat water-twice the quantity of the rice. Add few drops of ghee, 1 tablespoon lemon juice, salt and some star anise in it.

As soon as the water starts boiling, add rice and cook till 80% done.

Once the rice is semi cooked to 80%, pass it through a strainer and collect the rice in a large tray and spread well so that they don't stick to each other.

*To make kathal ki yakhni

Heat ghee in a wok and fry the kathal pieces till brown in color. Keep aside.

In the same wok, fry cashews, raisins that will be used for garish at the end. Collect them in separate bowls and keep aside.

Now add all the whole spices along with bay leaf in the remaining ghee. Allow them to sizzle.

Next add ginger and garlic and saute till light brown in color.

At this stage, add finely chopped onions,fry till raw smell goes off and it turns golden in color. Add green chilies and mix well.

Once the onions are cooked, add the fried kathal pieces and yogurt and mix everything nicely so that the curd mixes well with the kathal.

Soon you will observe, yogurt will start releasing water. Cook till oil starts oozing out and yogurt starts drying up.

To this, add red chili powder, coriander powder and some torn leaves of mint and coriander and fry till oil starts leaving from the sides. Add salt and give it a good stir. Turn off the flame.
To assemble Kathal Biryani :
Heat a flat base iron tawa on the gas and place a large thick bottomed utensil (handi/bhagona) on the tawa in which you wish to dum the biryani.

Take 1 tablespoon of yogurt and spread it all over the base-this prevents yakhni from getting burnt.

Spread the kathal yakhni all over the curd and make sure it's evenly spread on the base.

Add some ghee over it and start covering it with layers of rice and caramelised onions.

Once you have covered the yakhni with the rice, pour saffron milk at one corner of the rice top.

Squeeze lemon all over, add lots of chopped coriander and mint on top along with fried raisins and cashews-save few to garnish before serving.

Cover the vessel with aluminium foil and seal it from the sides.

Place the lid of the vessel on top of the foil and keep a heavy vessel over it so that the aroma is intact and the Kathal Biryani cooks well in dum. Simmer the gas and let the Kathal Biryani cook on dum for 20 minutes.

Once the Kathal Biryani is done, remove the foil carefully and mix well by shaking the vessel. By doing this the yakhni mixes well with the rice without breaking the grains.

Serve the Kathal Biryani as a one dish meal for a weeknight dinner or as a party food along with Sweet & Spicy Coriander Tadka Raita and Mirchi Ka Salan Recipe for a sumptuous meal.