Kerala Style Appam Recipe (Fermented Rice Pancakes With Coconut)
In association with Preethi Kitchen Appliances


Archana Doshi
On

Wednesday, 12 June 2013 13:50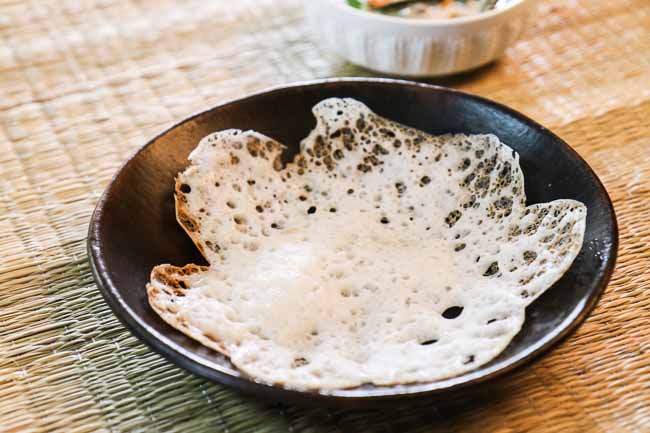 Appam is a Kerala dish made with fermented rice batter and served along with sweetened coconut milk or stew. It is appam is prepared in an appa kal (mould that is a bowl shape).It is delicately flavoured with coconut and in the shape of a bowl with a thick centre and hole frilled edges.
Serve the Kerala Style Appam Recipe (Fermented Rice Pancakes With Coconut) along with Kadala Curry or Kerala Style Vegetable Stew.
If you are looking for more Kerala Recipes here are some :
Ingredients
2 cups

Rice

, raw , soaked 3 hours (like ponni raw rice)
1 cup

Cooked rice

1 cup

Fresh coconut

, freshly grated
1 teaspoon

Active dry yeast

,  + 1/2 cup of luke warm water
2 tablespoons

Sugar

Salt

, to taste
How to make Kerala Style Appam Recipe (Fermented Rice Pancakes With Coconut)
To begin making the Kerala Stye Appam Recipe, we need to first soak the rice in water for at least 3 to 4 hours.

Next combine the salt, sugar and yeast in the warm water and allow it to proof for 5 minutes. I used an instant dry yeast, a variety that does not need proofing, hence I add it directly to the Appam batter.

Grind the soaked rice, cooked rice and coconut, adding just a little water and salt to make a thick batter. Add in the proofed yeast to the batter and stir well to combine. Transfer the Appam batter to a bowl. Cover the bowl and allow it to ferment for 5 to 6 hours or overnight.

Adjust the consistency of the fermented Appam batter, adding water a little at a time to make it of thick pouring consistency. If you make it too watery, then the Appams will not be as soft and will not spread well.

Preheat the Appachetti or the Appam pan on medium high heat. Pour a ladle of batter on the Appachetti and swirl the pan in circular fashion to spread the batter.

The batter will be thick in the center and thin on the sides. Cover the pan with a lid for approximately 2 minutes until it is crisped and golden brown on the sides and the centre is steamed and cooked.

Serve the Kerala Appams along with Kadala Curry or Kerala Style Vegetable Stew.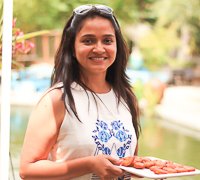 Archana Doshi is the founder of Archana's Kitchen. Archana launched Archana's Kitchen in 2007 as a way to keep track of her and family's recipes, and along the way grew it into one of the most popular cooking websites in the world. Archana is dedicated to helping home cooks be successful in the kitchen. Archana says "I hope you enjoy cooking recipes from my website where the sole effort is to make cooking simple for you. When you try out one of our recipes, we are longing to hear back from you. Do take your time to come back and share your comments, as your feedback means a lot to me"