Khakhra Vegetable Pizza Recipe
Khakhra Vegetable Pizza is a simple and tasty fusion pizza where Khakra is used as the pizza base and it is topped with pizza sauce roasted veggies and cheese. Serve this delicious Khakhra Pizza for evening snacks along with iced tea. You can also serve it for your tea party snacks.

Archana's Kitchen
On

Thursday, 17 March 2016 00:25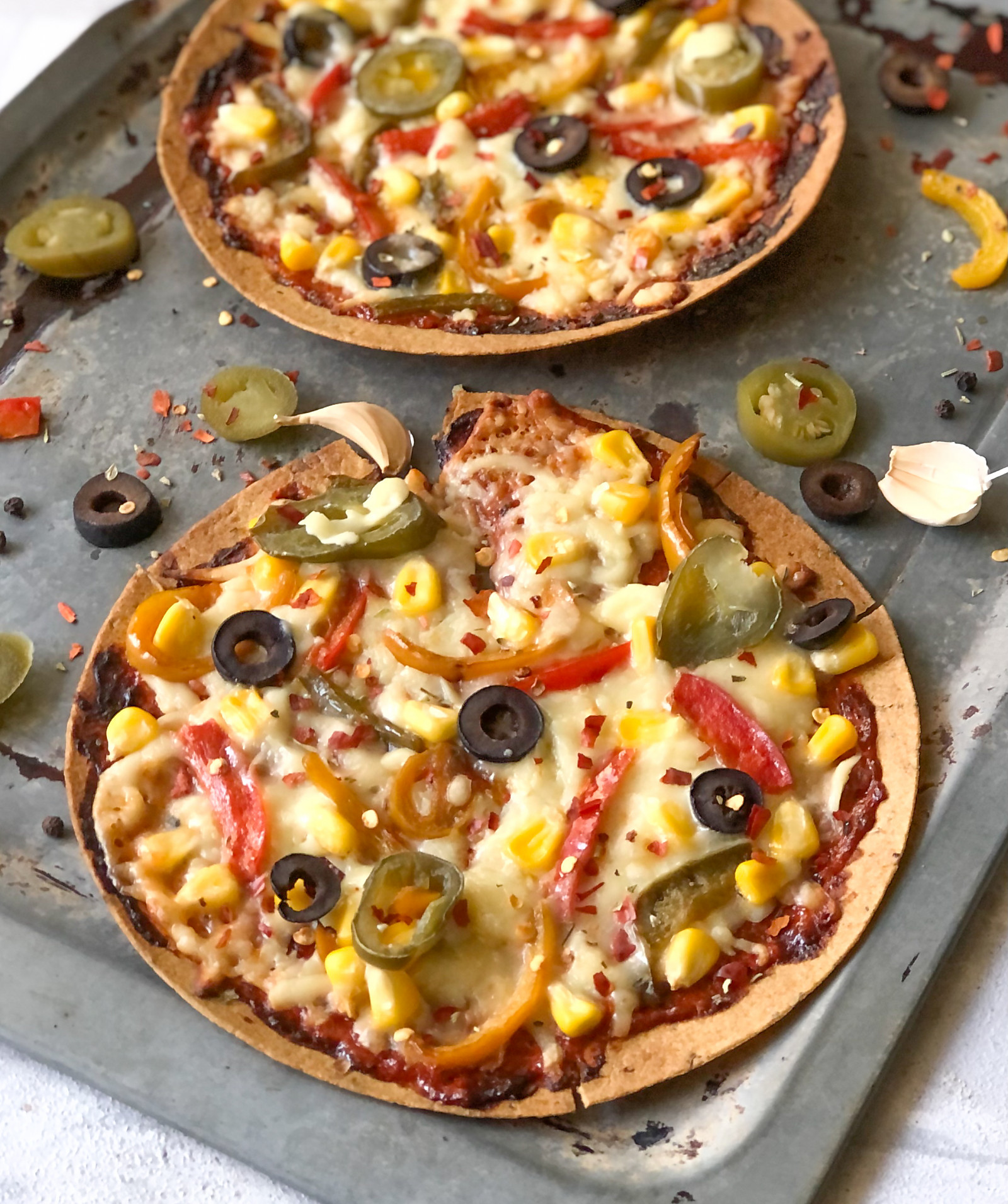 Khakhra Vegetable Pizza is a real kid-pleaser instant pizza dish. Khakhra is considered as one of the healthiest diet snacks and you can whip it up in a jiffy. Slather some pizza sauce and top it with some roasted vegetables and stringy soft cheese to make it interesting for kids and adults alike.
Great to be served as an after school snack, at tea party or eat it during winter evenings.
Serve Khakhra Vegetable Pizza as an evening snack along with Mango Iced Tea Recipe.
If you like this recipe, you can also try other recipes which you can serve as evening snacks:
Ingredients
1/3 cup

Homemade Pizza And Pasta Sauce

1 tablespoon

Extra Virgin Olive Oil

1 cup

Red Yellow and Green Bell Peppers (Capsicum)

, sliced
1/4 cup

Black olives

, sliced
1/4 cup

Sweet corn

Salt

, steamed
2 tablespoons

Pickled Jalapenos

, sliced
2 teaspoons

Mixed Herbs (Dried)

1 teaspoon

Red Chilli flakes

1/2 cup

Mozzarella cheese
How to make Khakhra Vegetable Pizza Recipe
To begin making the Khakhra Pizza, firstly keep the khakhras and the pizza sauce ready.

You can either make Homemade Khakhras or use store bought ones.

Similarly, use could either use store bought pizza sauce or make your own by following this recipe Homemade Pizza Sauce Recipe.

Getting ahead, keep all your ingredients ready to get started.

To roast the bell peppers

Heat oil in a pan and sauté the bell peppers along with some salt. Sauté the bell peppers until it has softened and has a roasted texture and still has a crunch in it. Turn off the heat and set aside.

Preheat the oven to 200 degree Celsius

Spread the pizza sauce on the khakhras, top with a layer of grated cheese and then arrange the sautéed bell peppers, sweet corn, sliced olives and sliced jalapeños

Flash bake in the oven for 4-5 mins or until the cheese had melted.

Remove the Khakhra Vegetable Pizza from the oven and serve hot with a sprinkle of mixed herbs and red chilli flakes.

You can even add any topping of your choice like roasted mushrooms, baby corn, zucchini or spinach on top of these super quick Khakhra Pizza

Serve Khakhra Vegetable Pizza as an evening snack along with Mango Iced Tea Recipe.