Lobia Kebabs Recipe (Black Eyed Bean Patties)

Anupama Nagaraja
On

Sunday, 07 June 2015 10:00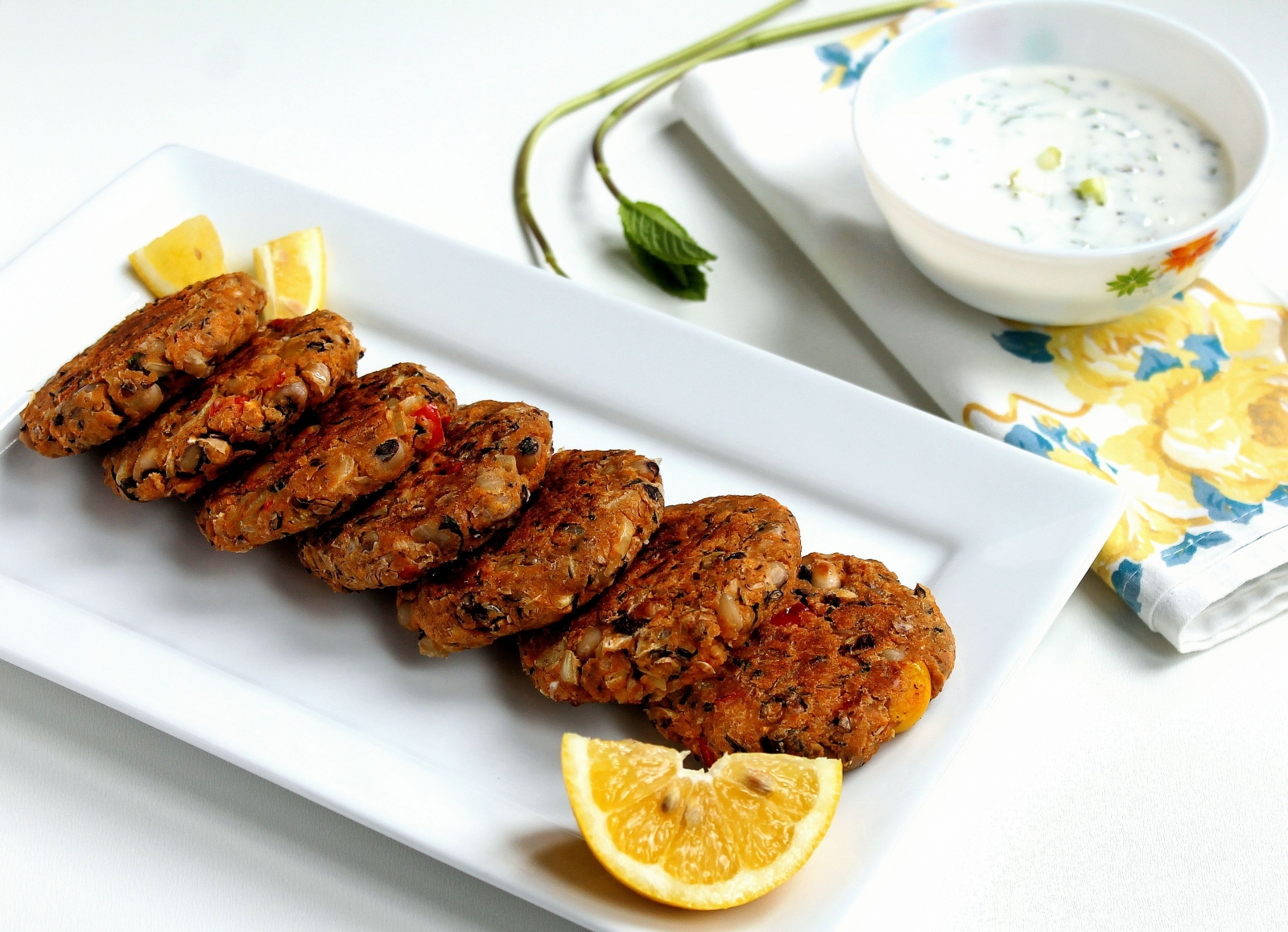 The Lobia Kebabs (Black Eyed Bean Patties) Recipe is a simple and wholesome kebabs that have added vegetables and herbs along with spices which infuse life into these bean patties. These Black Eyed Bean Kebabs also at the same time balance the carbohydrate load by means of protein and fiber they contain. These can be served as appetizers or tea time snacks. Serve the Lobia Kebabs Recipe (Black Eyed Bean Patties) hot along with a Yogurt Dip for parties or as a snack for kids school boxes.
Kebabs have been around since the time of the Moghuls who adopted the dish from Eastern Mediterranean regions where it originated. Today we can say 'kebabs' belong to Middle Eastern, Eastern Mediterranean as also South Asian regions as Wikipedia says. The term 'kebab' can refer to a dish cooked on skewers directly on or next to the fire, some variations even served as slices. In today's terms, one can say, they are either shallow fried or grilled but never deep-fried. One look at the kebabs and one might think they the same as tikkis which are very popular potato based patties. However, kebabs are not potato based.
If you like this recipe, you can also try other Appetiser recipes such as
Did You Know: Black-eyed peas are part of the legume family that is known as being a primary source of plant protein. Black-eyed peas also contain vital nutrients, such as B vitamins, vitamin E, iron and potassium. They can even help with weight loss because they are filling but low in calories. A half-cup serving has only 80 calories, making black-eyed peas an excellent choice for anyone trying to drop excess weight. One of the main health benefits of black-eyed peas is their high fiber content. Fiber is a nutrient that helps regulate your digestive system, and increasing your intake could help alleviate constipation and symptoms of irritable bowel syndrome.
Black-eyed peas contain zinc, an essential trace mineral that has significant health benefits. The zinc in black-eyed peas also has antioxidant properties, which help protect your cells from free radicals that contribute to several health problems and can speed up the aging process.
Ingredients
Ingredients for the Black Eyed Bean Kebabs
1 cup

Black Eyed Beans (Lobia)

1/4

Instant Oats (Oatmeal)

, rolled and powdered
1

Onion

, finely chopped
1/2

Red Bell pepper (Capsicum)

, finely chopped
2

Green Chillies

, finely chopped (optional)
2 tablespoon

Mint Leaves (Pudina)

2 tablespoon

Coriander (Dhania) Leaves

1 clove

Garlic

, finely chopped
2 teaspoons

Red Chilli powder

, (adjust to tolerance)
1 teaspoon

Cumin powder (Jeera)

1/2 teaspoon

Garam masala powder

Salt

, to taste
1 teaspoon

Extra Virgin Olive Oil

, to aid in the shallow frying process
How to make Lobia Kebabs Recipe (Black Eyed Bean Patties)
To begin making the Lobia Kebabs Recipe (Black Eyed Bean Patties), we will first first wash the black eyed beans well and soak with fresh water overnight.

Once the black eyed beans are soaked well, cook the beans until the beans are soft and mashable. You can use a sauce pan or the pressure cooker to cook the beans.

If you are using the pressure cooker, cook until you hear two whistles.

After two whistles, turn the heat to low and simmer for about 5 minutes and then turn off the heat.

If using a pressure cooker, cook until the first whistle, then turn off the heat. Allow the pressure cooker to cool off naturally. Once cooled, drain the excess water and keep the beans aside.

Meanwhile, powder the rolled oats in a grinder and keep this ready.

Add the cooked beans to a bowl, keeping a few tablespoons aside.

Mash the beans using a potato masher or a fork.

Add powdered oats, finely chopped onion, garlic, fresh coriander, mint, red and yellow peppers and the unmashed beans together in a large mixing bowl.

Mix well, adding salt to taste as also cumin powder, red chili powder and garam masala powder.

Using your clean hand mix everything well, bring it together, mashing slightly. Check the salt and spice levels and adjust to suit your taste.

The next step is to shape and cook the kebabs in a pan. Divide the mixture into medium patty size portions of 2 inch thickness and diameter.

Heat a skillet on medium heat. Add a teaspoon or two of oil, spread this all over the skillet using a clean absorbent kitchen towel, in such a way as to coat the surface well, but not visible.

Place the shaped black eyed bean kebabs on the skillet. Drizzle a few drops of oil all around the kebab. Cook the kebabs on medium heat.

After about 2-3 minutes or after the under-side turns brown, flip carefully using a flat spatula.

Again cook for 2-3 minutes or until brown and crisp on both sides.

Transfer the Black Eyed Bean Kebabs to an absorbent paper towel. Repeat the same process with the rest of the mixture.

Serve the Lobia Kebabs Recipe (Black Eyed Bean Patties) hot along with a Yogurt Dip for parties or as a snack for kids school boxes.
Note: If the oats are omitted, the kebab turns out slightly more fragile and might appear to absorb more oil too. It in fact turns out more melt in the mouth consistency. If allowed to rest, it does firm up in consistency in about 5 - 10 minutes. You can try out a single kebab at first, if you like the end result, carry on with the same. Otherwise, add powdered oats or oats flour and adjust the seasoning to make the patties. Retaining some of the beans whole gives a lovely texture to the kebab.