मक्की की पूरी रेसिपी - Makki Ki Puri Recipe
मक्की की पूरी, बनाने में आसान और खाने में स्वादिष्ट, इस पूरी को आप किसी भी सब्ज़ी के साथ परोस सकते है.

Ritu Arora
On

Monday, 18 March 2019 10:00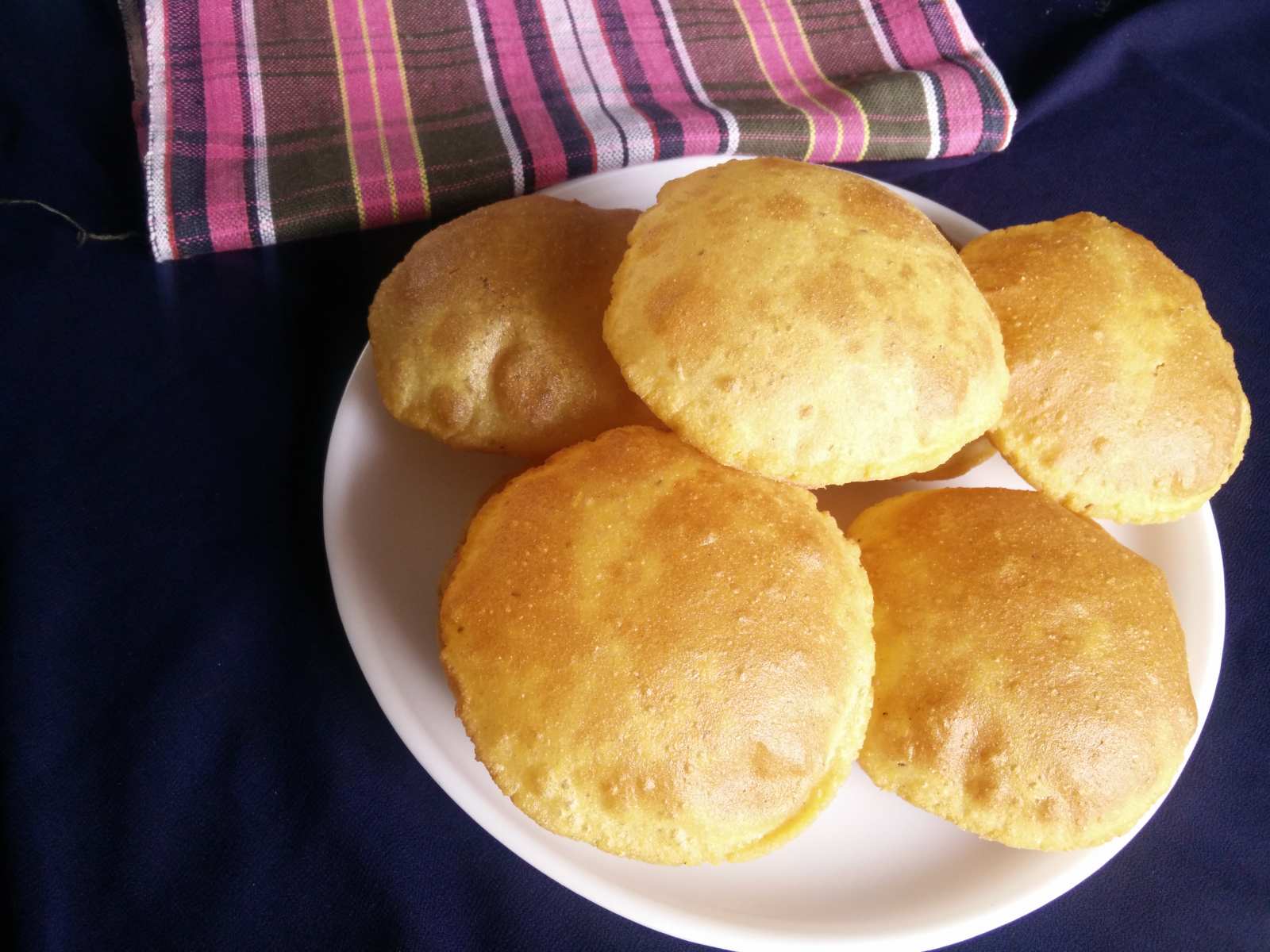 मक्की की पूरी रेसिपी एक स्वादिष्ट और सरल रेसिपी है जिसे आप किसी भी सब्ज़ी के साथ परोस सकते है. इसे ज्यादातर सर्दियों के दिनों में बनाया जाता है. आप इस अपने ब्रंच के लिए भी बना सकते है.
मक्की की पूरी रेसिपी को आलू दम और बूंदी रायता के साथ दिन के खाने के लिए परोसे।
अगर आपको यह रेसिपी पसंद है, तो आप यह भी बना सकते है
Ingredients
1 कप

मक्की का आटा

1 कप

गेहूं का आटा

तेल

, प्रयोग अनुसार
1/2 छोटा चम्मच

अजवाइन

नमक

, प्रयोग अनुसार
How to make मक्की की पूरी रेसिपी - Makki Ki Puri Recipe
मक्की की पूरी रेसिपी बनाने के लिए सबसे पहले एक बाउल में मक्की का आटा, गेहूं का आटा, नमक, अजवाइन, तेल डाले और अच्छी तरह से मिला ले.

थोड़ा थोड़ा पानी डाले और अच्छी तरह से गुंद ले. ढके और 15 से 20 मिनट के लिए अलग से रख दे. अब छोटे छोटा हिस्सा ले और गोल बॉल बना दे.

अब एक एक करके इन बॉल को बेल ले और पूरी बना ले. अलग से रख दे.

एक कढ़ाई में तेल गरम करें। इसमें एक एक करके पूरी डाले और सुनहरा होने तक पका ले. परोसे।

मक्की की पूरी रेसिपी को आलू दम और बूंदी रायता के साथ दिन के खाने के लिए परोसे।
A homemaker from Delhi, aspiring to make healthy and tasty food of all kinds in the simplest way. Versatile in world cuisines and innovative in style and taste. Inspired by many but original by style and taste. Winner of Knorr Master class, earned a ticket to see the Masterchef Australia live in action at the biggest food carnival of India, World On A Plate, Banglore. Will Attend a Master Class given by Chef Gary Mehigan. 2nd prize winner at ladies special by Zee Khana khazana held in Delhi,which was judged by Ripudaman Handa. Cooked along Chef Vaibhav Mahajan and Chef Vicky Ratnani at the Grub Fest held in Delhi. Writer of two Cookbooks published by Betterbutter. One of the top seven contenders selected by Chef Sanjeev Kapoor for an online contest, Gujiya with a twist. Participated in Living Foodz Cooking competiotion, judged by Chef Pankaj Bhadoria and Chef Gautam Mehrishi.