Mango Tiramisu Recipe With Savoiardi
Mango Tiramisu Recipe With Savoiardi is a twist to the classic Italian tiramisu. Instead of coffee, the main flavour here is mango. Creamy layers of mango flavoured mascarpone cheese, with a bite from the mango syrup dipped ladies finger or savoiardi as it is called. This dessert is absolutely finger licking good.

akshatha
On

Tuesday, 21 June 2016 00:31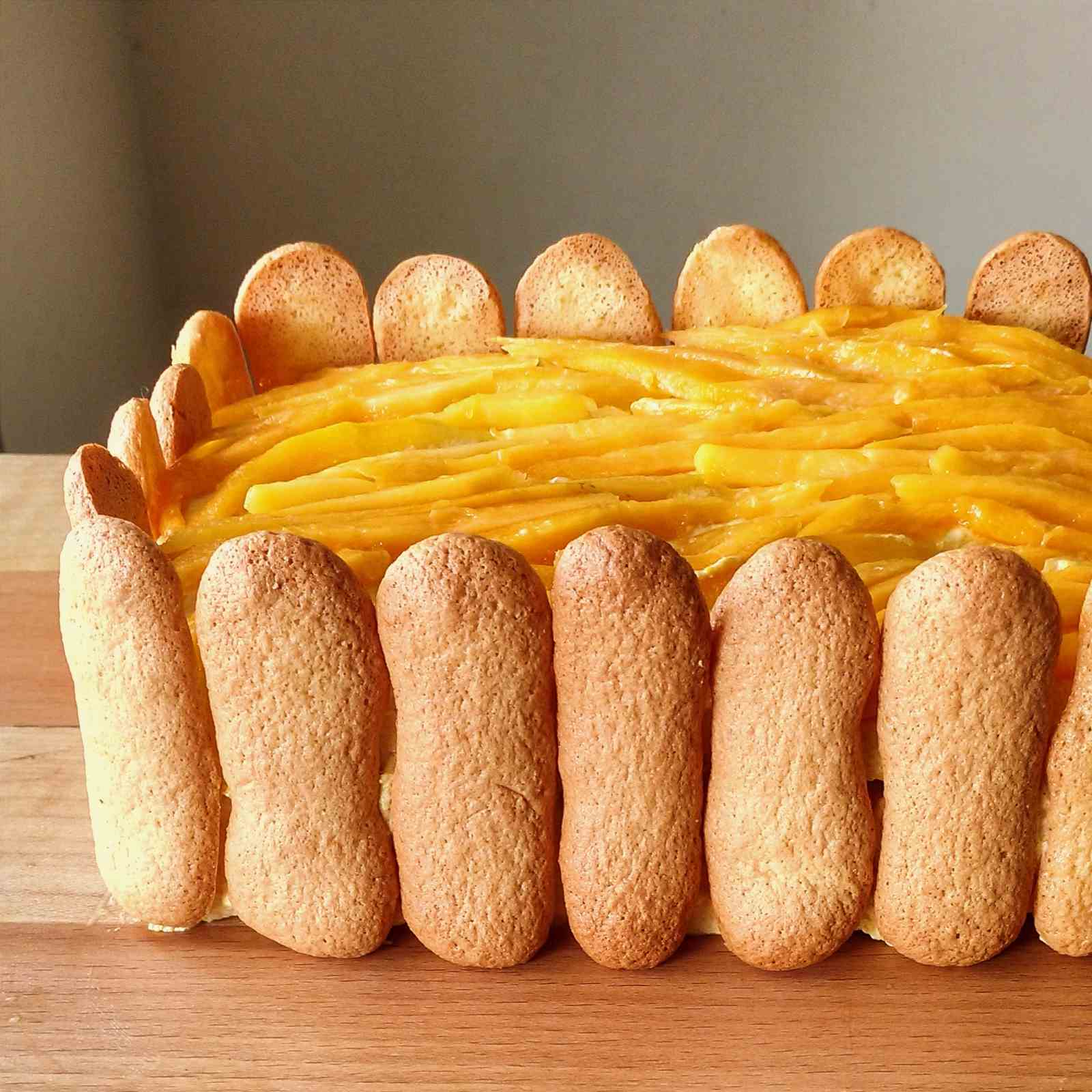 Ingredients
Ingredients For The Savoiardi Or Lady Fingers
4

Whole Eggs

1/2 cup

Caster Sugar

2/3 cup

All Purpose Flour (Maida)

Ingredients For The Filling
240 grams

Mascarpone Cheese

, at room temperature
1 cup

Heavy whipping cream

, chilled
1/2 cup

Icing Sugar

, sifted
1

Mango (Ripe)

, pureed
Ingredients For The Syrup
1

Mango Pulp (Puree)

, pitted
2 tablespoons

Caster Sugar

1-1/2 cups

Water

For Assembling
1

Mango (Ripe)

, sliced thin
How to make Mango Tiramisu Recipe With Savoiardi
To prepare Mango Tiramisu Recipe, get prep with all the ingredients mentioned first.
To make the Savoiardi
Preheat oven to 180 degrees Celsius.

Separate the eggs and beat yolks slightly and keep aside.

Beat the egg whites with the sugar until firm peaks are formed, in a hand blender. Continue beating while adding the yolk little by little.

Sift in the flour and fold gently.

Fill batter into a piping bag and pipe 3x1 cm lines, about 3 cm apart on a parchment lined baking sheet.

Bake for 15-18 minutes or until golden brown. Cool and store in an airtight container.
To make the Syrup
Boil the mango pulp with the water and sugar, and then simmering it until the mixture reduces to about one cup.

Strain into a wide bowl and cool to room temperature.
To make the Filling
Whip one cup of the chilled cream to stiff peaks and Keep aside.

Whisk together the mango puree, icing sugar and mascarpone cheese until smooth.

Fold this mixture into the heavy cream.

Keep chilled until required.
to assemble the mango tiramisu
Dip the lady fingers/ Savoiardi one by one in the syrup, tap out excess and line them vertically on your serving dish or plate.

Spread a layer of the filling (about 1/2 cup) on top.

Lay down another layer of soaked lady fingers / Savoiardi, topped by the filling.

Continue with the layers till the top. Spread the remaining filling on top and top it up with sliced mangoes.

Chill for 4-6 hours.

Serve Mango tiramisu recipe cool for a tea party or as a dessert after an Italian dinner party.

Serve Mango Tiramisu Recipe for a dessert during an Italian Dinner party or during tea party. Serve it as dessert after a simple Italian meal of Grilled Chicken Spaghetti Pasta With Herbs, Cheese Garlic Bread Recipe and Watermelon Raspberry Lemonade Recipe.