Masala Oats And Potato Sandwich Recipe
Masala Oats And Potato Sandwich Recipe is a perfect and delicious sandwich to serve during breakfast or as a tea time snack. You can also serve it as a after school snack for your kids.
In association with Saffola Fit Foodie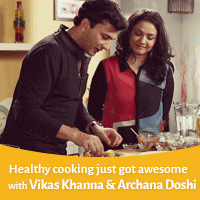 Archana Doshi
On

Thursday, 25 February 2016 00:23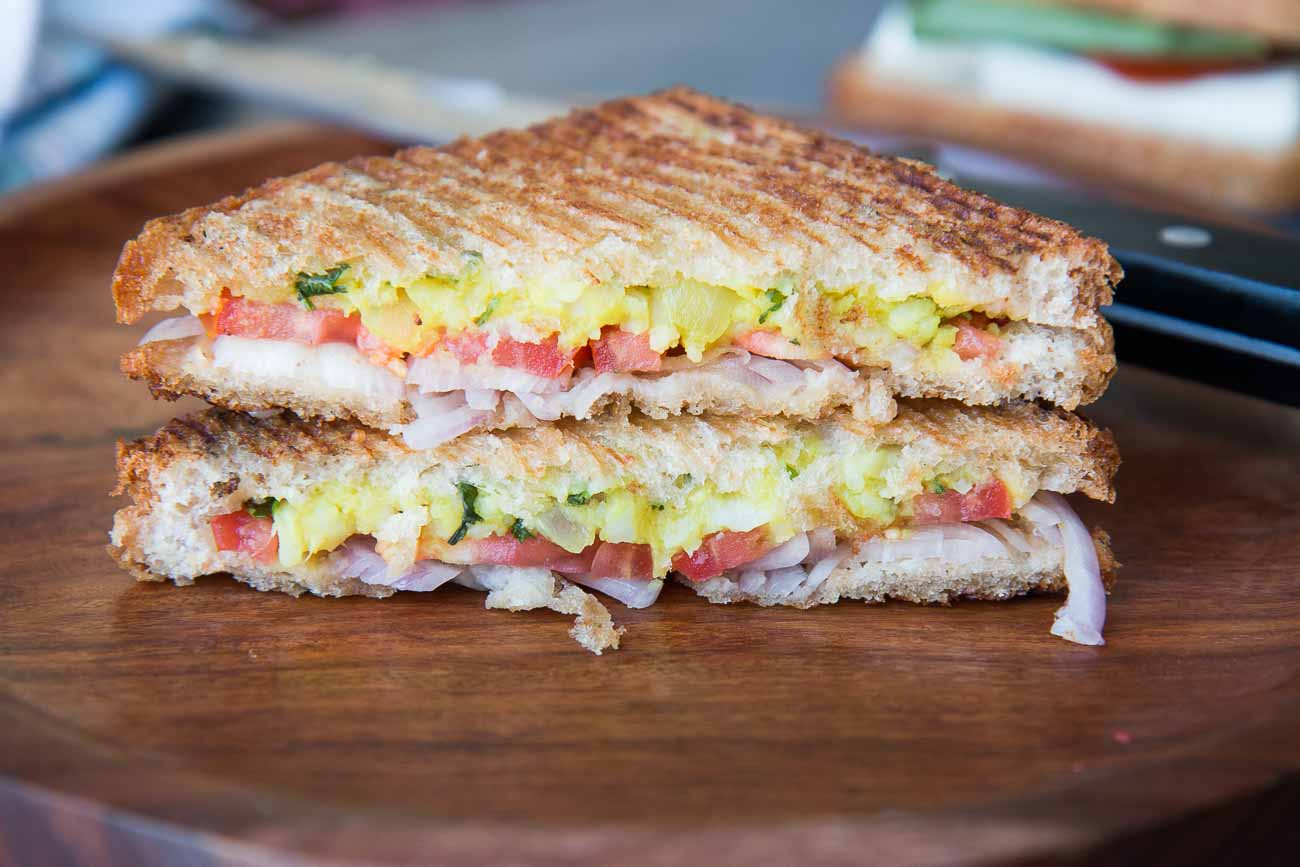 The Masala Oats & Potato Sandwich Recipe recipe is made using the potato filling that we use for Masala Dosa's. A lot of times I do consciously try to make extra portion of the spicy potato filling so that making sandwiches for breakfast or for a school lunch box makes it a breeze. You can either grill these sandwiches in the grill pan or in a sandwich maker.
Serve the Masala Oats & Potato Sandwich along with a smoothie like Strawberry & Oats Smoothie to make a wholesome breakfast.
If you like to have sandwiches for breakfast or pack them into your lunch box you might like to try these sandwiches:
Did You Know: Potatoes are known be to be packed with phytonutrients that include carotenoids, flavonoids and caffeic acid. These substances are known to help prevent cell damage, help in digestion, heart health, blood pressure and even cancer prevention. Although only 20% of the potato's nutrition is found in the skin, the skin also has fiber that helps in digestion. Research also says that most of the vitamin C and potassium are found in the potato's flesh and that's why it's best to enjoy every part of the spud.
Ingredients
Main Ingredients
12

Multigrain Whole Wheat Bread

, whole wheat
2

Tomatoes

, sliced
1

Onion

, sliced into rings
Ingredients for Oat Potato Filling
3

Potatoes (Aloo)

, coarsely mashed (about 200 grams)
80 grams

Rolled Oats Or Instant Oats

1 teaspoon

Ginger

, grated
2

Green Chillies

, finely chopped
1/4 teaspoon

Turmeric powder (Haldi)

5 to 6

Curry leaves

, finely chopped
Ingredients for the seasoning of potatoes
3 sprig

Coriander (Dhania) Leaves

, finely chopped

Salt

, taste
1 teaspoon

Cooking oil

1 teaspoon

Mustard seeds

1 teaspoon

White Urad Dal (Split)

1 teaspoon

Chana dal (Bengal Gram Dal)

1/4 teaspoon

Asafoetida (hing)
How to make Masala Oats And Potato Sandwich Recipe
To begin making the Masala Oats & Potato Sandwich Recipe, heat the oil in a heavy bottomed pan; add mustard seeds, urad dal, channa dal and allow it to roast until lightly browned.

Once browned, add in the ginger, curry leaves, green chillies and asafoetida. At this stage add in the turmeric powder, salt and potatoes and oats. Stir well until all the ingredients are well combined.

Cover the pan, turn the heat to low and simmer for a few minutes. Once done, turn off the heat. The filling is ready. Keep aside.

To grill and assemble the sandwich, place a slice of bread on a flat surface, spoon a small amount of potato filling on top of the slice and spread it around.

Place a couple or 1 large slice of the tomato and a few onion rings on top. Optionally sprinkle some salt or pepper and cover with the other slice of bread. Press the sandwich down with the palm of your hands

Preheat a skillet or grill pan; you can now optionally apply butter on the top facing slice.

Place the sandwich on the preheated skillet or grill pan such that the buttered side faces down.

Now optionally apply butter on the top side. Using a spatula, press the sandwich down so it grills evenly and the filling stays in. Flip over and grill on the other side until crisp and lightly browned.

Note: You can optionally use a sandwich maker and grill your spiced potato sandwich and serve it for breakfast or pack it for a school lunch box

Serve the Masala Oats & Potato Sandwich along with a smoothie like Strawberry & Oats Smoothie to make a wholesome breakfast.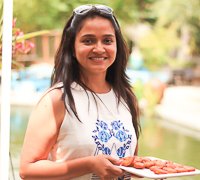 Archana Doshi is the founder of Archana's Kitchen. Archana launched Archana's Kitchen in 2007 as a way to keep track of her and family's recipes, and along the way grew it into one of the most popular cooking websites in the world. Archana is dedicated to helping home cooks be successful in the kitchen. Archana says "I hope you enjoy cooking recipes from my website where the sole effort is to make cooking simple for you. When you try out one of our recipes, we are longing to hear back from you. Do take your time to come back and share your comments, as your feedback means a lot to me"