Methi Khakhra Recipe - Gujarati Savory Crispy Flat Bread
Gujarati Khakhra is a crispy crunchy snack made from whole wheat flour and methi leaves. These delicious roti-papad can be enjoyed anytime of the day. Serve Khakhra as a tea time snack along with a cup of tea.
In association with Preethi Kitchen Appliances


Archana Doshi
On

Thursday, 13 December 2007 22:27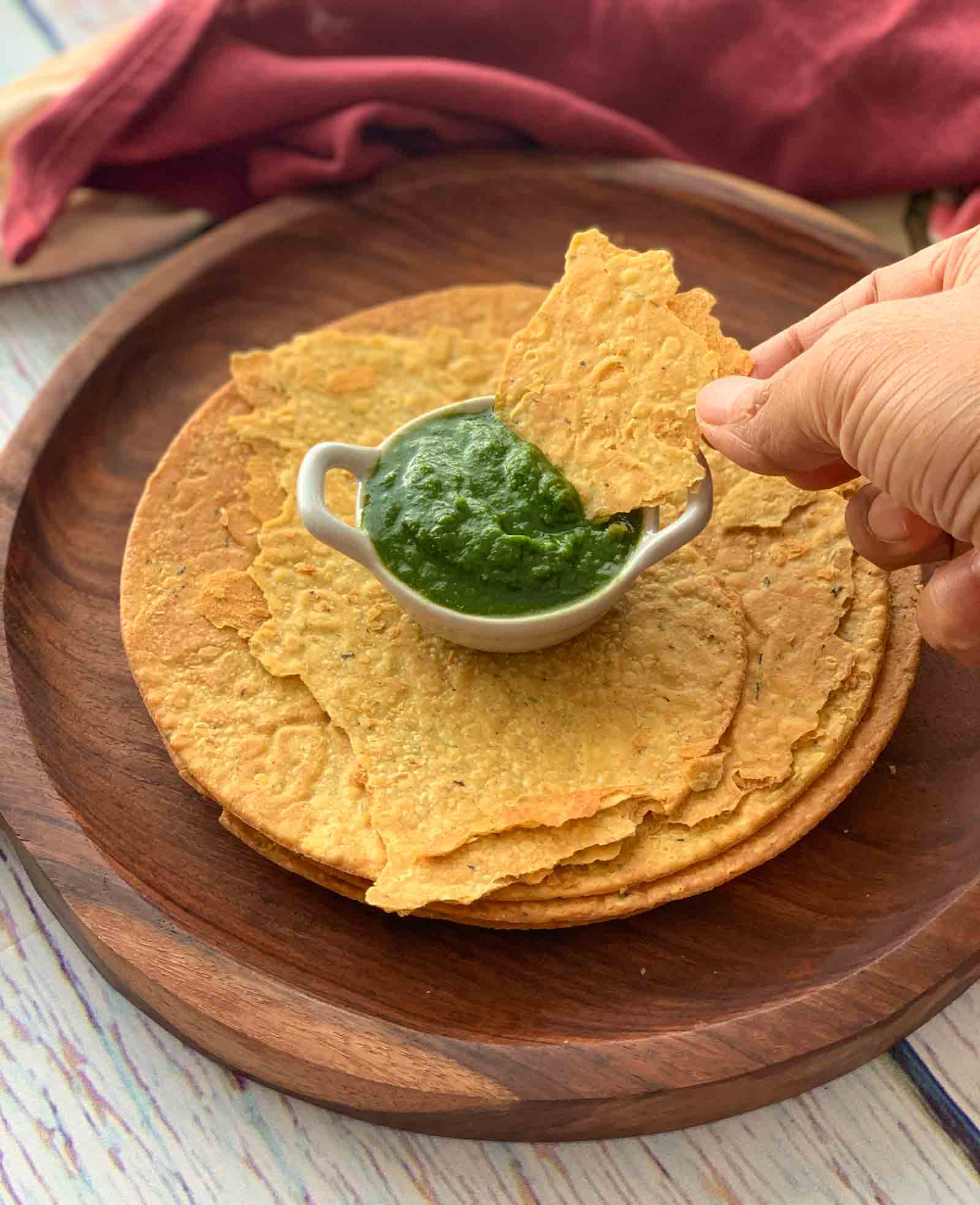 The Gujarati Khakhra is a snack made from whole wheat flour and is served for breakfast, tea or even taken as a travel snack. It is wholesome as it is made from whole wheat flour and delicately flavoured with ingredients like fenugreek, turmeric and asafoetida.
A lot of hard work goes into making them especially if you live in a joint family where you have to make a 100 or more at a time and stock them. Although it is readily available in the retail stores these days there is a special taste when you make them at home.
Serve Gujarati Khakhra Recipe along with Jowar Dhani Chivda and Masala Chai for your tea time snacks.
If you like this recipe, here are more Snack Recipes that you can make for your Tea Time Snacks:
Note: The pressing can be done with a wooden press or a thick cotton cloth or something else in your kitchen that will work as a press.
Ingredients
2 cups

Whole Wheat Flour

2 tablespoons

Methi Leaves (Fenugreek Leaves)

, finely chopped
1/4 teaspoon

Red chilli powder

1/4 teaspoon

Asafoetida (hing)

1/2 teaspoon

Turmeric powder (Haldi)

2 tablespoons

Cooking oil

, more for making the khakra

Salt

, to taste
You could use the follow as alternative ingredients to the fenugreek leaves

Cumin seeds (Jeera)

, coarsely pounded

Dry ginger powder

Spinach Leaves (Palak)

, cooked & pureed

Mint Leaves (Pudina)

, dried or fresh
How to make Methi Khakhra Recipe - Gujarati Savory Crispy Flat Bread
To begin making the Gujarati Methi Khakhra Recipe, we will first make the dough. In a large bowl, combine the whole wheat flour, fenugreek leaves, red chilli powder, asafoetida powder, turmeric powder, oil and salt to taste.

Knead by adding little water at a time, till it becomes stiff dough. Cover and let the Khakra dough rest for fifteen minutes and knead again. Divide the dough into twenty equal portions.

Roll out the each ball into very thin circles by dusting on flour as and when required to prevent sticking to the base.

Heat an iron skillet in medium high heat; add one rolled out portion of the Khakra dough. Once you notice a few air pockets popping out flip the rolled dough.

Smear a teaspoon of oil around it and using a wooden press do a press and turn motion not allowing the dough to develop air pockets. Continue this pressing and turning for a few minutes on medium heat.

Flip over continue the press and turn motion on medium heat until the Khakra is completely crisp.

Take the Khakhra off from heat and place it on a flat plate. Continue the same with the other rolled out portions of the Khakra dough and stack the Khakra one on top of the other.

Once the Khakhra is cooled completely store the them in an airtight container. These Khakras stay fresh outside for about two weeks and refrigerated for about a month.

Serve Gujarati Khakhra Recipe along with Jowar Dhani Chivda and Masala Chai for your tea time snacks.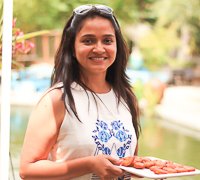 Archana Doshi is the founder of Archana's Kitchen. Archana launched Archana's Kitchen in 2007 as a way to keep track of her and family's recipes, and along the way grew it into one of the most popular cooking websites in the world. Archana is dedicated to helping home cooks be successful in the kitchen. Archana says "I hope you enjoy cooking recipes from my website where the sole effort is to make cooking simple for you. When you try out one of our recipes, we are longing to hear back from you. Do take your time to come back and share your comments, as your feedback means a lot to me"