Nanaimo Bars Recipe (No Bake)

Uma Raghuraman
On

Thursday, 29 December 2016 00:00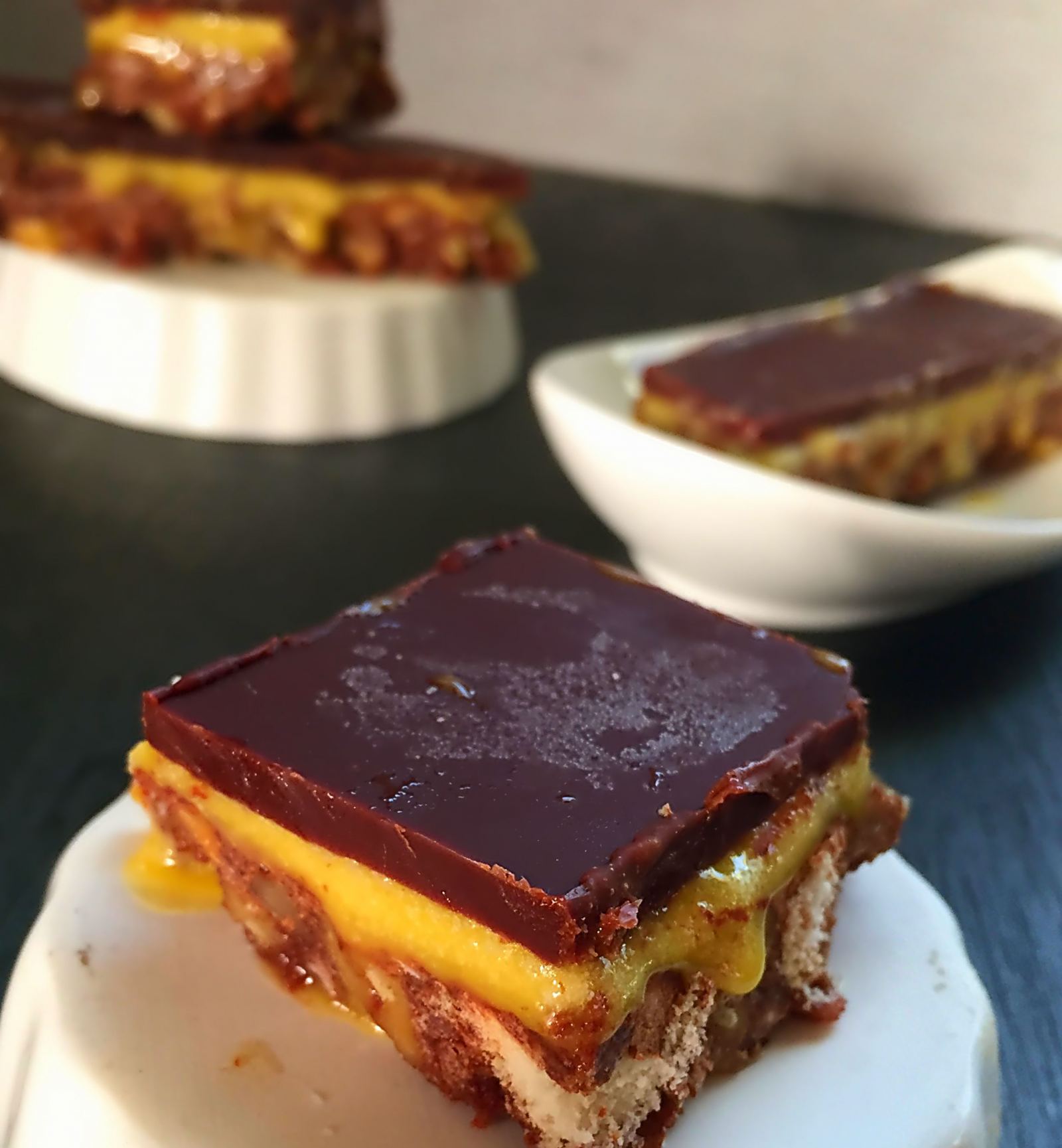 Nanaimo Bar is probably Canada's favourite dessert. As the name suggests it originated from the Canadian west coastal city of Nanaimo in British Columbia. The uniqueness of this dessert is that it combines three favourite confections into one. A wafer crumb/biscuit based layer, a custard based layer and different types of chocolates on the top. The city of Nanaimo is so proud of this dessert that tourists to this city can even venture on Nanaimo Bar trails that takes them across the city experiencing many delicious and creative interpretations of this iconic bar. Well you don't need to go so far now. With the recipe below, you can now make it at home and experience what millions of Canadians enjoy. Though the original recipe calls for eggs, this is an eggless version.
Serve these Nanaimo Bars for the upcoming New Years get together as a Party Dessert and have your guests singing your praises.
Other eggless dessert recipes that you can try are:
Ingredients
For the walnut layer:
1 cup

Fresh coconut

, grated
1/2 cup

Walnuts

, finely chopped
1 teaspoon

Vanilla Extract

150 grams

Dark chocolate

, Dark or milk depending on your preference
1/2 cup

Butter (unsalted)

, softened
2 cups

Marie Biscuit

, or any other biscuits, crushed

Milk

, adjustable, optional
For the custard layer:
2 tablespoons

Custard powder

, I used vanilla
2 cups

Caster Sugar

2 tablespoons

Milk

For the chocolate Layer:
100 grams

Dark chocolate

1/2 cup

Butter (unsalted)

, softened
How to make Nanaimo Bars Recipe (No Bake)
To begin the preparation of Nanaimo Bars, first layer a square shape 6-8" tray with parchment paper or butter paper.

For the biscuit layer, add the chocolate and butter in a large microwavable bowl and microwave in high for one minute or till the time the butter melts completely.

Remove and stir well using a fork.

Add the vanilla essence, walnuts, coconut , biscuit crumbs and mix well (add few teaspoons of milk if the mixture is too dry).

Transfer them to the layered baking tray and spread them uniformly.

Using the back of the ladle or spoon, press gently so that the mixture is tightly packed .

In a preheated oven, just bake this layer for 7-8 minutes only at 180 degrees C .

For the custard layer, add the custard and milk and mix well.

Stir in the powdered sugar little by little and beat to make a thick custard layer.

Once the biscuit layer completely cools, spread the custard layer uniformly without any gaps.

Place the tray in a refrigerator for at least one hour for the custard layer to set.

For the chocolate layer, heat the chocolate and butter in a microwave for one minute, mix well and pour it over the custard layer.

Refrigerate the dessert for at least 3 hours for the layers to set.Using a heated knife, carefully, cut the bars in desired shapes.

Serve these Nanaimo Bars for the upcoming New Years get together as a Party Dessert and have your guests singing your praises.
1 cup = 250 ml cup
Notes:
1. While cutting the bars, the chocolate layer may break, so use a very sharp knife.
2. Heat it and then carefully cut them into bars.
3. If the custard layer is not very thick add a teaspoon more of custard powder and make it into a thick layer, else the custard layer might not set properly.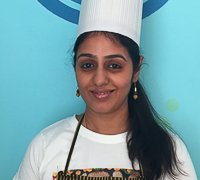 Masterchefmom aka Uma Raghuraman is passionate about cooking and loves to experiment with Indian and World cuisine. She shares her experiences step by step and amazing recipes through her blog, www.masterchefmom.blogspot.in. A self taught and compulsive baker she tries to bring in right balance of taste, nutrition and presentation to all her dishes. A mother to two teenagers and having been with children as a school teacher for over five years, she understands child psychology and the role played by food in influencing their eating habits.