Natorer Luchir Payesh (Milk Pudding With Fried Flatbread)
A milk pudding with fried flatbread from the region of Natore

Maumita Paul
On

Monday, 01 January 2018 08:00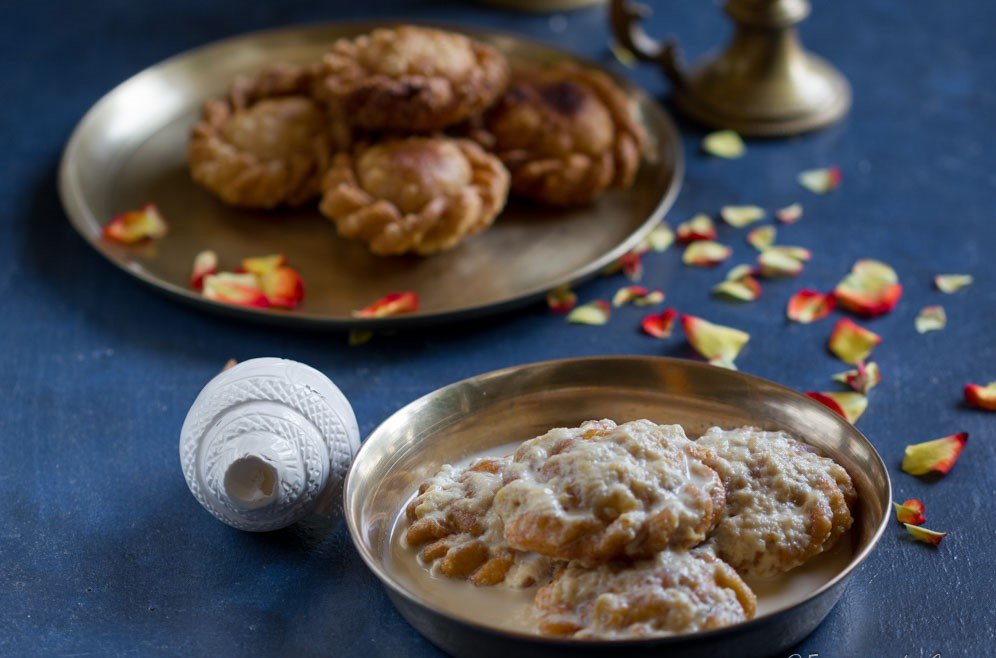 Luchir Payesh is a fried flatbread bathed in jaggery infused milk. This special version of Luchir Payesh is from Natore region in Bangladesh. It is a sandwich of two Puriss with a Kanchagolla filling in between, fried till golden and dipped into a jaggery-perfumed payesh. It is a delicacy prepared during the Sankranti festival.
Serve this rich Natorer Luchir Payesh as a dessert to a light Bengali meal of Cholar Dal and Jeera rice.
If you are looking for Bengali desserts, here are some:
Ingredients
200 grams

All Purpose Flour (Maida)

1.5 liter

Milk

100 grams

Palm jaggery

4-5

Kanchagolla

, if not available, use can use soft sandesh
2 teaspoon

Ghee

1 pinch

Salt
How to make Natorer Luchir Payesh (Milk Pudding With Fried Flatbread)
To begin making Natorer Luchir Payesh, add the flour to a bowl. Sprinkle in the salt, add the ghee. Mix well till the ghee is well incorporated into the flour.

Make a well in the flour, add 1/4 cup of warm water. Gently mix the water and flour and start kneading with your fingers. Gradually add more warm water as needed till the dough becomes firm but soft and pliable when rolled.

Cover with a wet or damp cloth for 10 minutes.

In another small bowl, crumble the kanchagolla. Keep aside.

Divide the dough into small balls, using a rolling pin, roll out each dough ball to a flat circle of about 3 inches in diameter.

Add 1.5 tsp of kanchagolla in the middle of a flattened circle, cover with another flattened circle and carefully press the edges together.

Use your fingers or a fork to crimp the dough along the edges. Repeat the same for the rest.

Heat oil in a deep-bottomed pan, deep fry till golden brown. Keep aside on a kitchen absorbent towel.

Pour the milk into a heavy bottomed saucepan, simmer over a low flame till the milk reduces to almost half in volume.

Once the milk has reduced, add the grated jaggery. Keep stirring until the jaggery has melted into the milk. (If you like it sweeter, feel free to indulge - add some more grated jaggery)

Gently add the kanchagolla stuffed luchis one by one into the milk.

Cook over a medium flame for about 5-7 mins. Carefully stir the milk a couple of times in between.

Allow to cool and serve.