New York Style Baked Cheesecake Recipe
New York Style Baked Cheesecake Recipe is a classic cheesecake recipe ,where the cheesecake is baked. Creamy soft cheese combined with eggs, cream and sugar. laid on a bed of crumbly biscuit crust and steam baked in the oven. Serve this heavenly cheesecake as is or along with some berry compote or lemon curd.

Archana Doshi
On

Thursday, 30 August 2012 11:28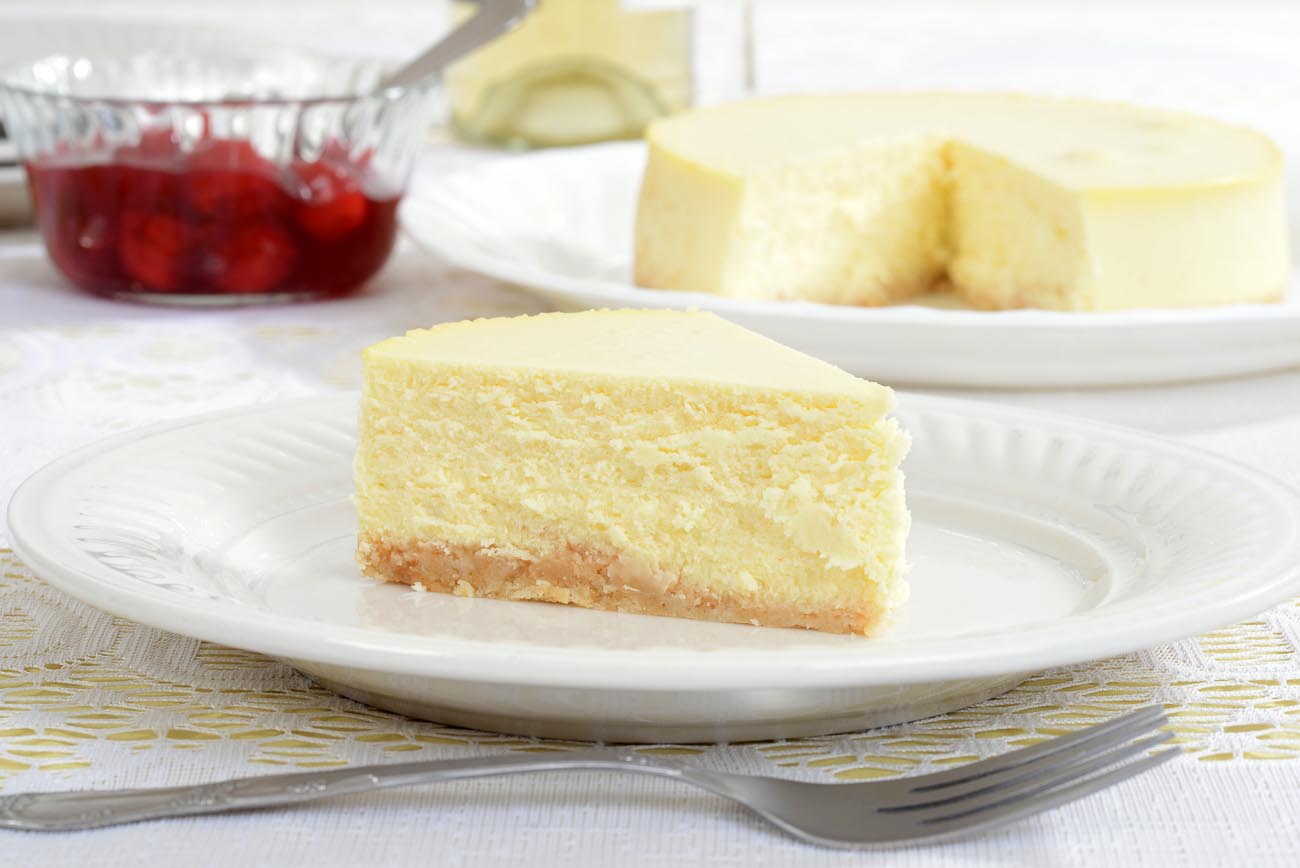 New York Style Cheesecake has a rich, dense, smooth and creamy consistency that is hard to resist. When in the US it would be very difficult to walk by Cheesecake Factory without wanting to eat cheesecake. I would for no given excuse miss having my favorite cheesecake.
Once I moved out of US and during my stay in France and back to India, I longed to make the same cheesecake, but could not source that exact same cream cheese that they used. Until recently in India a popular Indian local brand (Britannia) started selling it. Though does not thoroughly match it, but works great and gives me a sense of satisfaction of having the real cheesecake.
The New York Style Cheesecake makes a perfect cake for any party or get together. Make this cake for dessert the next time you have friends and family over for dinner.
Serve New York Style Cheesecake as a dessert after a meal of Vegetarian Moussaka with Mushrooms Sauce Recipe or Basil Pesto Grilled Chicken Recipe and Kiwi Basil Lemonade Recipe.
Other Cheesecake recipes that you can try are:
Ingredients
Ingredients for the Filling
900 grams

Cream cheese

120 grams

Caster Sugar

3 tablespoons

All Purpose Flour (Maida)

5

Whole Eggs

, at room temperature
1/2 cup

Fresh cream

1 tablespoon

Lemon juice

1 pinch

Lemon zest

1 teaspoon

Vanilla Extract

Ingredients for the Crust
2 cups

Graham cracker crumbs

, or marie biscuits, crumbled in a food processor
1/2 cup

Butter (unsalted)

, softened
How to make New York Style Baked Cheesecake Recipe
To begin the preparation of New York Style Baked Cheesecake, grease a leakproof springform pan and keep aside. Preheat oven to 180C with rack in center of oven.

Place a broiler pan at the bottom lower rack of the oven.
Method For Crust
In a medium sized bowl combine the cracker crumbs and melted butter. Press the crumbs evenly over the bottom of the springform pan. Refrigerate the pan along with the crumbs for about half about 15 minutes while you make the filling.

Preheat the oven to 170 C.
Method For Filling
In large high-walled bowl or the bowl of the stand mixer place the cream cheese, sugar, and flour and beat on medium speed until smooth and fluffy, scraping down the bowl as needed. Add in the eggs one at a time until well blended and the mixture looks fluffy.

Finally add the cream, lemon zest, vanilla extract and beat until well combined. Care not to over beat at this stage as the mixture can tend to curdle.

Remove the crust from the refrigerator and pour in the filling. Place the cheesecake pan on a larger baking sheet and place in the oven to bake. After about half and hour of baking, reduce the heat to 125 C and bake for another 45 minutes until the cheesecake is set and the center of the cheesecake looks a little wet and wobbly, but still firm.

Remove the cheesecake from the oven and allow it to cool completely. The cheesecake has to be refrigerated for at least 24 hours for it to set well for serving. You can cover the cheesecake with a cling wrap or foil and freeze for a few weeks as well.

When you are ready to serve the New York Style Baked Cheesecake, serve it along with a strawberry compote. Heavenly!

Serve New York Style Cheesecake as a dessert after a meal of Vegetarian Moussaka with Mushrooms Sauce Recipe or Basil Pesto Grilled Chicken Recipe and Kiwi Basil Lemonade Recipe.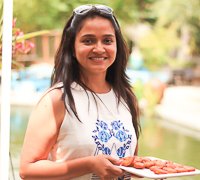 Archana Doshi is the founder of Archana's Kitchen. Archana launched Archana's Kitchen in 2007 as a way to keep track of her and family's recipes, and along the way grew it into one of the most popular cooking websites in the world. Archana is dedicated to helping home cooks be successful in the kitchen. Archana says "I hope you enjoy cooking recipes from my website where the sole effort is to make cooking simple for you. When you try out one of our recipes, we are longing to hear back from you. Do take your time to come back and share your comments, as your feedback means a lot to me"