No-Bake Strawberry Cream Cheese Dessert Recipe

Vibha Bhutada
On

Friday, 02 September 2016 00:23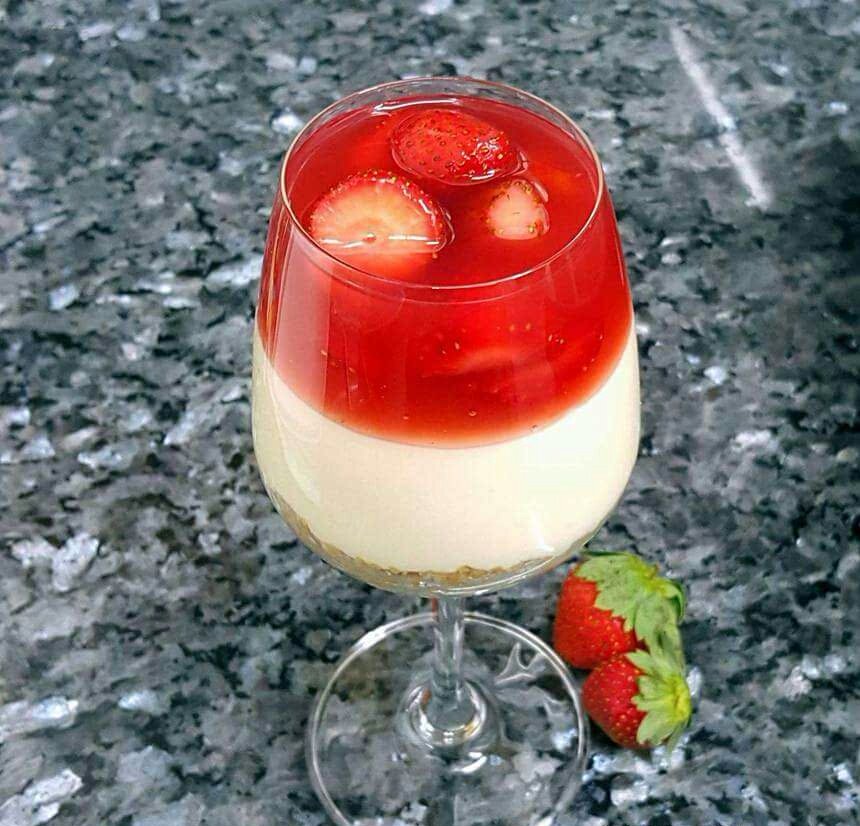 No-Bake Strawberry Cream Cheese Dessert is one of my favorite dessert recipes. Rich, creamy and mousse-like, this no-bake cream cheese dessert is served in individual glasses, making it a fancy yet simple dessert. It is easy to make, delicious to eat and appeals to almost everyone. Pretty layer of crumbs, creamy filling and fruit topping makes this dessert a standout.
No-Bake Strawberry Cream Cheese Dessert is perfect for birthday parties, get-togethers or even Christmas. Set this dessert in a mold or individual bowl/glasses. If not serving immediately, refrigerate until ready to serve and top with strawberry compote before serving.
If you like this recipe, take a look at more party dessert recipes with us
Ingredients
14

Marie Biscuit

, or 10 Graham Crackers
1 tablespoon

Sugar

, powdered
2 tablespoon

Butter (Salted)

, melted
For Filling
1

Britannia Cream Cheese

, (I used Philadelphia) softened
1

Condensed Milk

, sweetened
1/3 cup

Lemon juice

1 teaspoon

Vanilla custard

For Strawberry Compote
2 cups

Strawberries

1

Lemon

1/4 cup

Sugar

1/4 cup

Water

1 tablespoon

Corn flour
How to make No-Bake Strawberry Cream Cheese Dessert Recipe
For making No-Bake Strawberry Cream Cheese Dessert, begin with preparing the crust.
Crust
Grind the biscuits in a mixer.

In a small bowl, combine the crumbs, sugar and butter.

Divide this mixture between 2 glasses and let it chill for 15 minutes.
Filling
In a small bowl, beat the cream cheese until its smooth.

Gradually add in the condensed milk until it is blended well.

Beat in the lemon juice and vanilla essence.

Spoon approximately 1/4 cup into each glass. Then let it chill for about 1 hour.
Strawberry Compote
Rinse the strawberries under cold water and use the point of the knife to remove the hull out of the tops. When you have big strawberries cut in half.

Zest and juice the lemon.

In a small Saucepan over medium heat, combine sugar, water, and cornflour and whisk well.

Add the lemon zest and juice.

Add in strawberries and mix gently.

Cook over medium-high heat, stirring occasionally. The mixture will sizzle for a while, but then juice will begin to form.

Continue stirring; mash a few strawberries with a wooden spoon or heat-proof spatula to help produce the syrup.

Cook until sauce thickens, about 10-15 minutes. Remove from heat.

In a Blender, puree about 1/3 of the sauce, then mix back into the remaining topping.
Serving
Top each glass with the strawberry compote, about 1/4 cup in each and serve No-Bake Strawberry Cream Cheese Dessert Recipe instantly.

Note: You can also use 1 can of strawberry pie filling which is readily available in the market. You can substitute the blueberry pie filling or any another fruit flavor of your choice for the strawberry filling.