Oriya Style Ghanta Tarkari Recipe (Mixed Vegetables Curry)

Alka Jena
On

Wednesday, 28 September 2016 00:00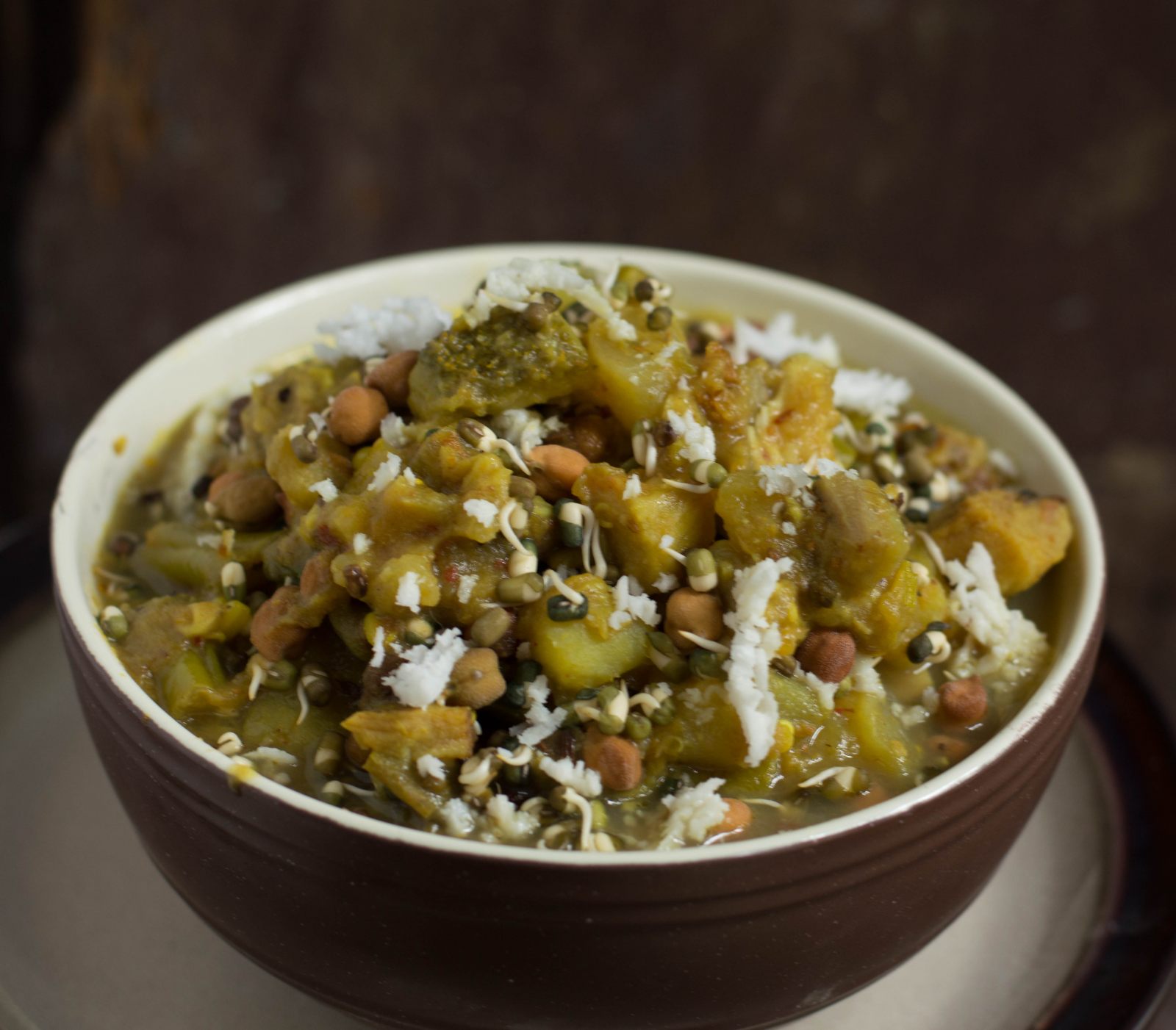 Ghanta Tarkari is a signature Odia recipe where variety of vegetables are cooked with soaked pulses and legumes in huge quantities and distributed among neighbors. Due to the presence of so many vegetables, the nutrient content of this curry is also high. This mixed vegetable dish from Odisha is somewhat similar in the lines of Aviyal of Kerala or Undhyoo of Gujarat. Though this curry is made during festivals throughout the year, but the Ghanta which is prepared the next day on the occasion of Dwitbahana Puja is something to remember.
Serve the Oriya Style Ghanta Tarkari with phulkas or steamed rice.
Other similar recipes that you can try are:
Ingredients
1 cup

Kaddu (Parangikai/ Pumpkin)

, cut into cubes
2

Potatoes (Aloo)

, cut into cubes 

Long String Bean (chavli)

, cut into 1 inches or you can use 10-12 french beans 
1

Ripe Bananas

, raw, peeled and cut into cubes 
1

Mooli/ Mullangi (Radish)

, cut into cubes 
1

Sweet Potatoes

, peeled and cut into cubes 
2

Colocasia root (Arbi)

, peeled and cut into cubes 
1/2 cup

Elephant yam (Suran/Senai/Ratalu)

, peeled and cut into cubes 
1

Brinjal (Baingan / Eggplant)

, cut into cubes 
1/2 cup

Vellai Poosanikai (Ash gourd/White Pumpkin)

, peeled and cut into cubes 
5-6

Lima Beans

, cut into 1 inch pieces
1/2 cup

Tomato

, or raw mango or elephant apple, peeled and cut into pieces
1/2 cup

Cucumber

, ripe, peeled and cut into cubes 
3

Pointed gourd (Parval)

, cut into cubes 
3

Spine Gourd (Kankoda)

, cut into cubes
1

Ridge Gourd (Turai/ Peerkangai)

, peeled and cut into cubes 

Fresh coconut

, Grated
1/4 cup

Fresh coconut

, chopped
1/4 cup

Ginger

, grated
1

Bay leaf (tej patta)

1/2 cup

Kala Chana (Black Chickpeas)

, soaked
1/2 cup

Green Moong Sprouts

1 teaspoon

Turmeric powder (Haldi)

, 1 teaspoon turmeric powder 

Salt

, to taste
1 tablespoon

Jaggery

, powdered 
2-3

Dry red chillies

, for tempering
1 teaspoon

Cumin seeds (Jeera)

1/2 tablespoon

Cumin powder (Jeera)

, roasted
1/2 tablespoon

Red chilli powder

1 tablespoon

Ghee
How to make Oriya Style Ghanta Tarkari Recipe (Mixed Vegetables Curry)
To begin the preparation of Oriya Style Ghanta Tarkari, soak the kala chana for 3 to 4 hours, preferably overnight.

Wash the green moong beans and soak overnight in enough water. Drain the water and clean properly. Wet a clean cotton cloth and wring excess water from it. Tie the moong daal in the cloth and keep it covered in a container for a day. When you open it , you should be able to see sprouts coming from it.

Dry roast 1 tablespoon cumin seeds and 4 to 5 dry red chilies, cool and grind to a fine powder and keep aside.

Wash and cut the vegetables. In a heavy bottomed vessel, add the potatoes, yam, colocasia, pumpkin, sweet potato, radish, kala chana along with 1 cup water, turmeric powder, salt, bay leaf, grated ginger and cook. Since these vegetables take long time to cook, you need to cook them first.

After 5 minutes, add the rest of the vegetables and the chopped coconut, cover and cook on medium heat. You do not have to add more water as many of the vegetables will start releasing their own water.

Once the vegetables are half done, add the elephant apple and the powdered jaggery and cook till all the vegetables are cooked perfectly. If you do not have elephant apple, you can add raw mango or tomatoes also. Remove from heat. Add the sprouted moong to it.

In a pan, heat the ghee and add the red chillies and cumin seeds, once it starts to splutter, add the roasted cumin and red chilli powder to it and immediately pour this over the cooked vegetables. Add the grated coconut, mix well and cook on low flame for 4 to 5 minutes.

Serve the Oriya Style Ghanta Tarkari hot with phulkas or steamed rice.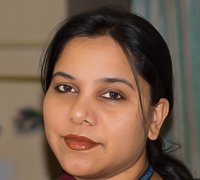 Food Blogger...Recipe Developer...Food Stylist....Food Photographer...Dedicated mother...Working professional…Homemaker.....the list seems endless...... Above all I am a woman and take pride in all the roles I play in my life. Friends call me a Super Mom....Super Woman... because of the multitasking I do every day in order to make a work life balance. I am AlkaJena, an Economist by Profession and a Food Blogger by Passion based at Bhubaneswar, Odisha and loves to share various recipes tried on the comfort of my Kitchen on my Blog culinary xpress. I cook to satisfy my culinary skills and prefer my work to speak for myself.