पालक पनीर रेसिपी - Palak Paneer Recipe
स्वादिष्ट और पोषण से भरपूर, आप इस पालक पनीर को अपने रोज के खाने के लिए बना सकते है. आप इसे अपने लंच बॉक्स में भी पैक कर सकते है.

Archana Doshi
On

Thursday, 16 May 2019 10:00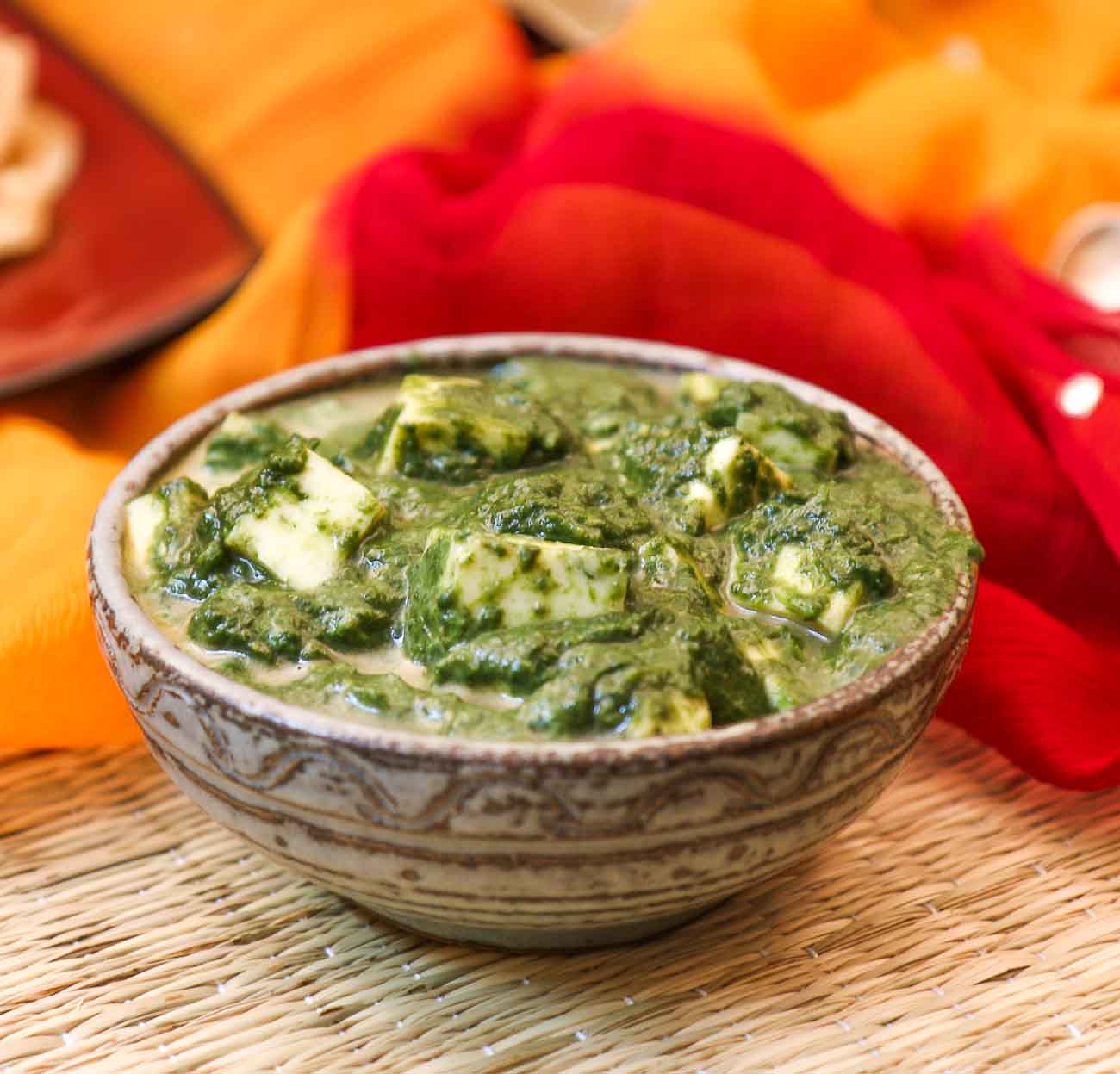 पालक पनीर रेसिपी एक सरल और पोषण से भरपूर रेसिपी है जिसे हर घर में बनाया जाता है. यह आपको हर दक्षिण भारतीय रेस्टोरेंट में भी मिल जाती है. इसमें पालक से आयरन और पनीर से प्रोटीन मिलता है. आप इस सब्ज़ी को अपने लंच बॉक्स में भी पैक कर सकते है.
पालक पनीर रेसिपी को दाल तड़का, बूंदी रायता, जीरा राइस और फुल्के के साथ अपने रात के खाने के लिए परोसे।
अगर आपको यह रेसिपी अच्छी लगी है तो, आप यह भी बना सकते है
Note: The Video recipe of the Palak Paneer will show you how to make this recipe in one single pot. I have used the pressure cooker to make this dish. But you can also use a heavy bottomed pan to make the dish similar to the video recipe. And then use a hand blender to pulse to the texture that you like.
Diet:
High Protein Vegetarian
Ingredients
250 ग्राम

पनीर

, काट ले
500 ग्राम

पालक

, धोकर काट ले
1

टमाटर

, प्यूरी
2 कली

लहसुन

, कस ले
2 इंच

अदरक

, कस ले
2

हरी मिर्च

, सीधा काट ले
1/2 छोटा चम्मच

जीरा

1/4 छोटा चम्मच

दालचीनी पाउडर

1 छोटा चम्मच

जीरा पाउडर

1/4 छोटा चम्मच

हल्दी पाउडर

1 छोटा चम्मच

गरम मसाला पाउडर

2 बड़े चम्मच

क्रीम

1 बड़ा चम्मच

मक्खन

नमक

, स्वाद अनुसार
How to make पालक पनीर रेसिपी - Palak Paneer Recipe
पालक पनीर रेसिपी बनाने के लिए सबसे पहले पालक को अच्छी तरह से धो ले. धोने के बाद काट ले और अलग से रख ले.

एक सॉस पैन में पानी गरम करले। उबालने के बाद इसमें पालक डाले और गैस बंद कर ले. 2 से 3 मिनट तक पालक को गरम पानी में रहने दे.

पालक को निकाले और ठंडा होने दे. अब इसे एक एक मिक्सर ग्राइंडर में डाले और पीस कर प्यूरी बना ले.

अब एक कड़ाही में मक्खन गरम करें। इसमें जीरा, अदरक, लहसुन, हरी मिर्च डाले और 1 मिनट के लिए पका ले. अब इसमें टमाटर की प्यूरी, हल्दी पाउडर डाले और 2 से 3 मिनट के लिए पका ले.

2 से 3 मिनट के बाद इसमें पिसा हुआ पालक, जीरा पाउडर, गरम मसाला पाउडर, दालचीनी पाउडर, नमक डाले, मिलाए और 5 मिनट के लिए पला ले.

5 मिनट के बाद इसमें क्रीम, पनीर के टुकड़े डाले और उबलने दे. उबाला आने के बाद, गैस बंद करें और परोसे।

पालक पनीर रेसिपी को दाल तड़का, बूंदी रायता, जीरा राइस और फुल्के के साथ अपने रात के खाने के लिए परोसे।