Parsi Lagan Nu Custard Recipe

Anshu Pande
On

Wednesday, 14 December 2016 00:10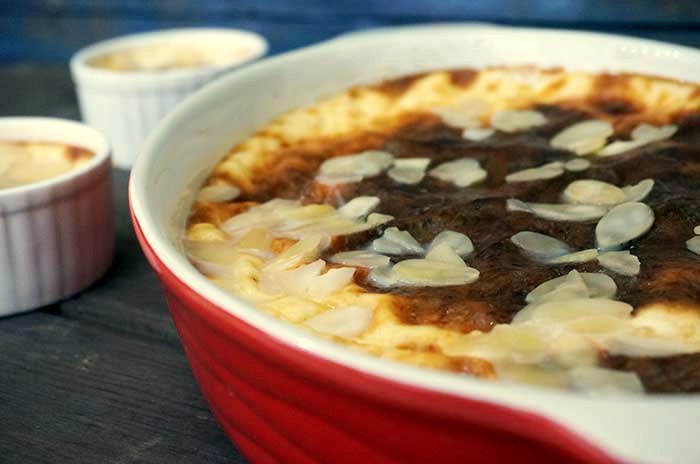 Parsi Lagan Nu Custard is a traditional Parsi Dessert recipe made specially during Parsi weddings. It is a rich Custard with flavours of Nutmeg and Cardamom, and serves as dessert.
Serve Parsi Lagan Nu Custard Recipe after a meal of Amrood Ni kari Recipe and phulka.
Here are a few Parsi recipes
Ingredients
5

Whole Eggs

1 liter

Milk

, (more if required)
150 ml

Condensed Milk

300 grams

Sugar

, (adjust)
1/2 teaspoon

Cardamom (Elaichi) Pods/Seeds

, pounded
1 teaspoon

Vanilla Extract

1/2 teaspoon

Nutmeg powder

Whole Almonds (Badam)

, blanched and sliced
How to make Parsi Lagan Nu Custard Recipe
To prepare Parsi Lagan Nu Custard, boil the milk in a large saucepan and when it comes to a boil add sugar and condensed milk.

Let it cook on simmer and stir for another 15 minutes or till the sugar has dissolved. Turn the flame off and let it come down to room temperature.

In the meanwhile add eggs, nutmeg and cardamon powder and Vanilla essence to another bowl and whisk lightly.

When the milk has cooled down add the egg mixture to it and combine. Do not add egg mixture when the milk is still hot. This may scramble the eggs.

Grease a baking dish or individual serving ramekins with a little oil or butter and pour the milk into it.

Preheat the oven to 220 degree celsius for 10 minutes and then place the baking dish into the oven.

Let it bake for 40 minutes or until you see the top has become golden grown in colour.

Turn the oven off and spread the slivered almonds on top. Put back the baking tray in turned off but still warm oven for sometime.

Now refrigerate the custard for 6-8 hours so that it sets well.

Its ready to serve. Enjoy the traditional Parsi Lagan Nu Custard dessert Recipe after a meal of Amrood Ni kari Recipe and phulka.