Pineapple & Cashew Energy Fudge Recipe

Anupama Nagaraja
On

Friday, 03 July 2015 00:24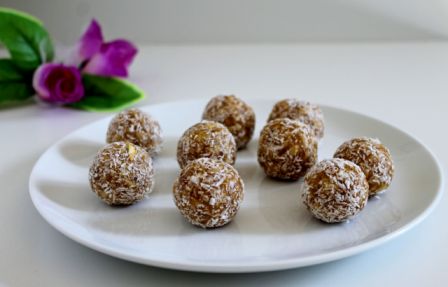 The Pineapple & Cashew Energy Fudge Recipe is a delicious energy bite that is made from fresh pineapples ground along with cashewnuts and spices. These Pineapple Cashew Energy Bites are enriched with traditional flavors of cardamom, saffron mingled in with cashew bits encased in a pineapple fudge, in my opinion, bring both the rich traditional and the exotic modern worlds together.
Serve Pineapple & Cashew Energy Fudge Recipe as a healthy snack in between your meals.
If you like this recipe, you can also try other Energy Bars such as
Ingredients
1-1/2 cups

Pineapple

, chopped into chunks (when pureed becomes 1 cup)
1-1/2 cups

Cashew nuts

, roughly powdered
1/4 cup

Pistachios

, thinly sliced
1/2 cup

Brown Sugar (Demerara Sugar)

5

Cardamom (Elaichi) Pods/Seeds

, the seeds powdered
1

Saffron strands

, few
1

Peanut Butter

, few drops (or coconut oil or ghee for greasing)

Water

, as required
How to make Pineapple & Cashew Energy Fudge Recipe
To begin making the Pineapple & Cashew Energy Bite Recipe, we will first chop the fresh pineapple into small chunks.

Coarsely powder the cashew nuts and pulsing in a food processor or crush the nuts in a thick plastic bag, using a rolling pin.

Slice the pistachios and keep it aside. Grease a plate or tray and keep this ready.

Add the pineapple chunks to a saucepan along with sugar and cook the pineapple on medium heat until soft and tender. Once cooked, turn off the heat and allow the pineapple to cool slightly. Once the pineapple cools down, blend it to make a smooth puree.

Pour the puree back into the saucepan. Turn the heat back on and add the powdered cashews, cardamom, saffron, stir and cook until it thickens, clearing the sides as you go.

This process might take 15 to 20 minutes. You will notice the entire mixture coming away from the sides of the pan.

Once the pineapple nut mixture is well thickened and starts to come together as a ball, turn off the heat. If the mixture still appears sticky, cook for a couple of minutes more.

Transfer to the pineapple nut mixture into a greased tray and spread it out evenly to form a smooth rectangle. Smoothen the surface using a the back of a spoon that is slightly greased with oil. This prevents the fudge from sticking to the spoon and spreading it evenly.

Allow it to rest and cool for 15 to 20 minutes and the fudge will harden a little.

Cut into desired size pieces. Once cooled completely, serve garnished with pistachios and desiccated coconut.

If you are shaping these fudges into balls, allow the mixture to cool completely. Then pick up small portions, make depressions in the middle, place a couple of slivered pistachio nuts.

Cover it up bringing the mixture over. Roll it between your palms to form a smooth ball and finally roll the ball over desiccated coconut spread on a plate. Again roll the ball between your palms so that the coconut sticks on.

Serve the Pineapple & Cashew Energy Fudge as a snack for kids or as a quick dessert bite.