Gluten Free Potato Pizza Recipe
Gluten Free Potato Pizza is a healthy version of pizza with amaranth and rice flour which you can even make for your tea parties. Serve it with Bean Sprout & Corn Salad and Minestrone Soup for a hearty weekday dinner.

Jyothi Rajesh
On

Monday, 19 October 2015 00:32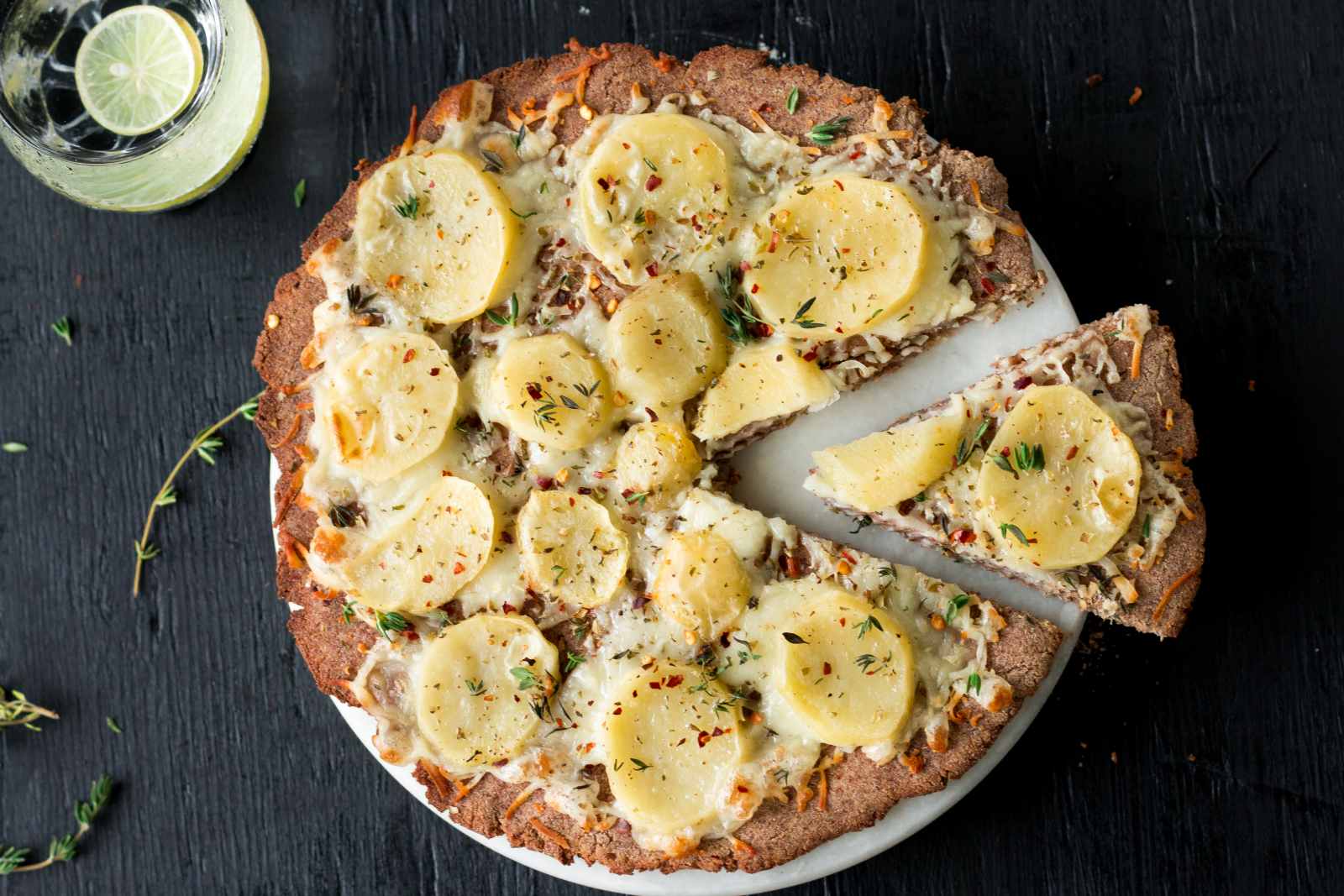 Gluten Free Potato Pizza is a healthy variant for good old pizza - that retains all the goodness of eating pizza, without the guilt. Who doesn't love pizza? It's one of my top favourite foods, but always wonder whether the pizza is nutritious enough to feed our kids.
Pizza doesn't have to be junk food. Pizza can be healthy if you use the right ingredients with a healthier profile. This Gluten Free Potato Pizza gives you a healthier pizza fore-going the the typical white-flour crust you're used to using. Amaranth flour along with flax seeds make the pizza crust enriched and healthier for you and your family.
Serve Gluten Free Potato Pizza Recipe along with Bean Sprout & Corn Salad and Minestrone Soup for a hearty weekday dinner.
If you like homemade pizzas, you can also try these Pizza recipes:
Ingredients
For gluten free pizza base
1 cup

Rajgira Flour (Amaranth Flour)

1/2 cup

Red Rice Flour

1/4 cup

Flax seed powder (flax meal)

1 tablespoon

Dry mix herbs

1 teaspoon

Red Chilli flakes

1 1/2 teaspoon

Salt

1 1/2 tablespoon

Active dry yeast

1/4 cup

Lukewarm Water

1 teaspoon

Sugar

For Pizza topping
2

Potatoes (Aloo)

, thin sliced
1 teaspoon

Olive Oil

1/2 teaspoon

Salt

1/2 teaspoon

Black pepper powder

1 teaspoon

Fresh Thyme leaves

1 teaspoon

Rosemary

, fresh
1/4 cup

Cheese

, grated
Some

Red Chilli flakes
How to make Gluten Free Potato Pizza Recipe
To begin making the Gluten Free Potato Pizza recipe, in a large mixing bowl, add amaranth flour, red rice flour, flax seed powder, active instant dry yeast and mix. Next add dried red chili flakes, dried herbs and salt, mix.

Make a well in the centre, gradually add water and bring the flour and water together so you can knead it into a smooth dough. If you find the dough too dry, add just 1 teaspoon of water at a time and knead until you get a soft dough.

Place the dough in a well greased bowl and cover it and set it to rise a little while you prepare the pizza topping.

Preheat the oven at 180 C.

To make the topping, wash and pat dry the potatoes. Peel the skin off and slice them thin. Grease a baking pan with olive oil, arrange the potato slices, and sprinkle salt and pepper powder on top of the potatoes.

Bake potatoes at 180 C for about 5 to 8 minutes or until they are half cooked.

Lightly sprinkle some amaranth flour over a clean dry surface, transfer the pizza dough to the surface and knead for about 3 to 5 minutes. Keep sprinkling dough if it becomes sticky and difficult to knead.

Now divide the dough into 2 equal parts. Take one part of dough, place it on a well dusted baking pan and flatten pizza dough and shape it with your fingers.

After you flatten the dough, using a butter knife, very gently, try to release the dough from the baking sheet so it does not get stuck to it.

Bake the pizza base in preheated oven for about 10 to 12 minutes or until the base starts to brown on the edges.

Remove the base from oven, sprinkle a thin layer of fresh grated low fat cheese, arrange half baked potato slices. Sprinkle fresh herbs, dried red chilli flakes.

Bake the potato pizza once again at 180 C until the cheese melts. Remove from oven and slice the pizza up to serve.

Serve Gluten Free Potato Pizza Recipe along with Bean Sprout & Corn Salad and Minestrone Soup for a hearty weekday dinner.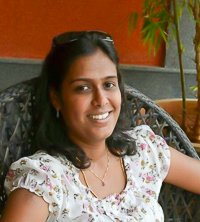 Jyothi Rajesh is an engineer by profession. Food and any thing related to food is her passion. She loves to cook, style and photograph food. She spends half of my week teaching Robotics to children and the rest of my week she get lost in cooking and photography. She cook for two reasons. First, cooking is, in all honesty, a way to show that she cares about people. It gives her great pleasure to make something that someone enjoys! Second, "I love the quest … the quest for great ingredient combinations, for unexpected flavors, for those "wow" recipes."