jQuery( document ).ready(function() { // alert("isPaytm = " + isPaytmContainer); // alert("isPaytm = " + testVar()); if ( isPaytmContainer() ) { let amzn = ["'http://amzn.to'" , "'https://amzn.to'" , "'https://www.amazon'", "'http://www.amazon'"]; amzn.forEach( function(href) { jQuery("a[href^=" + href + "]").each(function(){ //do something with the element here. console.log("Found a = " + jQuery(this).attr('href') ) ; jQuery(this).contents().unwrap(); }); }); jQuery('.app-download-wrapper').remove(); jQuery('.share-icons').remove(); // remove the whatsapp links let wa = ["'https://wa.me'","'http://wa.me'"]; wa.forEach( function(href) { jQuery("a[href^=" + href + "]").each(function(){ //do something with the element here. // console.log("Found a = " + jQuery(this).attr('href') ) ; jQuery(this).remove(); }); }); // remove instamojo link // jQuery('.instamojo-btn-wrapper').replaceWith('

Email us at contact@archanaskitchen.com to learn more about the cooking class

'); jQuery('.instamojo-btn-wrapper').remove(); let applinks = ["'https://play.google.com'","'https://itunes.apple.com'","'http://play.google.com'","'http://itunes.apple.com'"]; applinks.forEach( function(href) { jQuery("a[href^=" + href + "]").each(function(){ //do something with the element here. // console.log("Found a = " + jQuery(this).attr('href') ) ; jQuery(this).remove(); }); }); if(window.ga && ga.loaded) { ga('send', 'event', 'Paytm MiniApp', 'visitor'); } } });

Archana Doshi
On

Wednesday, 20 January 2010 11:06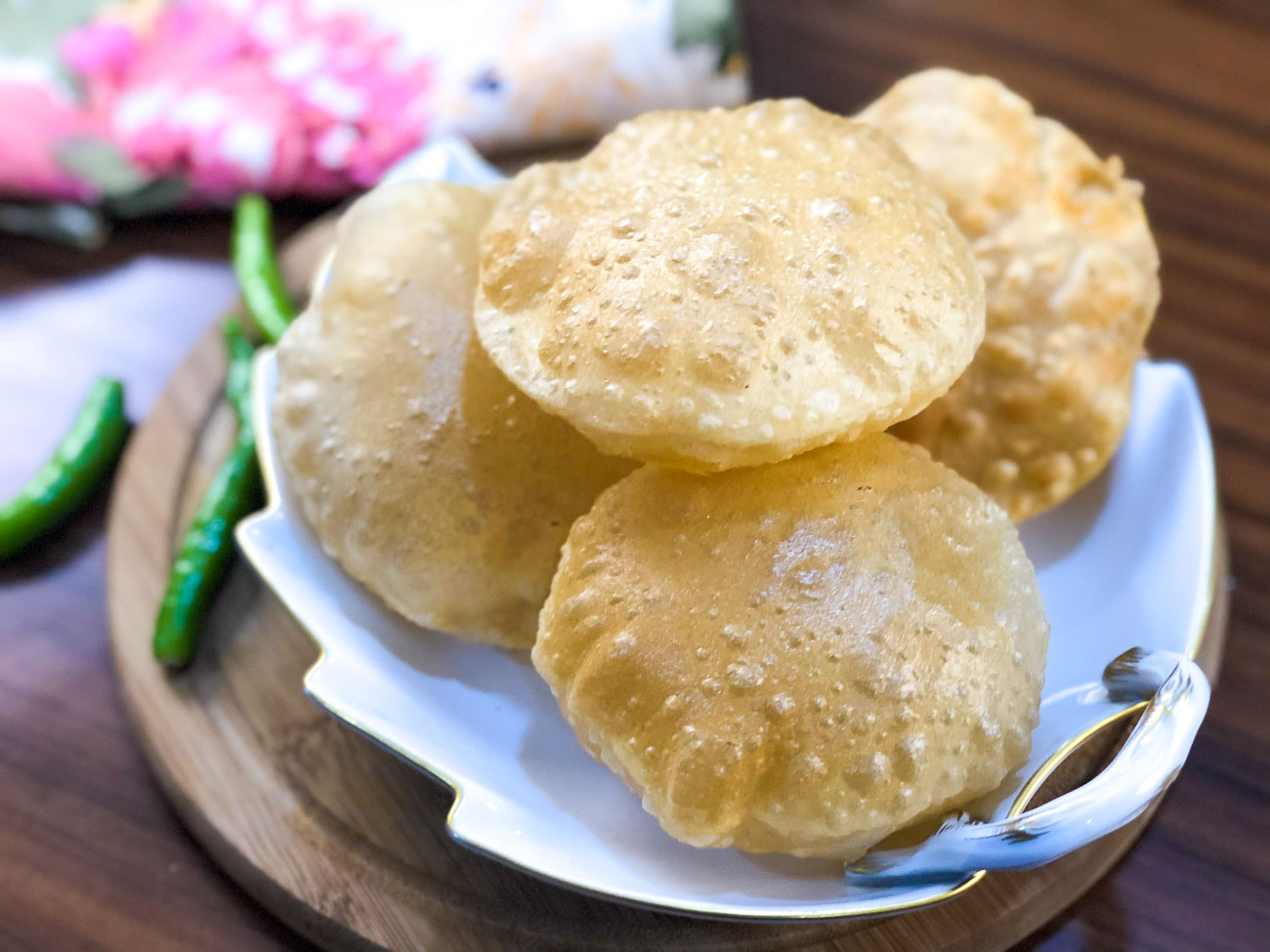 Puri is a traditional Indian bread savored in most regions of India. It is soft deep fried bread that is made from whole wheat flour.
Addition of nigella, fennel or ajwain seeds enhances the flavor of this bread. At home Puri's are a delicacy and we love to savor it the most during the Mango season.
Puri and Keri No Ras combination along with Shrikhand, Gujarati Dal and with a green vegetable like Walor Ringna nu Shaak is absolutely divine.
Serve the Puri's along with Chana Masala and Aamras for a delicious sunday lunch
If you like this recipe, try more variations while making puris, like-
How to make Puri Recipe - Learn to Make Soft Puffed Puris At Home
To begin making the Puri recipe, in a large bowl combine the flour, nigella seeds and salt together and then add 2 teaspoons of the oil. Add a little water at a time to the flour mixture and knead well to make a firm and smooth dough.

Add the remaining one teaspoon of oil to coat the dough and knead again. Cover and set aside for 15 minutes. Punch down the dough, knead for a minute and divide the dough into 20 equal portions.

Heat oil in a deep frying pan with heat on medium high. With a rolling pin, roll out each ball into a 5-7 inch circles tossing in a little oil while rolling to prevent it sticking to the base. Continue the same process of rolling with the remaining dough. Keep the rolled dough aside.

When the oil is hot and ready about 190C, gently slip one rolled out dough into the oil. Fry the bread with a slotted spatula, continuously yet gently pouring oil onto the frying beard and allowing it to puff.

Once the puri puffs, turn over and fry for just a few seconds. Using the slotted spatula drain the oil by the side of the pan and remove from heat. Place the fried puri's on paper towels to absorb excess oil. Continue the frying with the remaining rolled portions and serve hot.

Serve the Puri's along with Chana Masala and Aamras for a delicious sunday lunch