Qorma Baamia Recipe
Bhindi cooked in tomato onion puree

Shruti J
On

Wednesday, 24 July 2013 14:33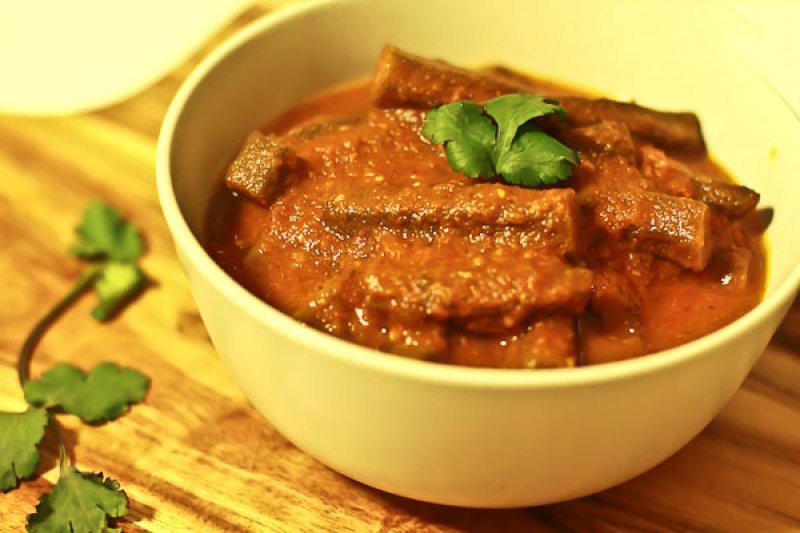 Baamia is nothing but our bhindi/okra in Afghan. 'Qorma Baamia' - Baby Okra cooked in rich tomato-onion puree! Had this gravy a few weeks back at Afghani Restaurant and it was finger-licking good. I love experimenting on this versatile vegetable - Okra (bhindi) every now n then! But so far, I never imagined myself cooking bhindi in gravy directly. I tried replicating the same in-house and BINGO! It was as good as the restaurant version of it. Serve Qorma Baamia Recipe with hot Pudina Tawa Paratha (Mint Leaf Skillet Flat Bread) or Homemade Butter Naan Recipe (Soft Yogurt Bread).
If you like this recipe, try more recipes like
500 grams baby okra/ladys finger/bhindi
1 inch piece of ginger, 3 cloves garlic and 1 large onion - ground into a smooth paste
1/4 cup freshly pureed tomatoes
2 tablespoon tomato ketchup
1 teaspoon kasoori methi
2 teaspoon pomegranate (anaardana) powder
1 teaspoon red chilly powder
1 teaspoon roasted cumin powder
1/4 teaspoon turmeric powder
1/2 teaspoon garam masala
1 cup hot water
2 teaspoon cooking oil
salt, to taste
Ingredients
500 grams

Bhindi (Lady Finger/Okra)

1 inch

Ginger

, grated
3 cloves

Garlic

, ground to paste
1

Onion

, ground to paste
1/4 cup

Homemade tomato puree

1 teaspoon

Kasuri Methi (Dried Fenugreek Leaves)

2 teaspoons

Anardana Powder (Pomegranate Seed Powder)

1 teaspoon

Red chilli powder

1 teaspoon

Cumin powder (Jeera)

1/4 teaspoon

Turmeric powder (Haldi)

1/2 teaspoon

Garam masala powder

1 cup

Hot water

2 teaspoon

Cooking oil

Salt

, to taste
How to make Qorma Baamia Recipe
To begin making Qorma Baamia Recipe, wash and pat dry baby okra with a kitchen towel. Trim them from top (remove the cap of okra) and end points. If the okra's are too big, you can half them or leave them as whole.

Heat oil in a heavy bottomed pan; add in the onion garlic ginger paste and saute for about 5 minutes on low heat unti the raw smell goes way and the color chnages.

Stir in the tomato puree, turmeric powder, salt to the above mixture and give it a brisk boil for about 2 minutes. Add in the cut ladys finger/okra, stir to combine all the ingredients.

Cover the pan, turn the heat to low and simmer for about 10 minutes until the okra's are soft and tender.

Add in the remaining spices, the tomato ketchup and stir well. Simmer for another few minutes.

Serve Qorma Baamia Recipe garnished with coriander leaves with hot Pudina Tawa Paratha (Mint Leaf Skillet Flat Bread) or Homemade Butter Naan Recipe (Soft Yogurt Bread)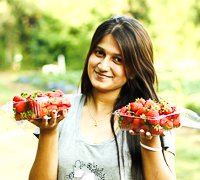 Shruti is no chef, but she loves adapting recipes and taking the recipe to a new level. She is a big-time food lover, but a break in professional career made her dig into the culinary world much more than before! She enjoyed a migration from "Food Lover" to "Food Blogger". Visit http://myownfoodcourt.blogspot.com for sights & and smells of Indian and World dishes.