Rajasthani Ghevar Recipe
A traditional disc shaped sweet popular in Rajasthan and made especially during Teej and raksha bandhan is simple to make at home and a must try recipe. This irresistible sweet is made out of flour, ghee and milk mixture which is deep fried and then dipped in a sugar syrup.

Dhara Shah
On

Friday, 06 January 2017 15:22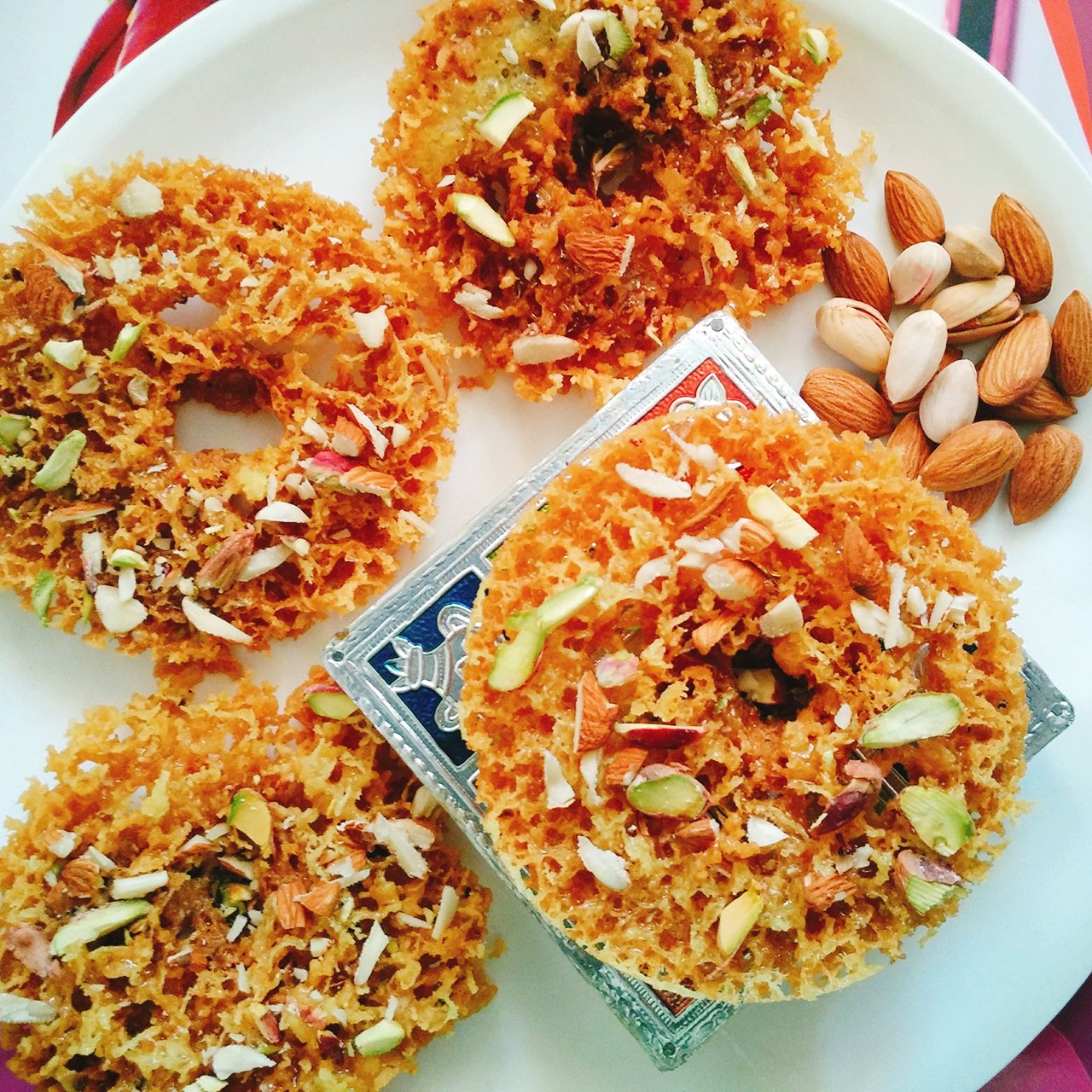 Ghevar is a Rajasthani easy sweet recipes specially made on Festivals in rainy season like the Teej and Raksha Bandhan. The reason why ghevar recipe is made only during the rains is that a degree of moisture is necessary. It is a round plate-shaped sweet which is made with flour, ghee and milk mixture and deep fried in oil. It is also known as Honeycomb dessert and is one of the best dessert recipes.
Serve Rajasthani Ghevar Recipe after a festive meal of Aloo Tamatar Ki Sabzi, Ajwain Puri and Boondi Raita.
Here are more Sweet recipes that you might want to make for festivals
Ingredients
1-1/2 cups

All Purpose Flour (Maida)

1/2 cup

Ghee

, more to fry
1/2 cup

Milk

1-1/2 cups

Water

1 teaspoon

Turmeric powder (Haldi)

For sugar syrup:
1-1/2 cups

Sugar

1 cup

Water
How to make Rajasthani Ghevar Recipe
To begin making the Rajasthani Ghevar Recipe, get all the ingredients ready. Pour ghee and cold milk in a bowl and whisk it well. You can even use a hand blender to do the same.

Blend it till ghee and milk emulsify into a smooth mixture and do not separate.

Sieve the maida and add into the mixture above and whisk again.

Make sure that no lumps and the batter is smooth. Add turmeric powder for colour and add water little at a time and mix it well into a smooth and pouring consistency.

The consistency of the batter should be one string (such that if we drop the batter from the spoon, then it should fall like a string).

Heat ghee in a deep frying pan. The quantity of ghee should be half of the density of the vessel. Heat it on high flame till the ghee gets very hot. Check the right temperature by dropping a small amount of the batter and see if it immediately comes up without any delay.

Pour batter into the ghee to make a big circle depending on the how thick ghevar you want to make. I used two spoonsful of batter. Pour the batter slowly in one continuous thin stream in the centre of the pan.

Bubbles start spluttering all over the surface of oil. Let the foam settle down. If the centre point is totally covered , then use ladle to make little space in the centre and keep on pouring the batter.Take 1- 2 min interval between pouring of batter.

Turn the heat to low once you have poured batter into the ghee. Let it fry until it turns light brown in color.

Once the ghevar has turned to brown in color, means it is cooked now. Take out the ghevar in a plate lined with tissue paper. A beautiful net shape would have formed.
To prepare sugar syrup:
Add water and sugar to saucepan. Bring them to boil with occasional stirring. After the boil, heat it on low flame for 5-6 minutes till you get a one-string consistency.

Now dip the ghevar into the sugar syrup for 1 to 2 min and take it out. Keep the ghevar dipped in the syrup on a plate and tilt it, so that any excess syrup gets drained.

Your delicious Rajasthani Ghevar recipe is ready. Garnish the Ghevar with nuts to make it more tempting.

Serve Rajasthani Ghevar Recipe after a festive meal of Aloo Tamatar Ki Sabzi, Ajwain Puri and Boondi Raita.