Roasted Cherry Tomato Soup Recipe

Madhuri Aggarwal
On

Tuesday, 01 September 2015 00:40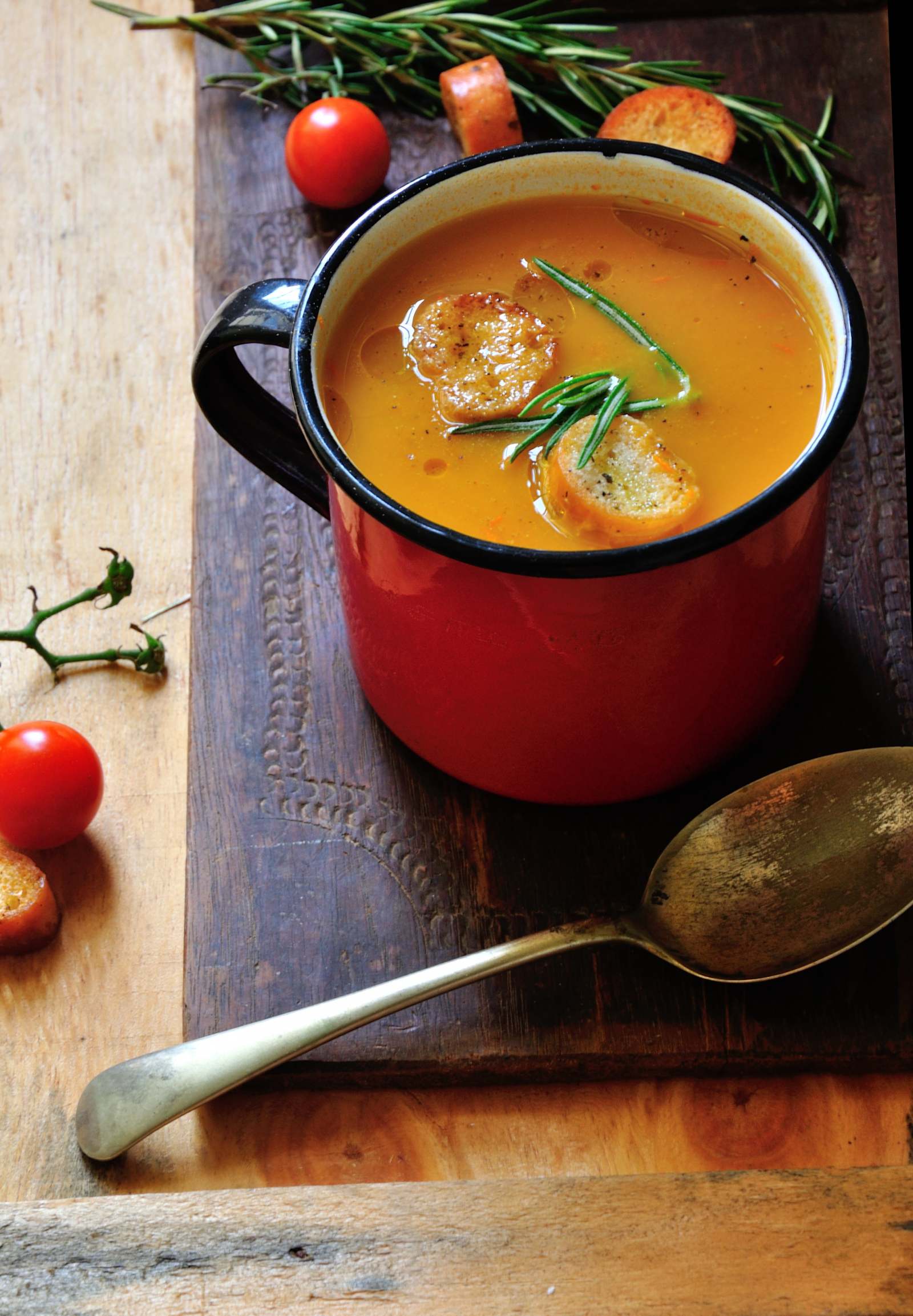 Roasted Cherry Tomato Soup Recipe is a simple soup that calls for very few ingredients but has a wonderfully deep and complex flavour. It is tangy, sweet and spicy with a hint of smokiness that comes from roasting the tomatoes.
Serve the Roasted Cherry Tomato Soup as a weeknight dinner dish, along with some crusty Salad, or even as a starter at a dinner party. This soup is a crowd-pleaser and loved by kids and adults alike.
Other recipes that you can try are:
Note: If you do not have an oven to roast the tomatoes, you can also saute them in a skillet on high flame until the tomatoes are wrinkled and cooked through, by caramelization. You can also replace rosemary with basil leaves.
Ingredients
300 grams

Cherry tomatoes

2 tablespoons

Olive Oil

3 cloves

Garlic

, finely chopped
2 sprig

Rosemary

Salt and Pepper

, to taste
How to make Roasted Cherry Tomato Soup Recipe
To begin making the Roasted Cherry Tomato Soup Recipe first prepare the oven for roasting the tomatoes. Set the oven to preheat at 180 C for about 15 minutes.

Meanwhile, in a baking tray spread the tomatoes evenly. Drizzle the oil over them, sprinkle some salt and pepper over it and toss well so the tomatoes are well coated. Scatter them around the tray.

Next, crush the garlic pods lightly in a mortar and pestle. Scatter them on to the tray, in between the tomatoes. Tear the rosemary leaves, lightly rub them between your palms or fingers and sprinkle all over the tomatoes in the tray. Give it a good mix so the tomatoes are well coated.

Place the tray in the oven so the tomatoes will cook for about 1/2 hour or until they are crinkled and soft.

When done, take the tray out of the oven and place it on a rack to cool slightly. Empty the tomatoes into a blender jar of a mixer-grinder and blend them into a smooth paste.

Pour the roasted tomato puree into a saucepan, add a cup of water and bring it to a boil. Simmer along with salt and pepper, as needed.

Pour the soup into individual serving bowls and garnish it with toasted bagels or croutons.

Serve the Roasted Cherry Tomato Soup for a weeknight dinner, along with crusty Salad, or even as a starter at a dinner party.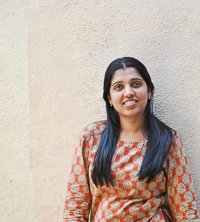 I am a Designer and an Artist by profession. Cooking, baking, photography and styling is an extension of my creative self, another medium of expression. Cooking and Plating was no different from painting for me. Playing with colours on plate, using different textures, composition in photography was all that I had learnt as a student, which I am showcasing using food as a medium. I love everyday cooking and how it can be made exciting. Kitchen is not only about food. I not only respect the food but also the waste we generate while cooking. I am a firm believer of composting and I make sure my kitchen generates as less waste as possible.