Roasted Tomato & Tortellini Soup Recipe

Madhuli Ajay
On

Sunday, 29 January 2017 00:07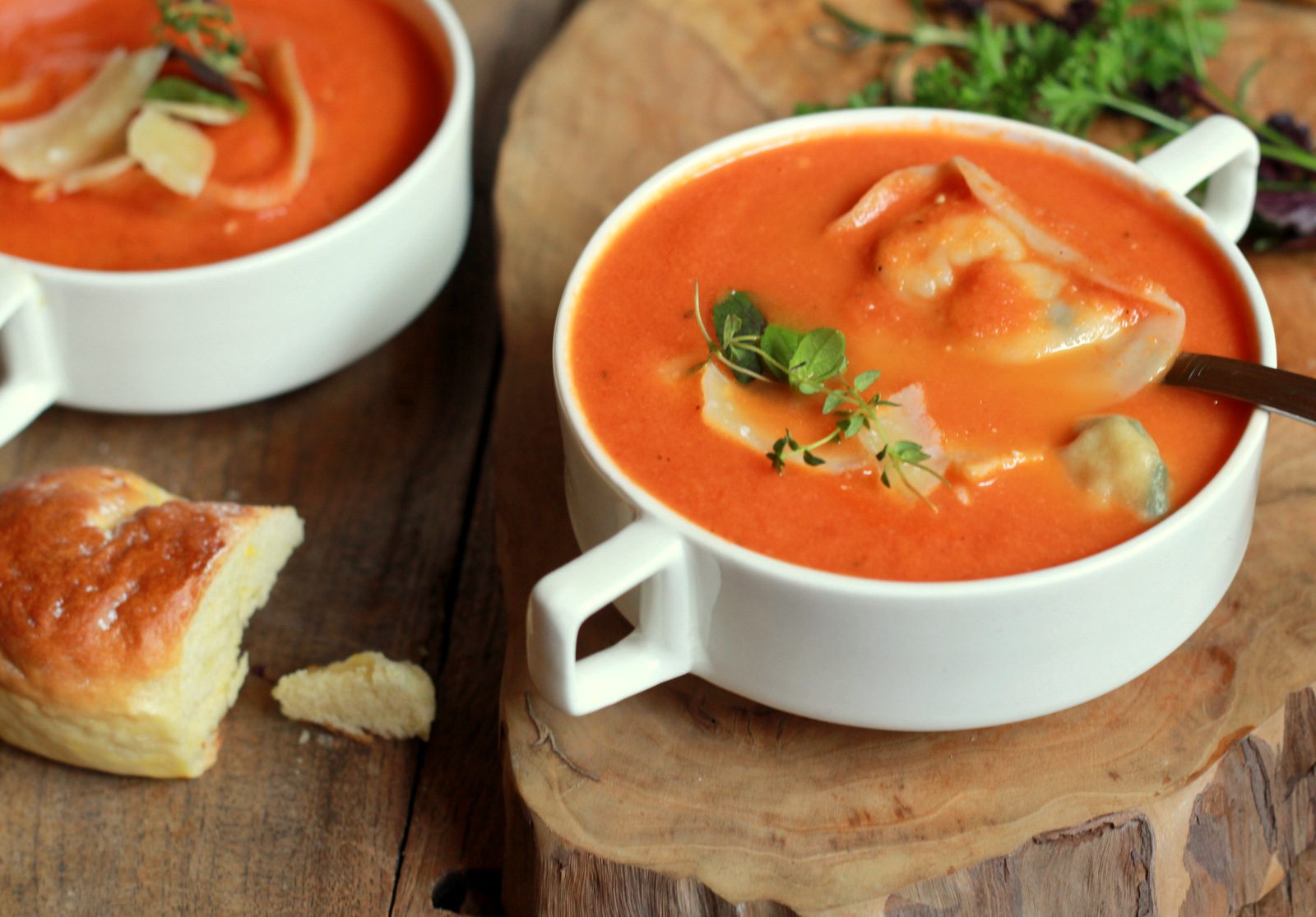 Roasted tomatoes are paired with whole wheat ,cheese stuffed Tortellini to make this simple soup, which can also double up as a light meal. Making the Tortellini from scratch can seem like a daunting task, but this quick pasta recipe makes it a fun activity. The pasta can be made ahead and frozen to cut down on the prepping time. Roasting the tomatoes enhances their flavor. You can either fire roast them or roast them in the oven. The soup tastes good on its own but you can add cream or thick yogurt to enrich the taste. Also you can add vegetables like carrots or spinach to amp up the health quotient.
Roasted Tomato and Tortellini soup is a hearty soup perfect for a comforting weeknight dinner. Serve this comforting and flavorful Roasted Tomato Tortellini soup along with garlic bread or Grilled Winter Vegetable Salad Recipe for a quick weeknight meal.
Ingredients
6

Tomatoes

2

Onions

, sliced
3 cloves

Garlic

, for roasting
2 cloves

Garlic

, minced
3/4 cup

Whole Wheat Flour

4-5 tablespoons

Extra Virgin Olive Oil

2 teaspoons

Black pepper powder

, (adjust)
3 tablespoons

Ricotta Cheese

, (or use paneer)

Fresh Herbs

, handful, chopped (I used parsley, thyme)
1 pinch

Sugar

Salt

, to taste

Parmesan cheese

, shavings as required
How to make Roasted Tomato & Tortellini Soup Recipe
To begin making the Roasted Tomato Tortellini soup, first roast the tomatoes.
To fire roast the tomatoes
Stove top method: Place them directly on a gas burner or on a fine wire mesh placed on the burner and roast till the skin chars. Cool and peel off the skin.

Oven method: Quarter and toss them in 1-2 tablespoons of olive oil. Place on a parchment lined baking sheet and bake in a pre-heated oven at 200 degree Celsius for about 20 minutes or till they just start browning.
Soup:
Toss the onion and 2-3 cloves of garlic with 1 tablespoon (or as required) olive oil and salt. Roast/bake in the oven till it just browns.

Blend together the tomatoes, onions and garlic in a food processor or mixer. Sieve through a mesh to remove skin (if roasted in the oven) and seeds.

To make the Tortellini filling, mix the herbs, minced garlic, black pepper, Ricotta in a small mixing bowl. Keep covered till required

To make the Tortellini, add salt (as required) to the whole wheat flour and place it in a mixing bowl. Add water and 2 teaspoons of olive oil to make a stiff but pliable dough. Cover and keep aside for 30 minutes.

Dust a working surface with flour. Roll out the dough into a very thin circle.

Cut the circle into rounds using a 3-inch round cutter. Space the rounds as close together as possible. Gather the scraps and reuse them.

Place a teaspoon of the Ricotta filling at the center of each round.

Run a finger dipped in water along the edge of the pasta round to moisten it.

Fold over the dough to seal and make a half moon shape. Draw the ends together to form the typical Tortellini shape.

Heat water in a saucepan. Add salt. Once the water boils carefully drop the Tortellini in it (use a slotted spoon if required).

Cook for 2-3 minutes or till the Tortellini float on the surface. Take them out using a slotted spoon.

Heat the Tomato – onion-garlic puree in a saucepan. Add salt, pepper and pinch of sugar.

Add enough vegetable stock to make a thick soup. Bring it to a boil and carefully drop the cooked Tortellini in it.

Boil for a few seconds more. Serve Roasted Tomato Tortellini soup garnished with Parmesan cheese and herbs, along with garlic bread or Grilled Winter Vegetable Salad Recipe for a quick weeknight meal.