Shalgam Gajar Aur Gobhi Ka Achar Recipe
Spicy vegetable pickle recipe

Neha Mathur
On

Wednesday, 10 December 2014 07:53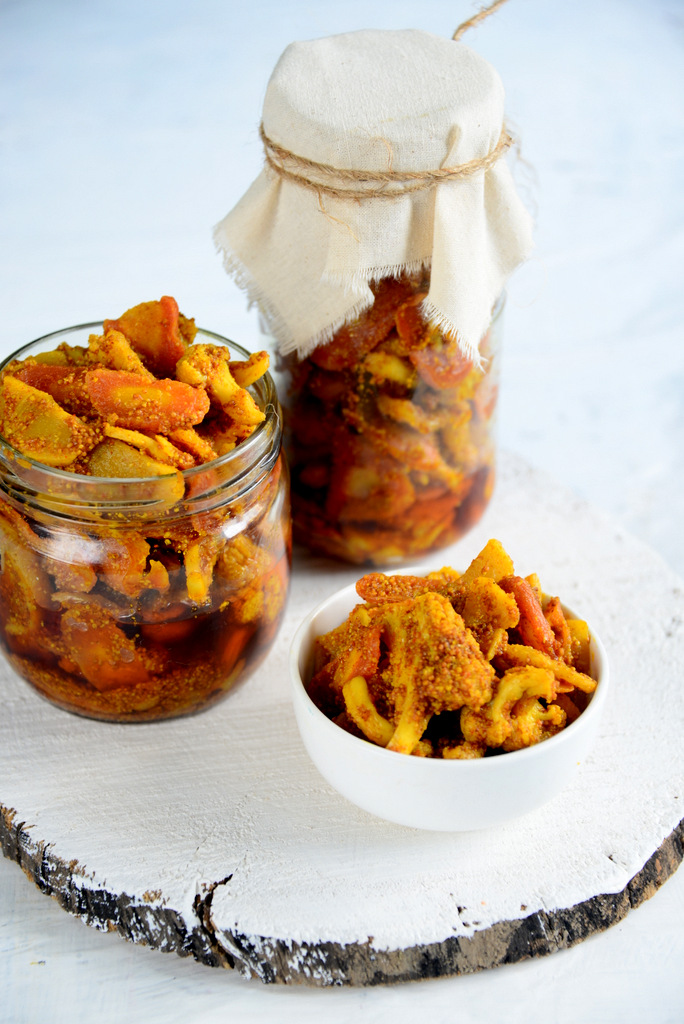 Shalgam Gajar Aur Gobhi Ka Achar Recipe is a mixed pickle made with turnip, carrots and cauliflower. It is usually made in winters when these vegetables are fresh and at their peak season and the flavors are at their best. Because this pickle gets ready in just 2-3 days, the vegetables have a little bite to them which gives a lovely texture to the pickle. Here is the recipe to make Shalgam, gajar aur Gobhi ka achar.
Here are a few more pickle recipes that you also would love to try
Make sure the glass jar in which you store the pickle is clean; otherwise the pickle will spoil very quickly.
Ingredients
250 grams

Turnips

, chopped
250 grams

Cauliflower (gobi)

, cut to small florets
250 grams

Carrots (Gajjar)

2 teaspoon

Mustard seeds (Rai/ Kadugu)

, coarsely ground
2 teaspoon

Red Chilli powder

, (adjust)
2 teaspoon

Salt

1/2 teaspoon

Turmeric powder (Haldi)

1/2 liter

Mustard oil
How to make Shalgam Gajar Aur Gobhi Ka Achar Recipe
To begin making the Shalgam Gajar aur Gobhi Ka Achar Recipe, we will first wash the vegetables well.

Wash the trunips and carrot and peel them. Cut into thin slices.

Wash the cauliflower and cut into small florets.

Bring 2 liters of water to a boil in a large pot.

Add the vegetables once the water comes to a rolling boil.

Cook the vegetables for 3 - 4 minutes and then drain the water.

Spread the vegetables on a cotton cloth and let them dry completely for 3-4 hours. There should be absolutely no moisture in the vegetables.

Mix mustard seeds, chili powder, turmeric powder, salt and vegetables in a bowl and keep aside.

Heat mustard oil in a pan till it starts to fume. Turn off the heat and let the oil cool slightly.

Pour the oil over the vegetables and give it a good stir. Transfer the pickle into a clean steralized jar along with the oil. Cover the jar with a muslin cloth tied with a string around and keep the jar in the sun for 2-3 days. The process of keeping it in the sun helps in getting rid of the excess moisture and also helps the pickle to marinate.

The Shalgam Gajar aur Gobhi Ka Achar Recipe once marinated can be served along with your favorite parathas, mathri's or chawal. You can store the pickle for about 3 months in a cool and dry place or refrigerate for a longer time like 4 to 5 months.