Spicy Sweet Corn & Oat Fritters Recipe (Corn Masala Vada)

Padma Veeranki
On

Monday, 03 August 2015 08:22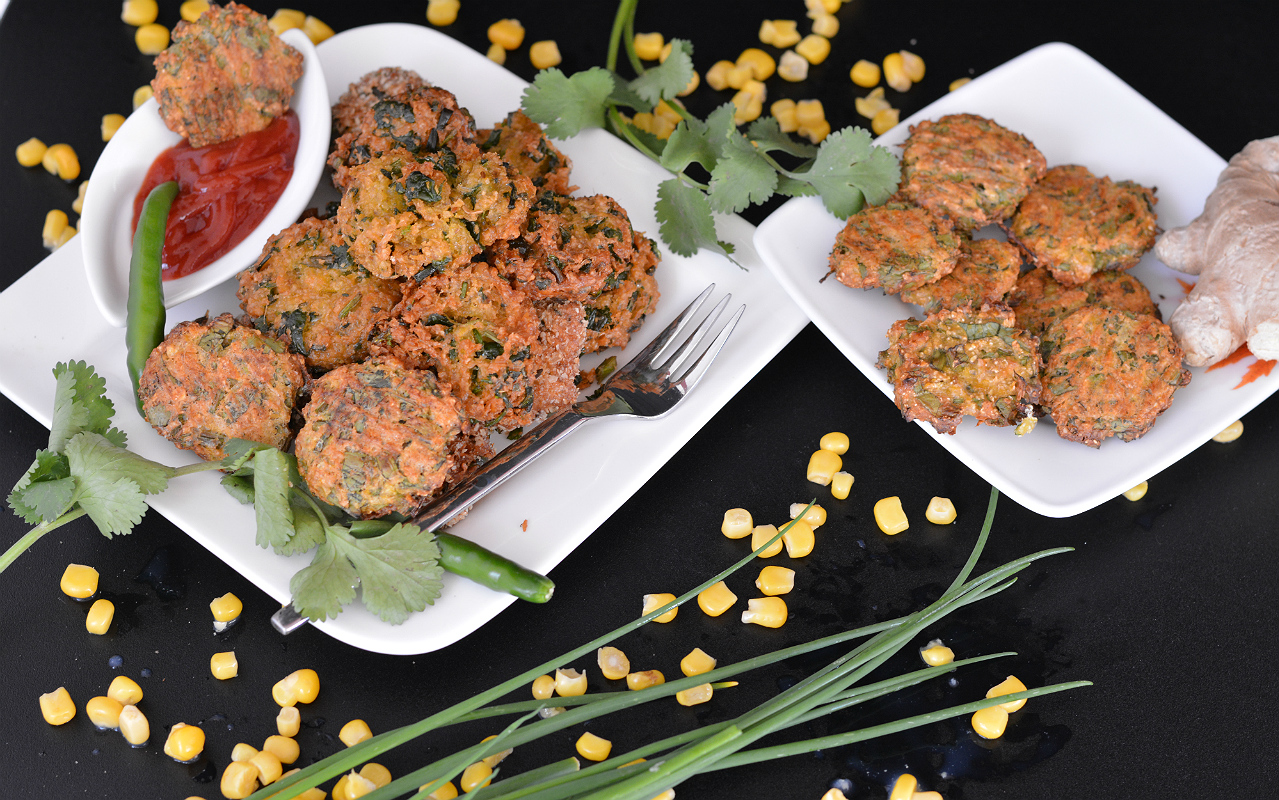 Sweet Corn Oats Masala Vada Recipe is a deep-fried snack prepared with sweet corn, oats, herbs and some spices fried to golden perfection. Who doesn't love those tiny bites and nibbles eaten between meals? Tantalising snacks that whet the appetite in preparation for the main course. This is a perfect appetizer for days like that. Fresh summer corn, one of our favourite seasonal treats is the main ingredient in this delicious vada/fritter. Sweet corn is a popular snack, loved by most people. Usually eaten grilled or steamed, with lemon, salt and chilli powder rubbed on it. But try this recipe for Sweet Corn Oats Masala Vada to taste a new take on a classic monsoon snack. And if you're the health conscious sort who avoids deep-fried dishes, there is a guilt-free, baked version too!
Did you know: The best thing about sweet corn is that it is a gluten-free cereal, similar to rice and quinoa, and lower in calories than other grains like wheat, rice, etc, which makes it the healthier choice for those on a gluten-free diet. Also, most of the calorie content comes from simple carbohydrates like glucose, sucrose rather than complex sugars. Sweet corn is also a good source of dietary fibre, vitamins, and antioxidants in addition to minerals in moderate proportions.
If you like this recipe, you can also try other Appetiser recipes such as
Ingredients
Ingredients To grind
2 cups

Sweet corn

, (frozen or canned)
2

Green Chillies

1 inch

Ginger

1 teaspoon

Cumin seeds (Jeera)

Other ingredients
1

Onion

, finely chopped
1/2 cup

Coriander (Dhania) Leaves

, finely chopped
1/4 cup

Chives

, finely chopped
1 cup

Instant Oats (Oatmeal)

, powdered in a blender

Salt

, to taste
1 tablespoon

Rice flour

, to be used only if required)

Cooking oil

, for deep-frying (if not baking)
How to make Spicy Sweet Corn & Oat Fritters Recipe (Corn Masala Vada)
To begin preparing the Spicy Sweet Corn & Oat Fritters, get all the ingredients under the section "To grind". Add it to a mixer and grind to make a coarse mixture of the corn, green chillies, ginger and cumin seeds.

Transfer the ground mixture into a large mixing bowl. Add the remaining ingredients into the bowl along with ground sweet corn mixture. Combine all of it well and get a thick consistency to make the vada. Check the salt and spices and adjust to suit your taste.

Note: add the powdered oats little by little, until you get the required consistency. The mixture should be fairly thick so that it holds well when fritters are formed.

At this stage the consistency is critical. If not thick enough, the fritters will absorb too much oil while deep-frying. If you feel the mixture is not thick enough, you can add a tablespoon of rice flour or chickpea flour (besan) to bind it.
Method to Deep fry The Sweet Corn Vadas
To form the fritters or vadas, take a tablespoon of the mixture at a time, about the size of a small lemon. Flatten it on your palm to make a patty or fritter and place it on a platter or plate. Repeat, until all the mixture is used.

You can refrigerate the vadas for 15 minutes. This allows them to dry out and firm up a little before deep-frying. This is an optional step, and if your mixture is firm enough the vadas may be fried directly without refrigeration.

Heat oil for deep frying, in a kadhai, over a high heat. When hot enough, reduce the heat and slowly slide the patties into the oil. Fry them on both sides till they are a golden.

Remove them from the oil with a slotted spoon, drain them on paper towels to remove the excess oil and serve the sweet corn vadas hot.
Method to Bake the Sweet Corn Vadas
To bake the fritters, first preheat the oven at 200 degrees celsius for 15-20 minutes.

Spread a baking sheet or parchment paper on the baking tray.

Lightly grease your palms with oil so as to handle the mixture more easily and shape the fritters. Take a tablespoon of mixture at a time, about the size of a small lemon.

Flatten it on your palm to make a patty or fritter and place it on the baking sheet. Repeat, until all the mixture is used, and lay the fritters in rows about an inch apart.

Brush the fritters a little oil. Slide the baking tray into the oven and bake at 200 degrees celsius for 15 to 18 minutes turning the fritters over half way through so they brown evenly on both the sides.

For a crisp topping, now turn the oven mode to broil and let them bake for another minute or two until crisp.

Serve the Sweet Corn & Oats Masala Vadas hot with Masala Chai for a great monsoon tea time treat.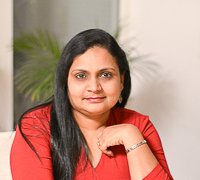 Padma is the voice behind MasalaKorb. She is a Biochemist by education and a full time blogger by passion. Her favorite quote "...no one is born a great cook, one learns by doing it" ― Julia Child.She loved travelling around the globe and exploring different cuisines. Her style is confined mostly to simple home cooking methods that are local and seasonal and keeping with authenticity. At Masalakorb you will discover recipes of Indian food with aromatic spices and herbs. It is her honest attempt to pen wonderful trivia through her posts and walk you through even the most basic recipes required in achieving that glorious Indian food that you have been craving for.