Spinach Khandvi Recipe - Savory Gram Flour Pinwheels With Spinach
Spinach Khandvi Recipe is a twist to the classic khandvi, where this one has spinach puree added to it to make ot healthier. Serve it as a side dish along with a complete Gujarati meal.
In association with Saffola Fit Foodie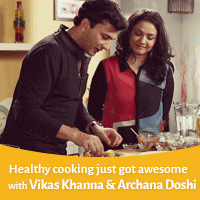 Archana Doshi
On

Friday, 20 February 2015 00:04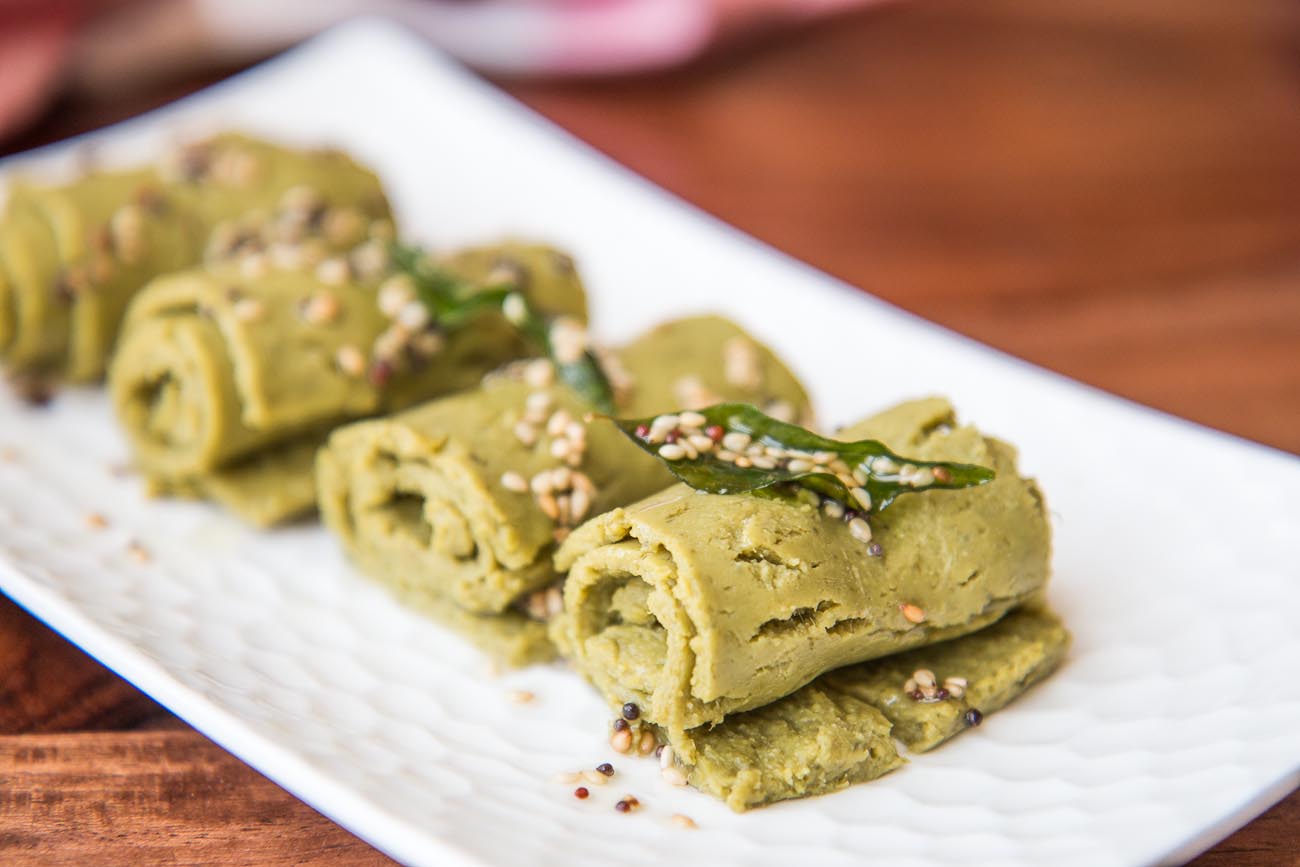 The Spinach Khandvi is a savory gram flour pinwheel snack with added goodness of spinach. The traditional recipe uses only gram flour, but this one is made healthier with the addition of Spinach
The process of making the Spinach Khandvi is very similar to the traditional Khandvi. Do check the Video Recipe of How to Make Gujarati Khandvi and you can make it the similar way.
Serve Spinach Khandvi as a side dish along with Gujarati Dal, Aloo Bhindi and hot Phulkas for your weekday lunch.
If you like this recipe, you can also try other Appetiser recipes such as
Ingredients
Ingredients for Spinach Khandvi
1 cup

Gram flour (besan)

1 cup

Curd (Dahi / Yogurt)

100 grams

Spinach Leaves (Palak)

, roughly chopped
1-1/4 cups

Water

1/2 teaspoon

Turmeric powder (Haldi)

1/4 teaspoon

Asafoetida (hing)

1/4 teaspoon

Sugar

Salt

, to taste
Ingredients for seasoning
1/2 teaspoon

Mustard seeds (Rai/ Kadugu)

1/2 teaspoon

Cumin seeds (Jeera)

1 teaspoon

Sesame seeds (Til seeds)

6

Curry leaves

2 tablespoons

Fresh coconut

, grated
2 tablespoons

Coriander (Dhania) Leaves

, chopped
2 teaspoons

Oil
How to make Spinach Khandvi Recipe - Savory Gram Flour Pinwheels With Spinach
To begin making the Spinach Khandvi Recipe, into a blender combine the besan, curd, spinach leaves, turmeric powder, asafoetida powder, sugar, salt and blitz it once, once it has all come together.

Open the mixer jar add about a cup of water and blitz the mixture once again.

When you blend, add the water little at a time, so we get a finely pureed spinach mixture.

Before we proceed to the next step, we need to prepare the work surface to make Khandvi. It is important to have a smooth surface and the ideal is granite counter top. Clean the counter top thoroughly as you will be spreading the cooked gram flour mixture. If you don't have a granite counter top, then you can use a flat plate or a smooth cookie sheet big enough to spread the mixture. If you do it on plates, or cookie sheets, you will probably have to spread the mixture in multiple rounds. The number of these plates you need will depend on how thin you spread the mixture. My estimate is about 3-4 plates of 12 inch diameter. Also if you use plates or cookie sheets, spread them on the back side.

Transfer the khandvi batter into a non-stick pan and heat on low to medium heat, stirring constantly to prevent lump formation. Continue stirring on low heat, till the mixture thickens for 15 minutes.

The mixture will begin to attain a shine. Once you notice the Khandvi batter has a shine to it and has thickened, turn off the heat. Keep the mixture covered, so it remains hot while you proceed to the steps below, as it will not spread when it cools down.

Spread the hot mixture on the prepared surface as thinly as possible, with a flat spatula. When you have finished spreading the batter, allow it to cool a little and settle down about three minutes and not less. Repeat this process and continue to spread the entire mixture, before it cools down.

After about 10 minutes have passed begin rolling the mixture into a log starting from the top. Once the rolls have been made, cut the rolls into one inch size logs. Place the cut rolls on a serving platter.

Heat oil in a pan for seasoning; add mustard seeds, cumin seeds, sesame seeds, curry leaves allow them to crackle.

Sprinkle the seasoning over the rolls and garnish with coriander leaves and coconut. This can be made one day ahead and kept in the refrigerator and warmed up in the microwave before serving.

Serve Spinach Khandvi as a side dish along with Gujarati Dal, Aloo Bhindi and Hot Phulkas for your weekday lunch.