Spinach & Paneer Cornmeal Roll Recipe
Crumbly cornmeal bread stuffed with creamy spinach and paneer stuffing and topped up with bell peppers.

Archana's Kitchen
On

Friday, 31 March 2017 00:00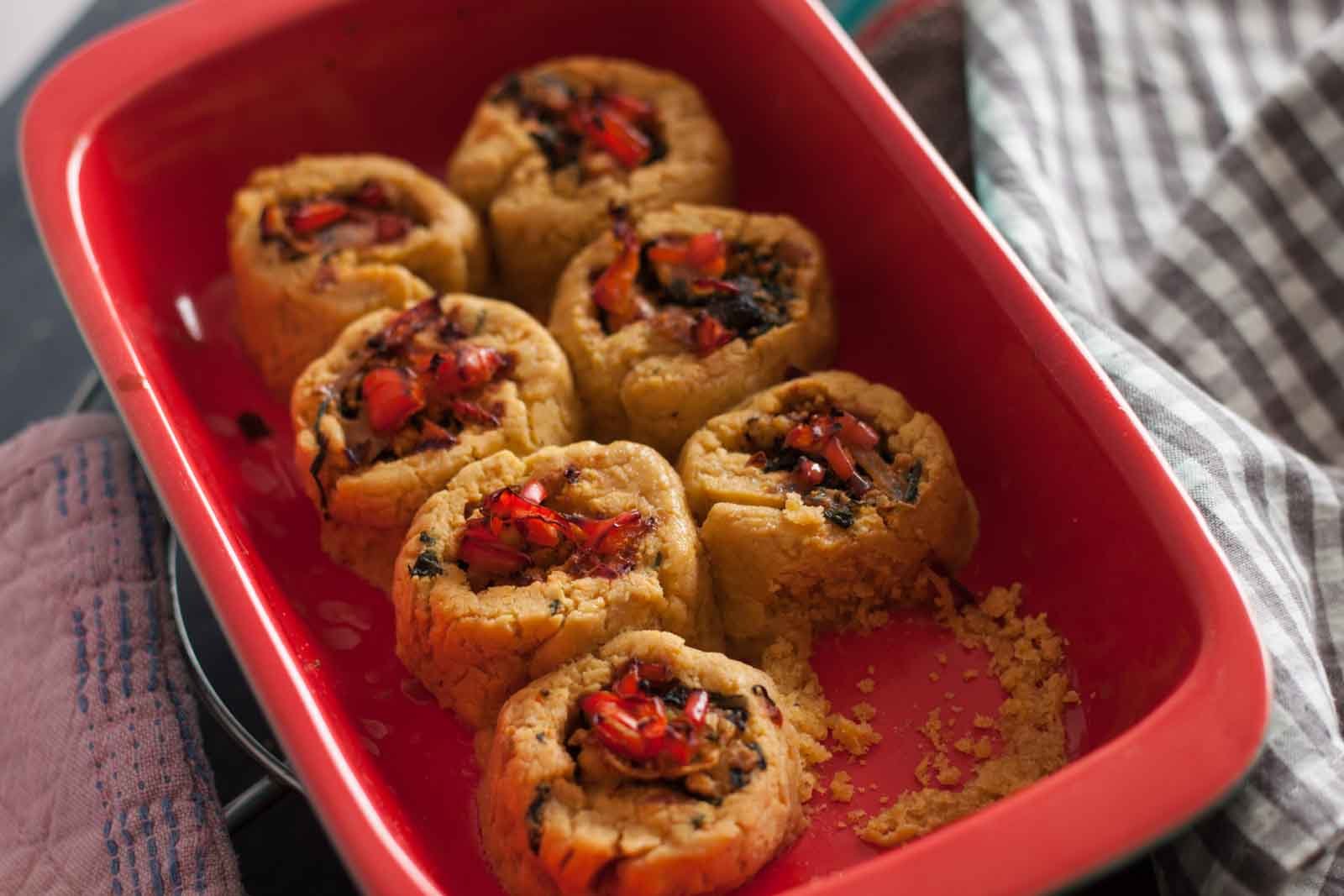 Spinach & Paneer Cornmeal Roll Recipe is a vegetarian version of a cinnamon roll made with homemade cornmeal bread which is stuffed with spinach and paneer. The cornmeal is enriched with oat flakes and then rolled into small rolls and baked in a tray. This recipe is a savory version when compared to the cinnamon rolls.
Serve the Spinach & Paneer Sausage Roll Recipe as a healthy snack recipe or as an Appetizer for Parties.
If you are looking for more Healthy Snack Here are some :
Ingredients
For the bread roll
1 cup

Corn meal

1/2 cup

Whole Wheat Flour

1/2 cup

Oats Flour

1 teaspoon

Active dry yeast

2 teaspoon

Sugar

1/4 cup

Extra Virgin Olive Oil

1/2 cup

Milk

1/4 cup

Buttermilk

Water

, to knead

Salt

, as per taste
For the filling
1 cup

Spinach

, washed and shredded
1 cup

Paneer (Homemade Cottage Cheese)

, grated
1/4 cup

Red Bell pepper (Capsicum)

1 tablespoon

Red Chilli powder

1 teaspoon

Ajwain (Carom seeds)

, powder
1 teaspoon

Black pepper powder
How to make Spinach & Paneer Cornmeal Roll Recipe
We begin making the Spinach & Paneer Sausage Roll Recipe by making the bread first. Bloom the yeast with 5 tablespoon of luke warm water and sugar for about 10 minutes till you see enough bubbles.

Then in a mixing bowl add the cornmeal, wheat flour, oat flour, and yeast and oil mixture into the bowl and mix well.

Warm the milk and add it into the mixture, add the buttermilk as well and mix into a soft dough.

Once the dough is kneaded enough, rest it in the same bowl covered with a wet blanket and keep it in a warm place for about 20 minutes.

Pre heat the oven for about 180 degree Celsius for 10 minutes and keep it ready for baking.

In the mean while prepare for the stuffing. Wash the spinach and chop them into thin strings. Heat a pan with oil, add garlic and onions and saute till it is translucent.

Next add the spinach and give it a stir, let the water come out then you can add the crumbled paneer. Season it well with salt, jeera powder, pepper powder and red chilli powder. Keep it aside.

Take out the bread and knock it down as it would increase in its size. Knead little more and roll it flat by dusting it out on your kitchen surface.

The dough will be soft so handle delicately and keep dusting the flour and rolling it.

Roll it into a huge rectangle shaped dough, with 1 inch thickness, add the stuffing and spread it evenly over the surface.

Now carefully roll it over and form a log, cut the log into 10 slices, you will notice beautiful pin wheel the dough has formed into.

Place the cornmeal roll slices close together in the greased pan. Cover and we will now allow it to rise for another 30 minutes.

Keep a cup of milk with honey mixed for ready to brush it over the bread. Rest the bread for about 10 more minutes and sprinkle red bell peppers and bake it for about 30 minutes.

In the middle you can brush it with honey to give that brown color to the bread. Once it is baked, rest it for few minutes and serve or serve immediately.

Serve the Spinach & Paneer Sausage Roll Recipe as a healthy snack recipe or as an Appetizer for Parties.