Strawberry Chocolate Loaf Cake Recipe

Preeti Tamilarasan
On

Thursday, 04 February 2016 00:40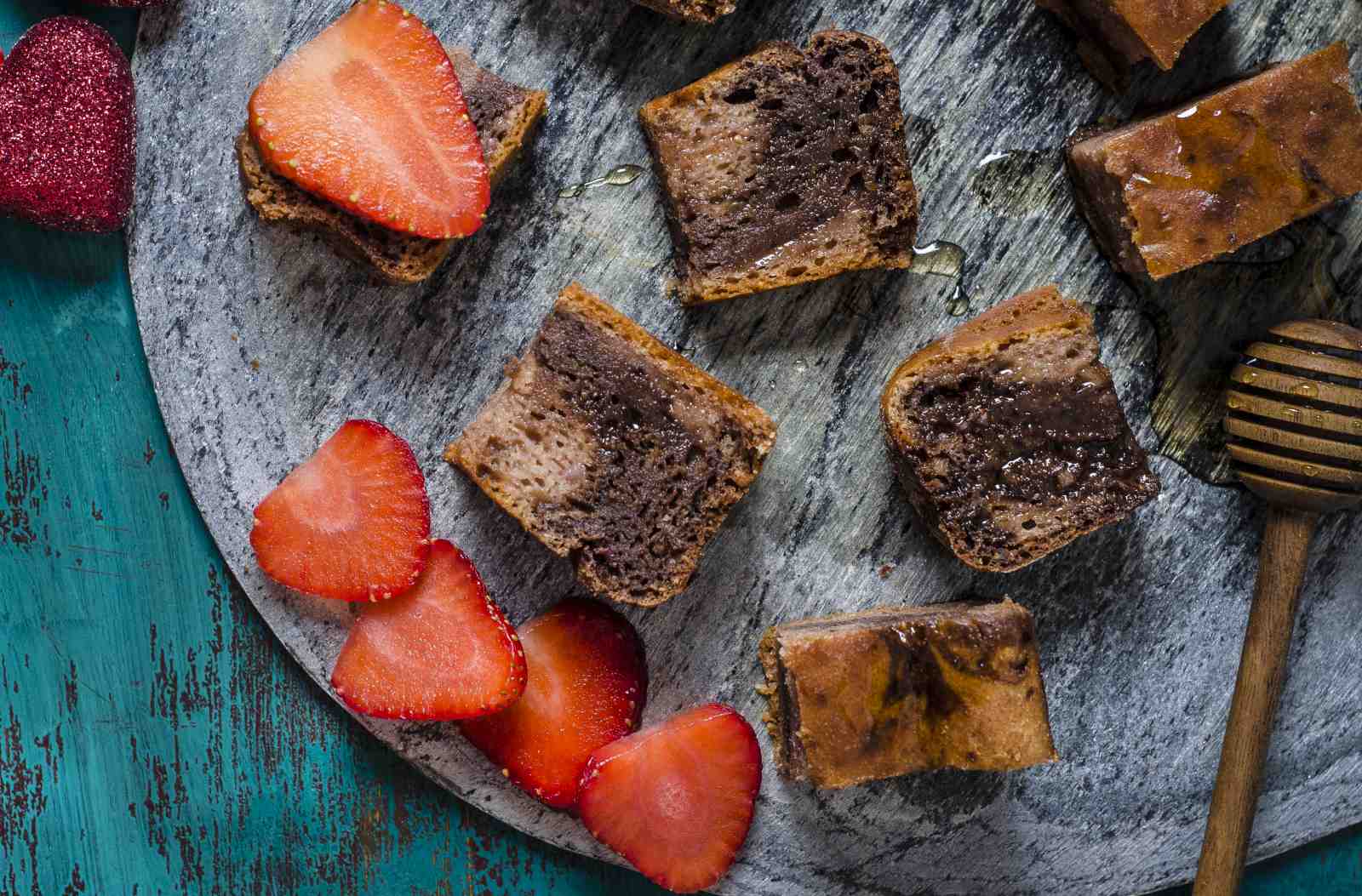 Strawberry Chocolate Loaf Cake Recipe is a moist marble cake loaded with the goodness of fresh strawberries and chocolate.The addition of nuts gives crunchiness to the cake and a lovely texture.
Condensed Milk can be replaced by refined sugar or brown sugar. At the time of serving, cut the cake into slices and drizzle with honey.
Surprise your valentine with this hearty cake. Serve the Strawberry Chocolate Loaf Cake at your tea parties or pack it for your kids snack box.
Try more such delicious cakes like
Did you know: Little berries are full of antioxidants which help improve skin and hair health. In addition to antioxidants, berries are "juicy foods," which means they contain mostly water. Juicy foods are great for losing weight because they fill you up quickly. Fibre aids in weight loss and also help in lowering cholesterol and blood pressure.
Ingredients
3/4 cup

Whole Wheat Flour

1 teaspoon

Baking powder

1/4 teaspoon

Baking soda

1/2 teaspoon

Vanilla Extract

1 tablespoon

Cocoa Powder

, mixed with 2 tbsp. warm water
1/2 cup

Strawberry Compote

, or fresh puree
1/4 cup

Curd (Dahi / Yogurt)

2 tablespoon

Extra Virgin Olive Oil

1/2 cup

Condensed Milk

1 tablespoon

Butterscotch Chips

, or almonds, chopped
How to make Strawberry Chocolate Loaf Cake Recipe
To begin making Strawberry Chocolate Loaf Cake Recipe, in a large mixing bowl, add curd. Beat it using a hand whisk or hand blender for half a minute. Add vanilla essence and condensed milk. Whisk it again for 2-3 minutes.

At this stage, add olive oil. Beat it again till smooth.

In another mixing bowl, Sieve wheat flour, baking powder and baking soda. Add this dry mixture to the wet mixture and fold everything well. Divide batter into two equal portions and transfer to separate bowls.

Add cocoa powder to one portion of the batter and mix well. Adjust the consistency of the batter using some milk. Add strawberry puree to the other portion and mix well. Add butterscotch nuts/ almonds to both the cake mixtures and mix well.

Meanwhile, Preheat oven to 180 degree.

Take a loaf pan and grease with oil and dust with flour. Pour strawberry cake mixture first and then pour in chocolate batter. Using a toothpick, make swirls.

Bake for 30 minutes or till cake is done. Remove pan from the oven and transfer to a cooling rack. After 10 minutes , remove cake carefully from the pan and cut into slices. Drizzle with honey and serve.

Surprise your valentine with the Strawberry Chocolate Loaf Cake Recipe or pep up your tea parties or pack it for your kids snack box.