Suran Fodi Recipe (Goan Semolina Crusted Yam)

Raksha Kamat
On

Tuesday, 29 December 2015 00:32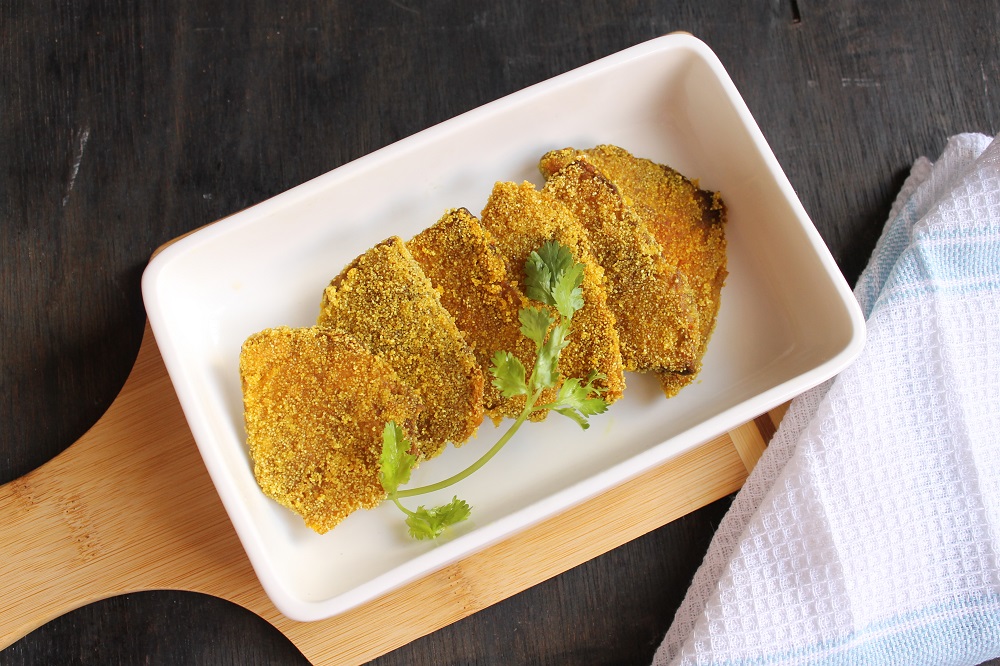 Suran Fodi Recipe is served as an accompaniment with a vegetarian thali in Goa. Semolina crusted sliced yam that are pan fried to a crisp, these Fodi make delicious, crunchy appetisers too. Yam is normally found in the Goan markets during the rainy season, but this vegetable has a tendency to cause itching, which can be eliminated by soaking it in salt and later applying tamarind. This procedure is important when cooking Yam. Even while cutting it, apply tamarind paste or coconut oil to your hands to avoid itching. Shallow fry the rava coated yam in a pan and serve it during snack time or as an accompaniment to Steamed Rice, Sangacho Ross and Maskachi Bhaji for an authentic Goan vegetarian meal.
If you like this recipe, you can also try other Appetiser recipes such as
Ingredients
250 grams

Elephant yam (Suran/Senai/Ratalu)

2 tablespoons

Tamarind Paste

1 tablespoon

Salt

1 teaspoon

Red chilli powder

1 teaspoon

Turmeric powder (Haldi)

4 tablespoons

Cooking oil

, for shallow frying
For the coating
2 tablespoons

Sooji (Semolina/ Rava)

1 tablespoon

Rice flour

1/2 teaspoon

Red chilli powder

1/2 teaspoon

Turmeric powder (Haldi)

1/4 teaspoon

Salt
How to make Suran Fodi Recipe (Goan Semolina Crusted Yam)
To begin making the Suran Fodi Recipe, liberally apply coconut oil to your palms and then using a kitchen knife, cut the thick skin from the yam and discard.

Slice the yam thinly (1/2 centimetre), making sure that your palms are still oiled.

Soak the yam slices in 2 cups water with 1 tablespoon salt added. Let them be soaked for at least 30 minutes. This step is crucial and skipping it will cause your skin and mouth to itch when consume the yam.

Thoroughly wash the yam after it has soaked for 30 minutes, under running water. Then, put the slices in a mixing bowl, add the tamarind paste to it and mixx well to coat the slices. Let it rest for another 30 minutes.

Then add 1 teaspoon red chilli powder, 1 teaspoon turmeric powder and 1/4 teaspoon salt and mix

In a separate mixing bowl or wide plate, combine the ingredients under "For the coating" and mix well.

Place a pan on the heat and allow it to pre-heat.

Drizzle 2 tablespoon oil on it.

Take a few masala-coated yam slices at a time and coat them in the semolina mixture.

Drizzle 2 tablespoon oil on top of these and pan-fry for 10 minutes until crisp. You can sprinkle some water on the slices of yam and cover it to ensure it cooks evenly. After 10 minutes flip them to the other side and again fry for 10 minutes, until crisp.

Serve hot along with Steamed Rice, Sangacho Ross and Maskachi Bhaji for an authentic Goan vegetarian meal.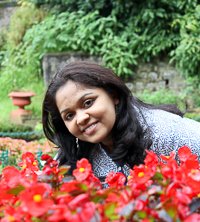 I am originally from Goa. A Mom to a little daughter. A software engineer by profession and have a full time job at an MNC. I am a passionate food blogger who loves to cook, write about food, style it and click pictures of it. My recipes have been featured in Fortune Desi Bites, The Hindu - Young World and NDTV Good Times.