Tacozza - Tacos with Refried Beans and Oregano
Tacozza are essentially Tacos with Refried Beans and Oregano where the soft taco is loaded with refried beans as the name suggests. A delicious party appetizer and makes for an excellent after school snack as well.

Shruti J
On

Wednesday, 29 May 2013 15:58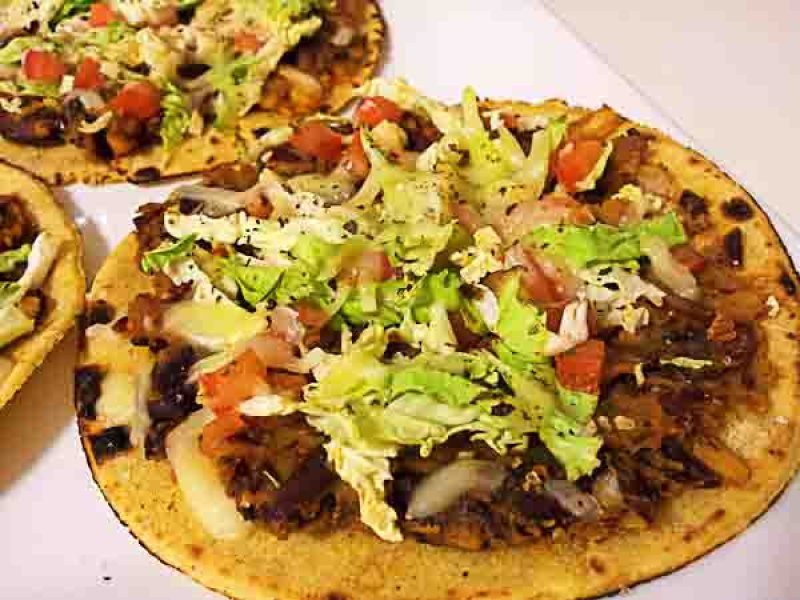 4 Soft Taco Shells
2 cups Boiled Kidney beans
1 Onion, chopped
2 cloves Garlic,Minced
2 Tomatoes,Chopped
1/2 cup Cabbage, Shredded
1 teaspoon Dried Oregano
1/4 teaspoon Chili Flakes
1 tablespoon Olive Oil
1 teaspoon Tobasco Sauce (or Red chilly sauce)
4 teaspoon Mozzarella Cheese (shredded)
Salt, to taste
Ingredients
4

Soft Taco Shells

2 cups

Rajma (Large Kidney Beans)

, boiled
1

Onion

, chopped
1

Tomato

, chopped
1 cup

Cabbage (Patta Gobi/ Muttaikose)

, shredded
1 teaspoon

Dried oregano

1 teaspoon

Red Chilli flakes

1 tablespoon

Olive Oil

1 teaspoon

Red Chilli sauce

4 teaspoon

Cheddar cheese

Salt

, to taste
How to make Tacozza - Tacos with Refried Beans and Oregano
We begin making the Tacozza - Tacos with Refried Beans and Oregano Recipe.

Heat olive oil in a pan on medium flame, to this add onions and garlic into it.

Saute it for a while, until the onions are soft.

Add boiled kidney beans along with salt, oregano and Tobasco sauce and stir until well combined for about 3 to 4 minutes.

Using a potato masher, mash the beans mixture well. It will appear like refried beans.

To assemble th tacos:

You can either use store bought tortillas or make them at home.

You can choose to either make Corn Tortillas by following the Homemade Corn Tortilla Recipe or make whole wheat tortillas by following Homemade Whole Wheat Flour Tortillas Recipe.

These tortillas can be made ahead and stored in an airtight container.

Take a tortillas and spread a thick layer of refried beans evenly over it. Sprinkle the chopped tomatoes, cabbage, cheese and dried oregano on top.

Bake in preheated (180 C) oven for around 7-8 mins (or until cheese melts).

Cut into wedges or fold into half and serve hot.

Serve the Tacozza as an appetizer along with a meal of Red Bean Mexican Burrito Bowl Recipe - Roz Ka Khana With Figaro Olive Oil followed by a dessert of Apple Enchilada Recipe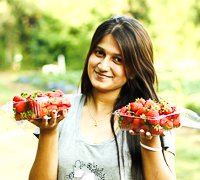 Shruti is no chef, but she loves adapting recipes and taking the recipe to a new level. She is a big-time food lover, but a break in professional career made her dig into the culinary world much more than before! She enjoyed a migration from "Food Lover" to "Food Blogger". Visit http://myownfoodcourt.blogspot.com for sights & and smells of Indian and World dishes.