Tart Provencal With Ratatouille Recipe

Madhuli Ajay
On

Sunday, 24 July 2016 00:45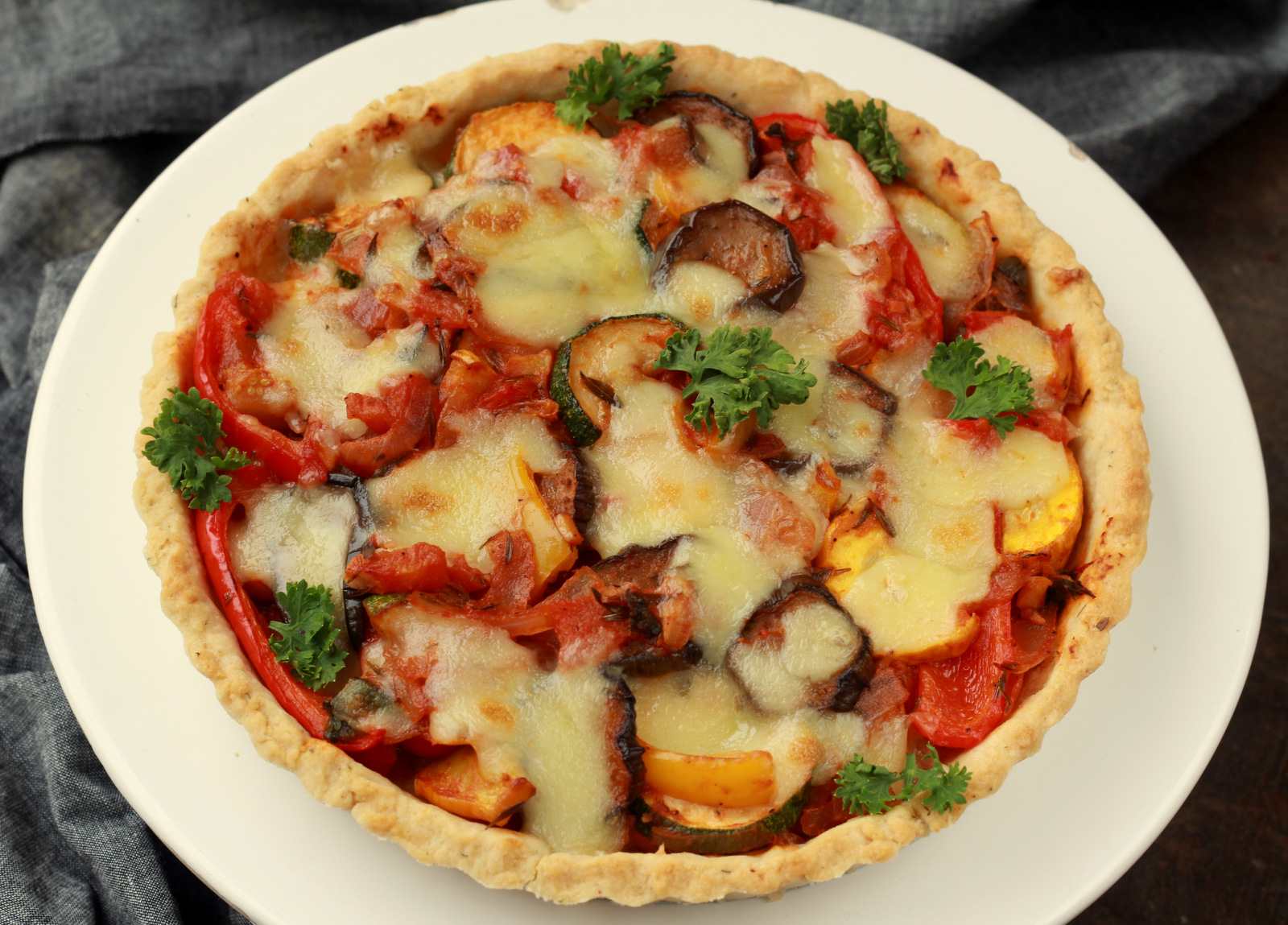 Tart Provencal with Ratatouille is a French style tart recipe made using vegetables that are typically used in baking Ratatouille. Ratatouille is a popular French vegetable stew. The stewed vegetables are filled in a tart crust and baked and topped with cheese.
Serve the Savory Tart Provencal with Ratatouille along with a Bean sprout and Corn salad, for a hearty meal with family and friends.
Have a look at more of the savory tart recipes that we have
Ingredients
For Crust
2 cups

All Purpose Flour (Maida)

140 grams

Butter

, chilled and cut into cubes
1 teaspoon

Salt

, if using unsalted butter
3 tablespoons

Water

, temperature to be cold
For Provencal With Ratatouille
1

Japanese Eggplant

, cut in half, sliced and dunked in a bowl of water
1

Green zucchini

, cut in half and sliced
1

Yellow Zucchini

, cut in half and sliced
1

Red Bell pepper (Capsicum)

, chopped
1

Yellow Bell Pepper (Capsicum)

, chopped
1

Onion

, chopped
3 cloves

Garlic

, minced
7

Tomatoes

, blanched peeled and crushed
3 tablespoon

Homemade tomato puree

2 sprig

Fresh Thyme leaves

, parsley and marjoram leaves
1/2 teaspoon

Sugar

5 tablespoon

Olive Oil

2 teaspoon

Whole Black Peppercorns

, (or paprika) ,crushed
1 cup

Gruyere Cheese

, (or cheddar), shredded

Salt

, to taste
How to make Tart Provencal With Ratatouille Recipe
To begin making the Tart Provencal made with Ratatouille, start prepping with all the ingredients and chop the veggies, and make the tart crust to start.
For the crust
Pre-heat the Oven to 190 degrees Celsius.Add Maida and butter in a mixing bowl or the bowl of a food processor.

Rub with your fingertips till the mixture resembles breadcrumbs (or pulse 2-3 times, if using the food processor). Add cold water as required, until the dough just comes together. (Do not handle the dough too much, work quickly)

Make a disk and wrap the dough in plastic film. Keep it refrigerated for at least 45 minutes.Grease a 7-inch loose bottom, Fluted tart pan.

Dust the work surface with a little flour and roll out the dough into a circle slightly bigger than the pan.Carefully pick up the rolled out dough and place on the pan.

Press the bottom and the sides evenly. Scrape off the excess dough that comes out over the edge.Prick the bottom with the fork and refrigerate the crust for 10 minutes.

Cut a baking paper slightly bigger than the tart pan.Place it on the crust and fill with baking beans (or dried Red kidney beans/Chickpeas)

Bake for 10-12 minutes. Remove the baking paper and beans and bake the crust for 6-7 minutes, till it is light brown. Cool on a wire rack.

Invert a glass and place it on a flat surface. Carefully place the tart pan on it. The fluted edge drops down.

Keep the tart crust on a baking sheet. Use a palette knife to take off the plate at the bottom, ensuring that the crust does not crack.
For The Provencal With Ratatouille In Tart
Drain the eggplant pieces in a bowl of water.

Heat about 2 tablespoon oil in a sauce pan. Add the vegetables and stir-fry for a few minutes till they just lose their crunch. Remove onto a plate.

Heat more oil in the saucepan and add the onions and garlic. Sauté till the onions turn translucent. Add the herbs. Stir well.

Add the vegetables,tomato puree, and cook.Add salt, pepper, sugar and cook for 6-7 minutes. Take off the heat.

Spread the Ratatouille filling on the baked tart crust.Top with the shredded cheese.

Bake for 12-15 minutes or till the cheese melts and the top turns brown.Cut Tart Provencal made with Ratatouille into wedges and serve hot.

Serve the Savory Tart Provencal with Ratatouille along with a Bean sprout and Corn salad, for a hearty meal with family and friends.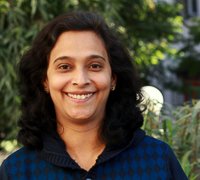 Giving up a lucrative career tinkering with Analytical equipments, Madhuli Ajay chose to tinker in her Food lab- developing new recipes & satisfying her culinary travel cravings. She has been sharing heirloom recipes on her blog 'My Foodcourt' for the past 9 yrs. Madhuli bakes to feed her soul. Testing recipes & photographing food for a cookbook, has fuelled her food photography passion. Based in the gorgeous 'Wine Capital' of India Nashik, Madhuli also loves spending time in her little kitchen garden.