Toffee Banana Recipe (Classic Chinese Dessert)

Madhuli Ajay
On

Monday, 07 November 2016 00:15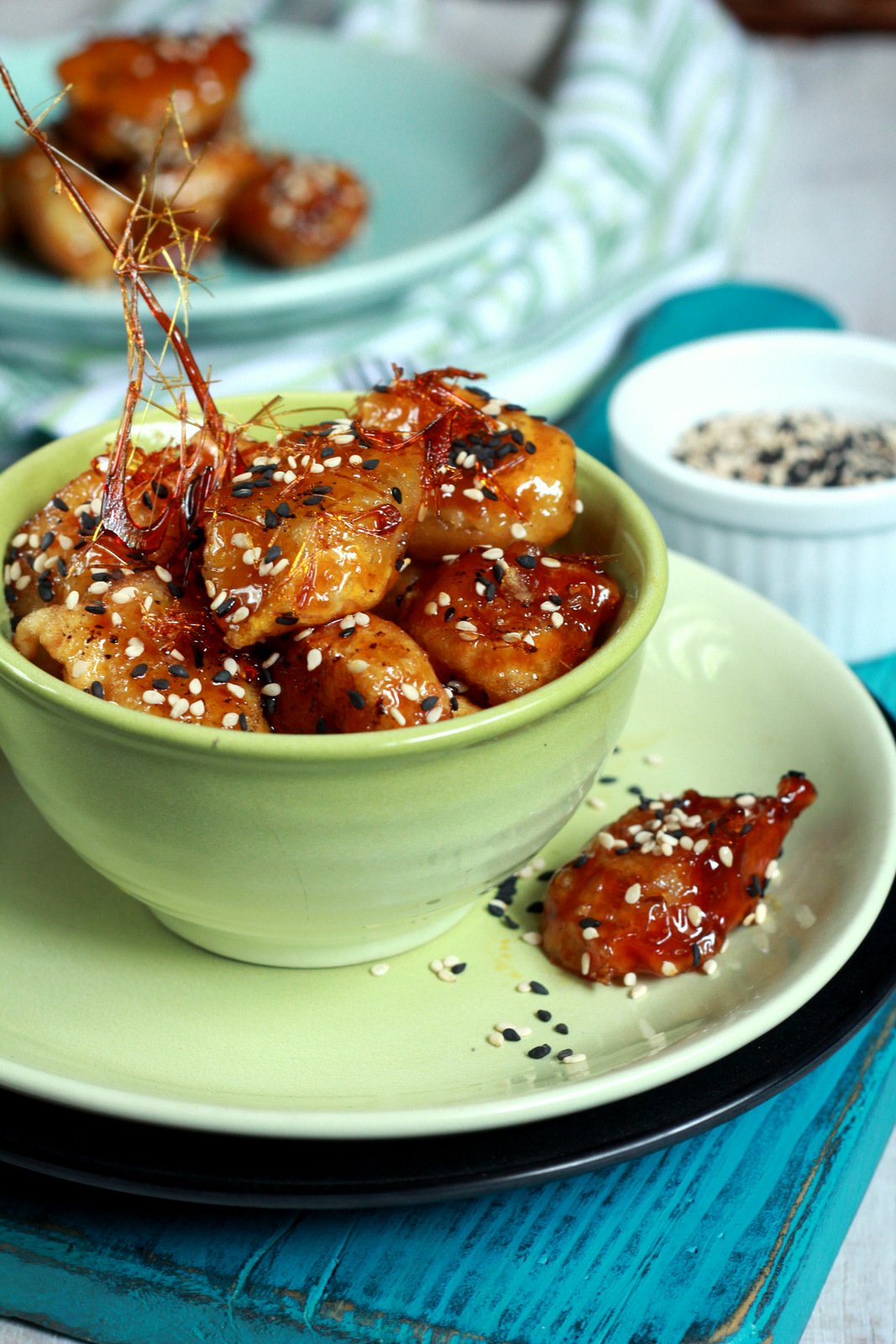 Toffee banana recipe is a typical Asian sweet/ dessert. Banana slices are dipped in a flour batter, deep-fried , then coated with caramelized sugar syrup (toffee) and then finally sprinkled with sesame seeds. This sweet has a combination of textures- the batter frying makes the fruit soft and sweet, toffee coating makes it brittle and sesame seeds give it a crunch. You can also use other fruits like apple or pineapple for an added twist. Toffee Banana recipe served with vanilla ice cream makes for an unusual indulgent dessert.
Here are few more unusual dessert recipes to try
Ingredients
4

Ripe Bananas

, peeled and cut into thick diagonal slices
1 1/2 tablespoons

Sesame seeds (Til seeds)

, black, lightly toasted
1 1/2 tablespoons

Sesame seeds (Til seeds)

, white, lightly toasted

Oil

, as needed for deep frying

Chilled water

, as needed
For the Batter:
3 tablespoons

All Purpose Flour (Maida)

3 tablespoons

Corn flour

2 teaspoons

Oil

1/2 teaspoon

Baking powder

For the Toffee:
1 1/4 cup

Sugar

1/2 cup

Water
How to make Toffee Banana Recipe (Classic Chinese Dessert)
To begin making Toffee Banana recipe, first heat oil in a wok for deep frying.

To make the batter, in a mixing bowl add the flours, baking powder and oil.

Add cold water as required to make a thick batter.

Dip the banana slices in the batter, coat all over and deep fry until they just turn golden.

Take out on an absorbent paper/kitchen towel.
To make the Toffee:
In a saucepan, heat the sugar and water. Cook on low heat till the sugar caramelizes.

Take it off the heat .

Working quickly, dip the banana fritters in the hot toffee, coat all over (use a spoon or fork) and drop them in a bowl of iced water so that the toffee hardens immediately.

Take them out of the water ,drain excess water and sprinkle sesame seeds on top of the toffee bananas.

Serve Toffee Banana as it is or with ice cream for a wholesome dessert.