Eggless Traditional Christmas Cake Recipe - Vegan Options
A cake rich with dried fruits and nuts and marinated in brandy. Traditionally the fruits are soaked in the brandy mixture for over an year. Then the cake is baked which gives a nice aroma as you bake. You can also add some chocolate glaze and top with cherries and serve it for a special ocassion.

Archana Doshi
On

Thursday, 09 December 2010 09:54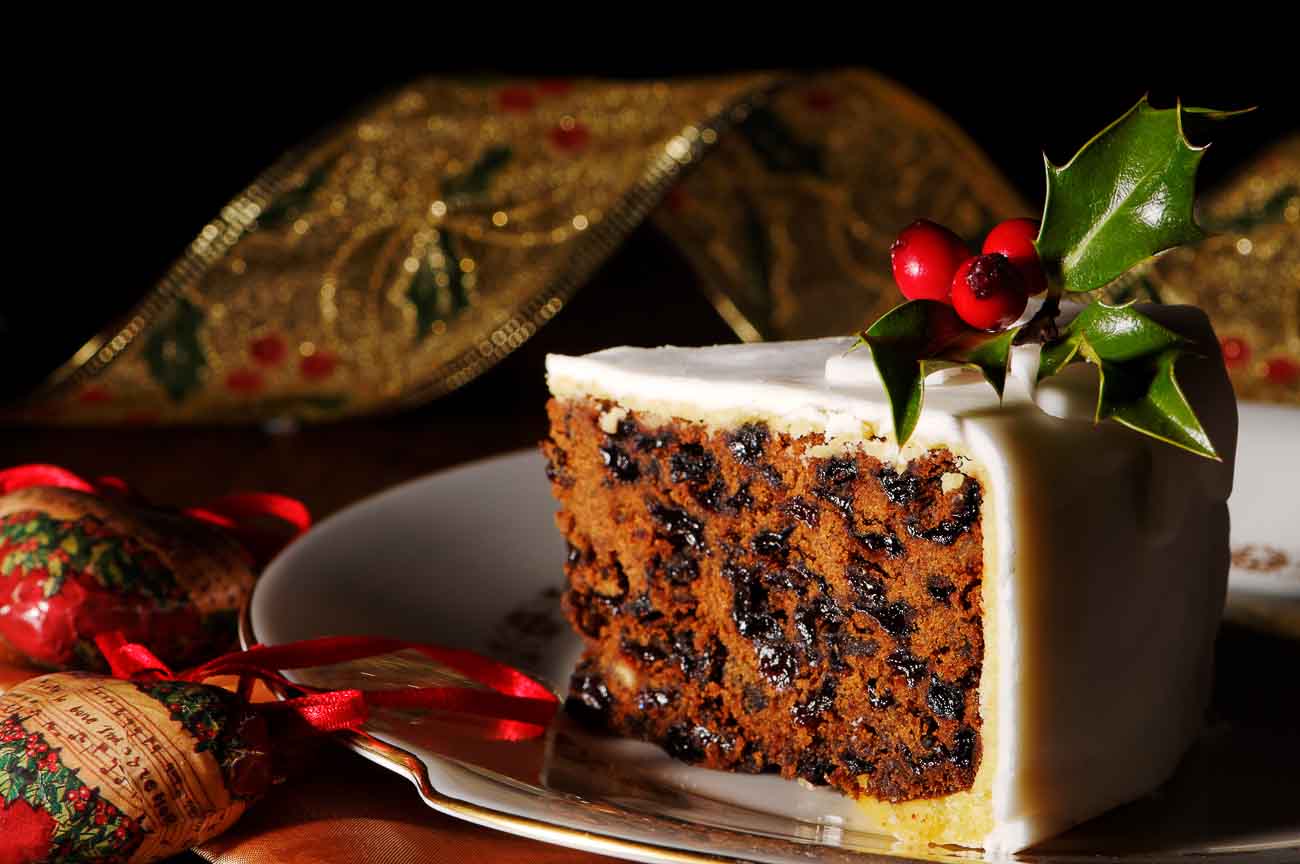 Traditional Christmas Cake is rich in dried fruits and nuts, marinated in brandy is delicious and a must bake for every baker. There are many different ways of making this cake and this one is much close to the original, but a quick recipe. Typically the fruit and brandy mixture is made to sit for a month or even more like a year. Then the cake is made to soak in more brandy after it has been baked for about 2 - 3 weeks. You can add a chocolate glaze to the cake topped with cherries or almonds or both. Delicious!
Serve the Traditional Christmas Cake along with Qahwa | Arabic Coffee Recipe and Ginger Cardamom Chai (Spice Infused Indian Style Milk Tea) to compliment the cake for your evening.
If you like this recipe, explore more cake recipes
Ingredients
3/4 cup

Raisins

, /sultanas 
1/4 cup

Prunes

, chopped
1/4 cup

Apricots

, chopped
1/4 cup

Dates

, chopped
1/4 cup

Dried Figs

, chopped
150 ml

Rum

, or brandy (optional)
60 ml

Fresh orange juice

2 tablespoons

Orange Zest (Rind)

2 cups

All Purpose Flour (Maida)

1 teaspoon

Baking powder

1-1/2 cups

Butter (unsalted)

, at room temperature (1-1/2 cups canola or vegetable oil)
3/4 cup

Brown Sugar (Demerara Sugar)

1/4 cup

Almond Meal (Badam Powder)

1 teaspoon

Cinnamon Powder (Dalchini)

1/2 teaspoon

Cloves (Laung)

, ground
1 teaspoon

Dry ginger powder

1 cup

Badam (Almond)

, or macadamia nuts, chopped
For Flax Meal Egg Replacer
4 tablespoons

Flax seed powder (flax meal)

12 tablespoons

Chilled water
How to make Eggless Traditional Christmas Cake Recipe - Vegan Options
To begin making the Eggless or Vegan Christmas Cake Recipe, we first have to soak all the dry fruits in rum and juice (you can avoid the rum). This process helps ferment the fruits and also helps to release all the flavors and make the christmas cake moist and rich.

Place the sultanas, dried prunes, dried dates, dried figs and dried apricots into a large mixing bowl. Pour over the rum and orange juice and sprinkle over the orange zest. Mix until well combined, then cover the bowl with cling film and set aside overnight or a few weeks or a month or a year. They say the longer you ferment, the fruits get fermented, the richer the taste of the christmas cake.
To Make Flax Meal Egg Replacer
If your recipe asks for 4 eggs, measure 12 tablespoons of flax meal along with 6 tablespoons of water. Stir well and let the mixture rest for about 15 minutes. This process of resting helps the flax meal mixture develop a gelatinous consistency similar to eggs.
To make the Batter
Proceed to the remaining steps are once the fermentation of the fruits are over.Preheat the oven to 170 C.

Sift the flour, baking powder and the spices together and keep aside. I like to sift it twice over as the flour gets good air pockets and also makes the cake more fluffy.

Line the base and sides of a 9 inch spring foam cake pan with a double layer parchment paper, making sure the paper reaches the top of the tin.

In a large bowl or a KitchenAid Stand Mixer, whisk the butter (oil) and sugar together until fluffy. Gradually beat in the eggs (flaxmeal egg replacer), one at a time. Add in the flour slowly until well combined.

Slowly add in the soaked dried fruits, its liquids, the almond powder, chopped nuts and combine it into the flour mixture. Dont over beat, we just want all the ingredients to be well combined.

Spoon the above cake mixture into the spring foam pan and level the surface with the back of a spoon. Bake for 1 and a half hours approximately or until a skewer inserted into the centre of the cake comes out clean.

The cake typically tends to darken a lot during baking, if this happens cover the top with parchment paper in the middle of the baking process.

Once the christmas cake is baked remove it from the oven allow it to cool completely in the pan.

Store the Christmas Cake (eggless/ vegan) in an airtight container, wrapped in greaseproof paper and aluminium foil, for two to three months.

You can also bake the Traditional Christmas Cake in smaller pans and gift them to your family this holiday season.

Serve the Traditional Christmas Cake along with Qahwa | Arabic Coffee Recipe and Ginger Cardamom Chai (Spice Infused Indian Style Milk Tea) to compliment the cake for your evening.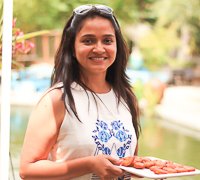 Archana Doshi is the founder of Archana's Kitchen. Archana launched Archana's Kitchen in 2007 as a way to keep track of her and family's recipes, and along the way grew it into one of the most popular cooking websites in the world. Archana is dedicated to helping home cooks be successful in the kitchen. Archana says "I hope you enjoy cooking recipes from my website where the sole effort is to make cooking simple for you. When you try out one of our recipes, we are longing to hear back from you. Do take your time to come back and share your comments, as your feedback means a lot to me"