Veg Shawarma Recipe
Whole wheat pita bread that stuffed with hummus, fresh tzatziki, pickled cucumber, carrot, and crumbled falafel that can be had as a quick snack.

Archana's Kitchen
On

Wednesday, 31 January 2018 09:00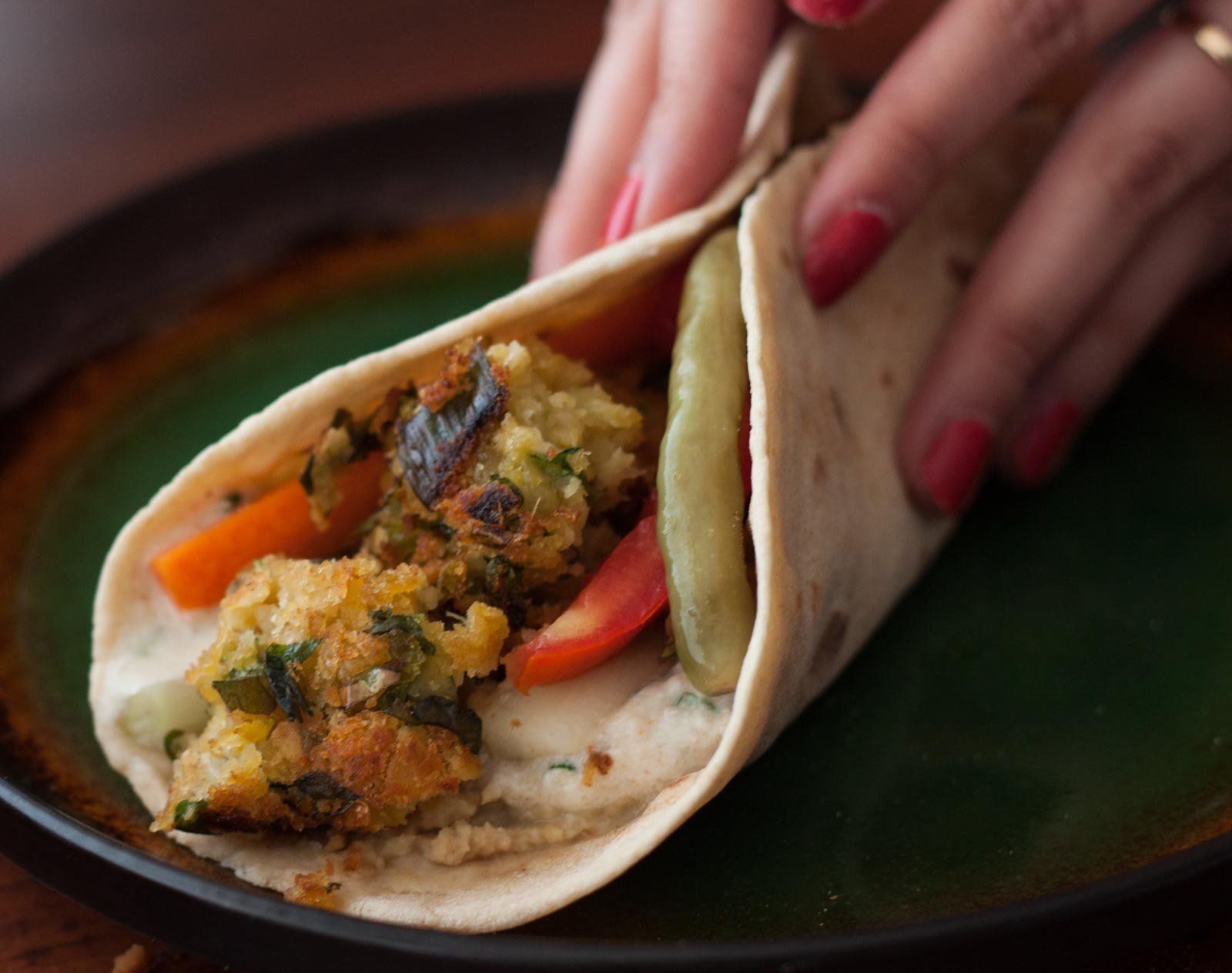 Veg Shawarma Recipe is a dish that can be had as a snack or main course. Shawarma is a favorite dish that everyone loves to eat. The hails from the Middle Eastern region, which is mainly a meat preparation made with chicken, beef, lamb or turkey. The meat are usually placed on a spit which is nothing but a vertical grill and roasted until the meat is cooked. Using a knife the meat is shaved to thin slices and then mixed along with hummus, crunchy onions and wrapped with pickled cucumber and green chilli.
Here at archana's kitchen we have recreated the shwarma in a simpler form so that you can easily try at your kitchen and surprise your family. We have also made a vegetarian option that is stuffed with crispy and crunchy falafel koftas.
Serve the Veg Shawarma Recipe along with Grilled Winter Vegetable Salad and a Mixed Fruit And Vegetable Juice by the side to make your meal complete.
If you are looking for more wrap recipes here are some :
Ingredients
For the Falafel
1 cup

Kabuli Chana (White Chickpeas)

, soaked for 8 hours
60 grams

Instant Oats (Oatmeal)

1 tablespoon

All Purpose Flour (Maida)

2 cloves

Garlic

, chopped
4 sprig

Parsley leaves

, chopped (you can also use coriander)
1 teaspoon

Cumin powder (Jeera)

, roasted

Salt

, to taste

Black pepper powder

, to taste

Oil

, as required
For the Pita
2 cup

Whole Wheat Flour

1 tablespoon

Active dry yeast

1/2 cup

Milk

1 tablespoon

Sugar

Salt

, to taste
For Pickled Vegetables
1

Cucumber

, cut into julienne
1

Carrot (Gajjar)

, cut into julienne
1

Tomato

, pulp removed and julienned
1/4 cup

Chilli vinegar

1 teaspoon

Salt

1 teaspoon

Sugar

Other Ingredients
1 cup

Homemade Hummus

1 cup

Tzatziki

1

Onion

, chopped 
How to make Veg Shawarma Recipe
To begin making the Veg Shawarma Recipe we will first make the pita
For the Pita
To begin making the Veg Shawarma Recipe we will first make the bread, heat the milk to a luke warm temperature and mix it with yeast and sugar in a bowl. Allow it to sit for a while till you notice bubbles rising. This is when the yeast starts to activate.

Later add flour, salt and water slowly and combine to form a soft dough. Keep kneading for at least 10 minutes on to a working surface and place it inside the same bowl.

Cover it with a damp cloth and rest the dough in a warm place to rise and become double its size.

Take the bread out and knock out the dough so that the air is released. Knead for one last time and pinch out to form small balls.

Heat a flat skillet, dust some flour on to your surface and with the help of the rolling pin start rolling one of the ball to a round shaped flat bread, the bread should not be rolled too thin and it has to big enough to stuff the chicken and roll it up to form a roll.

Do the same for the rest of the dough and keep the bread aside.
For Pickled Vegetables
Pickle the cucumber, tomatoes and carrot in a spate bowl, add chilli vinegar, salt and sugar and keep it aside.

To make the hummus and Tatziki dip click on the ling and follow the instruction given and keep it ready.
For the Falafel
We will now cook the soaked chickpeas until it is very soft. I personally like to use a pressure cooker. Click here to see how to cook chickpeas in a pressure cooker.

You will know the chickpeas is cooked well, when you press it between your fingers, it will mash up.

The next step is to proceed to make the falafel. Combine all the ingredients, including the cooked chickpeas except the oil in a food processor.

Blend to make a coarse thick paste. Check the salt levels and adjust to suit your taste. Divide the falafel batter into small portions of the size of a ping pong ball and flatten them slightly lightly.

I use a Kuzhi Paniyaram pan to fry the falafels and the result is very similar to the deep fried ones.

Add a half a teaspoon of oil into each of the cavities, place the shaped falafel into the cavities and pan fry them until it is crisp and browned on both sides.

Add few more drops of oil when you flip over to fry them on the other side. This will help in getting the even color for the falafels.

You can alternatively, heat oil for deep-frying and deep fry these falafels until browned evenly on all sides. Drain them out and place it over napkin to take out the excess oil.

It's time to assemble the shawarma, Take one cooked flat bread, spread 2 tablespoon of hummus evenly, and add a tablespoon of the tzatziki sauce also.

Place one cucumber, carrot and tomatoes julienne in the middle. Also place the falafels add chopped onion and roll it tightly.

Use a cut butter paper and keep the rolled shawarma at one corner and wrap it over and fold the end inside and serve.

Serve the Veg Shawarma Recipe along with Grilled Winter Vegetable Salad and a Mixed Fruit And Vegetable Juice by the side to make your meal complete.