Warqi Paratha Recipe
Warqi Paratha Recipe is a flaky, rich paratha, loaded with ghee. The paratha dough requires quite a few folds to ensure the layers stand out well once cooked. Serve warqi paratha with a dal or gravy for a complete weeknight dinner.

Archana's Kitchen
On

Sunday, 13 January 2019 10:00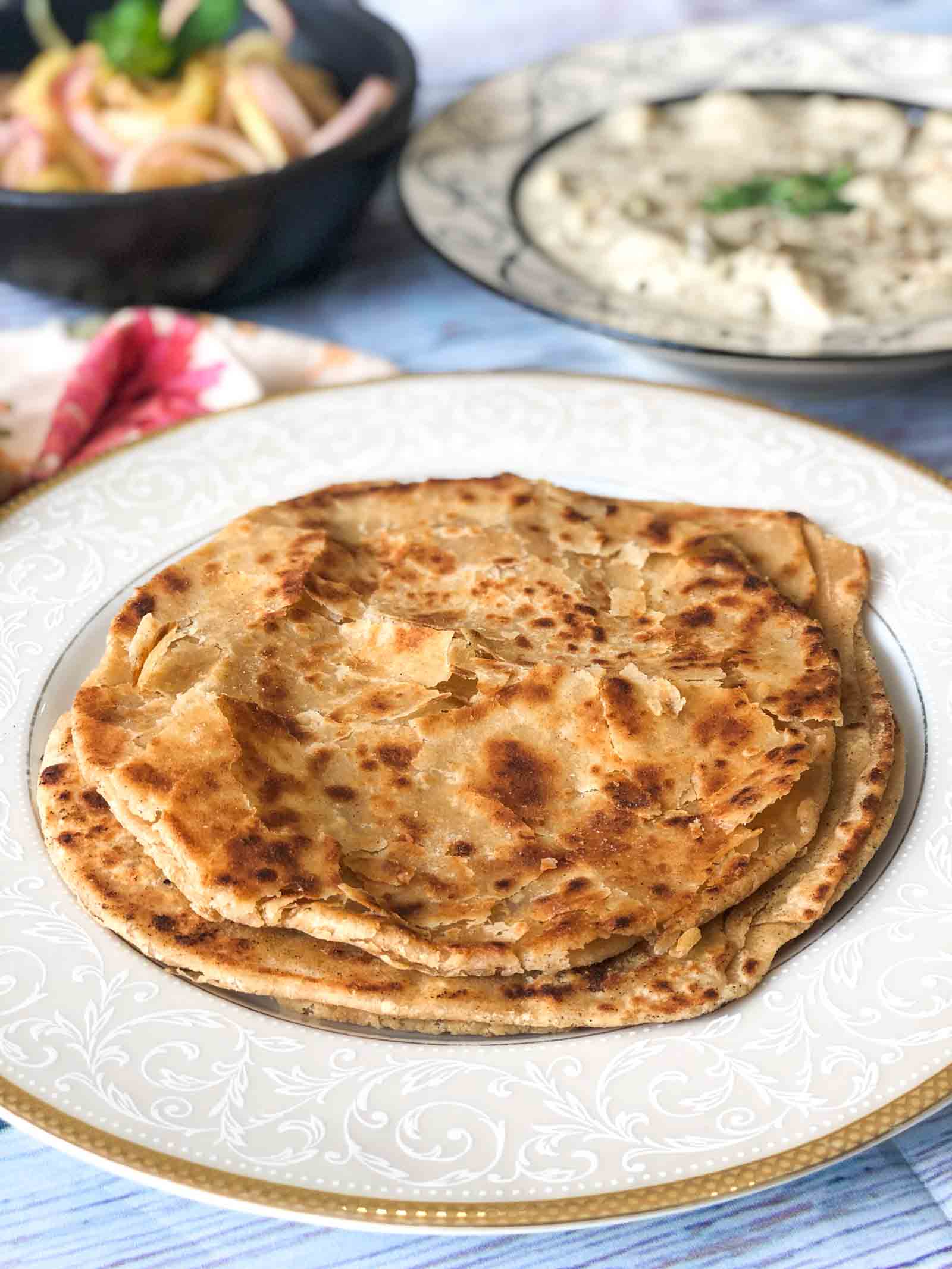 Ingredients
How to make Warqi Paratha Recipe
To begin making the Warqi Paratha Recipe, we need to make the dough first.

In a mixing bowl, combine the all purpose flour along with the salt, sugar, ghee and milk.Mix well.

To bring the dough together use just enough water and make the warqi dough ball, kneading well.

Once you have a nice smooth warqi dough ball, cover with a wet muslin cloth and set aside for 30 minutes.

After 30 minutes, place the warqi dough on a work surface and flatten the entire dough with your palms, dust some flour over the dough on both sides and begin to now flatten it with the rolling pin.

Once you have a nice big rectangular shaped flattened dough, generously spread melted brush on the surface using a pastry brush.

Now sprinkle some flour over it.

We need to now fold the warqi dough. To do this, fold one end of the dough to the centre of the dough and yet brush ghee and sprinkle flour over it.

Now fold the other side of the dough over lapping over the first fold to get one vertical rectangle.

Once again brush ghee and sprinkle flour and fold into a square.

Generously, dust with flour, transfer to a plate and allow it to rest in the refrigerator for 20 minutes.

Now repeat the process twice, from scratch by rolling this square dough into a rectangular dough sheet and fold like we did earlier, with layers of ghee and flour.

Refrigerate the paratha after each folding process.

Now roll out to medium thickness, by dusting it with flour, and cut using a cookie cutter or a cake ring.

To cut the warqi parathas, dip the ring in the flour and place over the flattened dough applying pressure.

Preheat an iron tawa on medium- high heat.

Rest the cut warqi parathas in the fridge for about 20 minutes.

Place the warqi on preheated tawa.

Cook the warqi for a minute on each side and then drizzle ghee generously and you will be able to see the layers from the edges.

Now remove the warqi paratha from the tawa and transfer it on a paper towel, hold the warqi paratha in your palms and lightly crush it to see the layers.