Whole Wheat Bagel Recipe With Sesame And Rosemary
Homemade bagels recipe to savour alone or with char grilled veegtables

Archana Doshi
On

Tuesday, 28 August 2012 10:53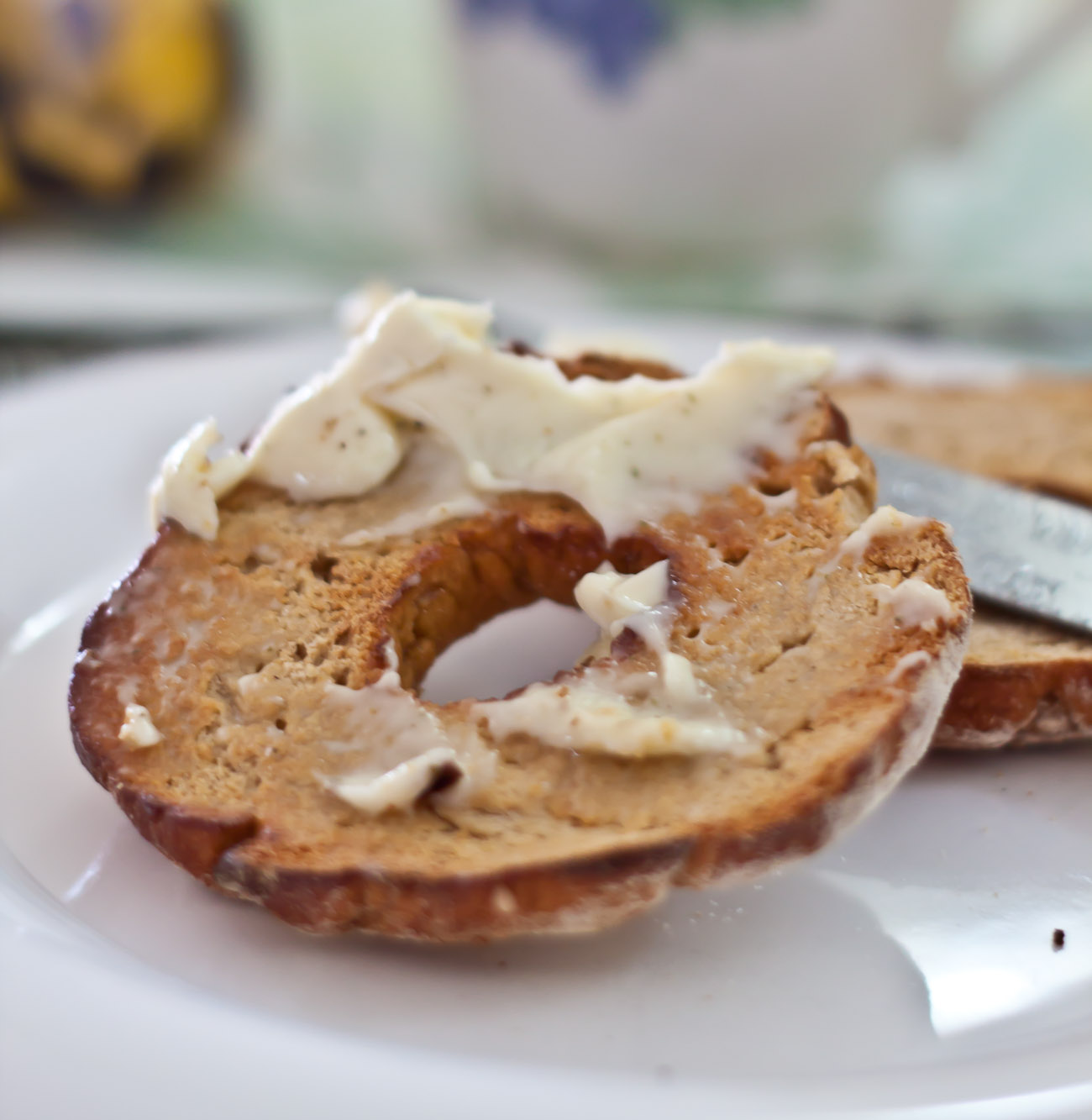 Made from a 5050 blend of flour these Whole Wheat Bagels With Sesame And Rosemary are super delicious. One of my favorites while in my stay in Boston was Einstein Brothers Bagels along with delicious rich cream cheese. I had been craving for those in a while and finally decided to dive in and get into the process of making the bagels at home, and the results were perfect the very first time. Serve Whole Wheat Bagels recipe With Sesame And Rosemary along with Roasted Broccoli And Potato Dip Recipe or along with char grilled vegetables.
If you like making homemade breads, you must try some of our favorites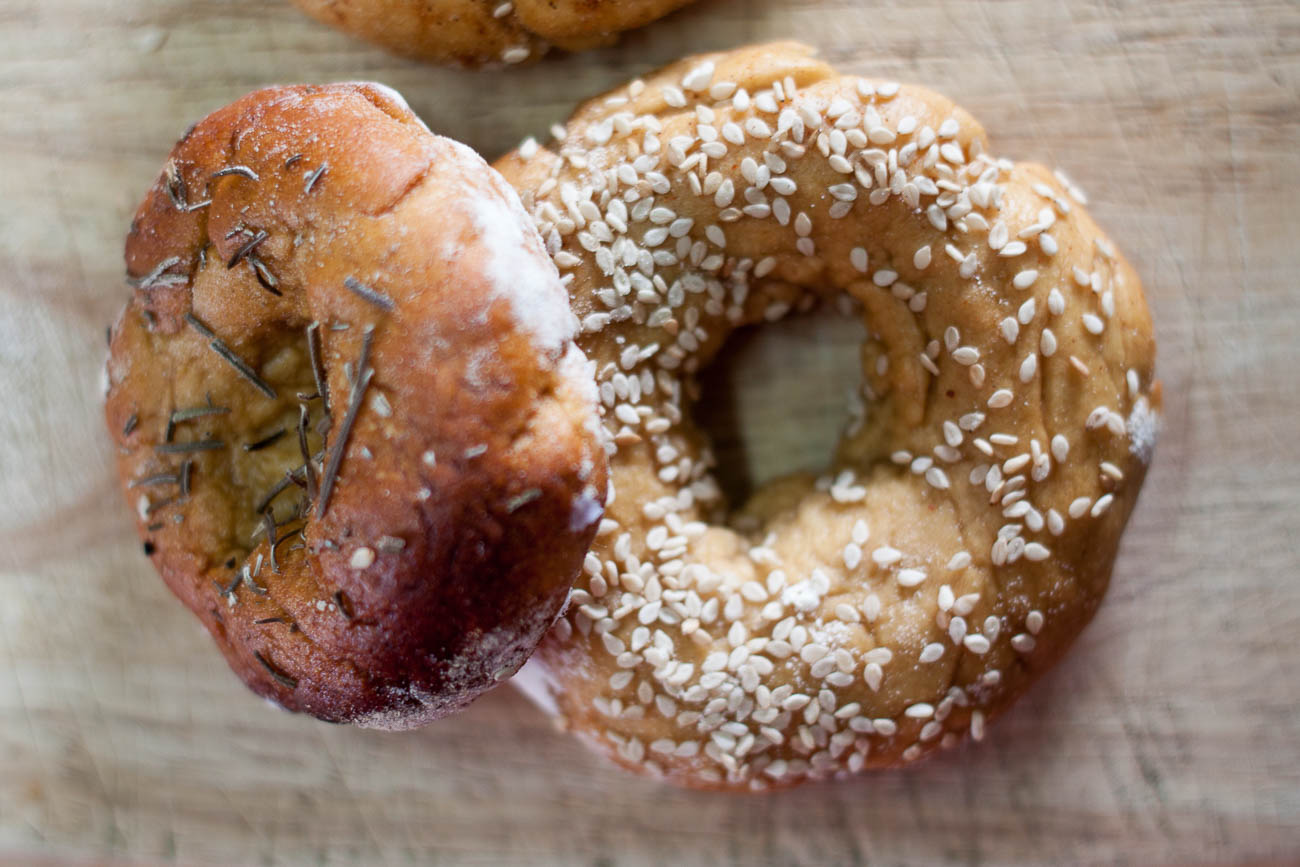 Ingredients
Ingredients For Bagel Dough
250 grams

Whole Wheat Flour

250 grams

All Purpose Flour (Maida)

260 ml

Lukewarm Water

3 teaspoons

Active dry yeast

2 tablespoons

Honey

3 teaspoons

Salt

20 grams

Butter

, softened
Ingredients For Caramel Water
100 grams

Sugar

4 liter

Water

1 teaspoon

Baking soda

All Purpose Flour (Maida)

, for dusting
For Garnish

Poppy seeds

, as required

Sesame seeds (Til seeds)

, as required

Rosemary

, as required
How to make Whole Wheat Bagel Recipe With Sesame And Rosemary
To begin making the Whole Wheat Bagels with Sesame and Rosemary, first prep all the ingredients and keep them ready/
Method for the bagel dough:
In a small bowl, combine the yeast, salt, honey along with 1/2 cup of warm water and set aside for proofing (if needed)

In the bowl of your stand mixer with the dough hook attachment; add the flour, yeast and the remaining water and salt.

Turn on the switch and knead the flour water mixture until all the flour gathers into a mass of dough.

At this stage add the butter and continue kneading for another 10 minutes until the mixture becomes smooth, elastic dough.

Remove the bowl from the stand mixer.

Cover the bowl with a moist cloth and allow it to rest and rise for about an two hours at room temperature.

The dough will have a rise and slightly collapsed look.

After 2 hours, preheat the oven to 200 C with a a ceramic tile or stone place in the middle of the oven. Place an empty broiler tray at the last rack of the oven.

We will use this to pour some hot water to create steam in the oven. Dust a baking sheet/ tray evenly with wheat flour and keep aside.

Carefully remove the dough from the stand mixer bowl and place it onto a clean working surface.

Divide the dough evenly into 15 portions, and then, using the palm of your hand gently roll each portion into a soft ball of about 3 inches in diameter.

It should only increase slightly in volume during this time.

It must not be allowed to over prove and get too large!
Method for Making the Caramel water
While the bagels are proving, heat a large saucepan with 4 liters of water on high heat.

Stir in the sugar and allow it to melt completely.

Reduce the heat to medium and lightly caramelize the syrup to a golden color, this process takes a good 20 minutes.

Finally stir in the baking soda.
Method Shaping and Poaching Bagels
Prepare kitchen paper towels dusted with flour to place the poached bagels

Pour water into the broiler tray placed in the last shelf, so it gets hot before we can bake the bagels.

Uncover the dough portions and push your two thumbs through the centre of the each ball and manipulating it a little, to create a hole.

The hole should be roughly 2 inches in diameter. Repeat the same process with the rest of the balls.

Now drop bagel shaped dough individually into the simmering caramel water and allow them to simmer for 1 minute on each side.

If you have a large sauce pan you can add more than one bagel, but take care not to crowd the pan.

This procedure is the secret to bagels having a slightly chewy crust, as the dough is enveloped in an invisible caramel coating.

Once poached, gently remove them with a slotted spoon to remove any excess water and place on a kitchen paper towel that is dusted with flour.

This will absorb some excess water from the bagels.

Transfer the poached bagele to the floured baking sheet/tray. Sprinkle the poppy seeds or sesame seeds or rosemary evenly over each bagel pressing very gently so they stick.
Baking the Bagels
Place the tray into the ceramic stone in the oven and close the oven door. Bake the bagels with steam for 15 to 20 minutes until deeply golden browned and firm.

Allow them to cool down for at least half an hour before serving.

Slice them them into half with a bread knife and serve the Whole Wheat Bagels toasted along with cream cheese. They are simply delicious. Serve along with Roasted Broccoli And Potato Dip Recipe or along with char grilled vegetables.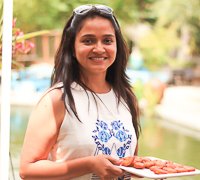 Archana Doshi is the founder of Archana's Kitchen. Archana launched Archana's Kitchen in 2007 as a way to keep track of her and family's recipes, and along the way grew it into one of the most popular cooking websites in the world. Archana is dedicated to helping home cooks be successful in the kitchen. Archana says "I hope you enjoy cooking recipes from my website where the sole effort is to make cooking simple for you. When you try out one of our recipes, we are longing to hear back from you. Do take your time to come back and share your comments, as your feedback means a lot to me"