Zucchini, Corn And Smoked Cheese Muffins Recipe

Monika Manchanda
On

Monday, 15 June 2015 00:35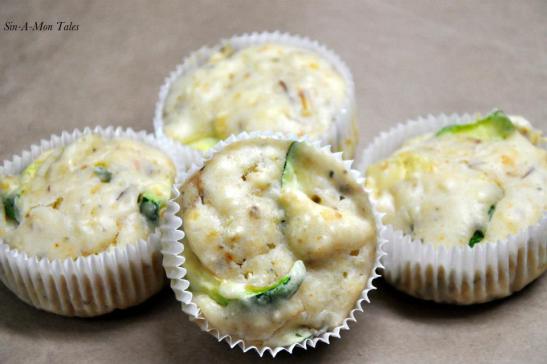 Zucchini, Corn And Smoked Cheese Muffins is a savory muffins recipe perfect for school snack box. These muffins can be baked over the weekend and store in an airtight box in the fridge. Snacks like muffins add great variety to the evening teatime snack or the school lunch box. It can also be a great bake treat to serve for the tea party with friends.
Serve Zucchini, Corn And Smoked Cheese Muffins with Spicy Mexican Salsa Sauce or on its own, either ways it tastes
delicious.
Other recipes that you can try are:
Ingredients
1-1/2 cups

All Purpose Flour (Maida)

3/4 cup

Cheddar cheese

, smoked, grated
1

Green zucchini

, chopped
2-3

Baby corn

, chopped

Salt and Pepper

, to taste
1 cup

Buttermilk

1-1/2 teaspoon

Baking powder

1 teaspoon

Basil leaves

1 tablespoon

Extra Virgin Olive Oil

2

Whole Eggs
How to make Zucchini, Corn And Smoked Cheese Muffins Recipe
To begin making the Zucchini, Corn And Smoked Cheese Muffins first saute zucchini and baby corn in a tablespoon of olive oil till slightly browned over medium heat.

In a mixing bowl, whisk together eggs and buttermilk lightly, we just need to mix them together not over beat. Add grated cheese to it and whisk for few seconds to combine well.

In a separate bowl mix together flour, pepper, salt, basil and baking powder. Add the egg mixture to the dry ingredients. Gently fold to form a smooth lump free muffin batter.

While you are preparing the muffin batter preheat your oven at 180'C. Grease a muffin pan with little butter or line it with paper liners. Pour the prepared Zucchini, Corn and Smoked Cheese batter in the muffin pan.

Bake in the preheated oven for 15 - 20 minutes or until a toothpick inserted at the center comes out clean.

Transfer Zucchini, Corn And Smoked Cheese Muffin on a wire rack to cool down completely.

Serve Zucchini, Corn And Smoked Cheese Muffins warm or at room temperature with Mexican Tomato Salsa.