Assamese Poita Bhat With Aloo Pitika Recipe
Simple gluten free breakfast recipe

Jyothi Rajesh
On

Tuesday, 28 February 2017 00:52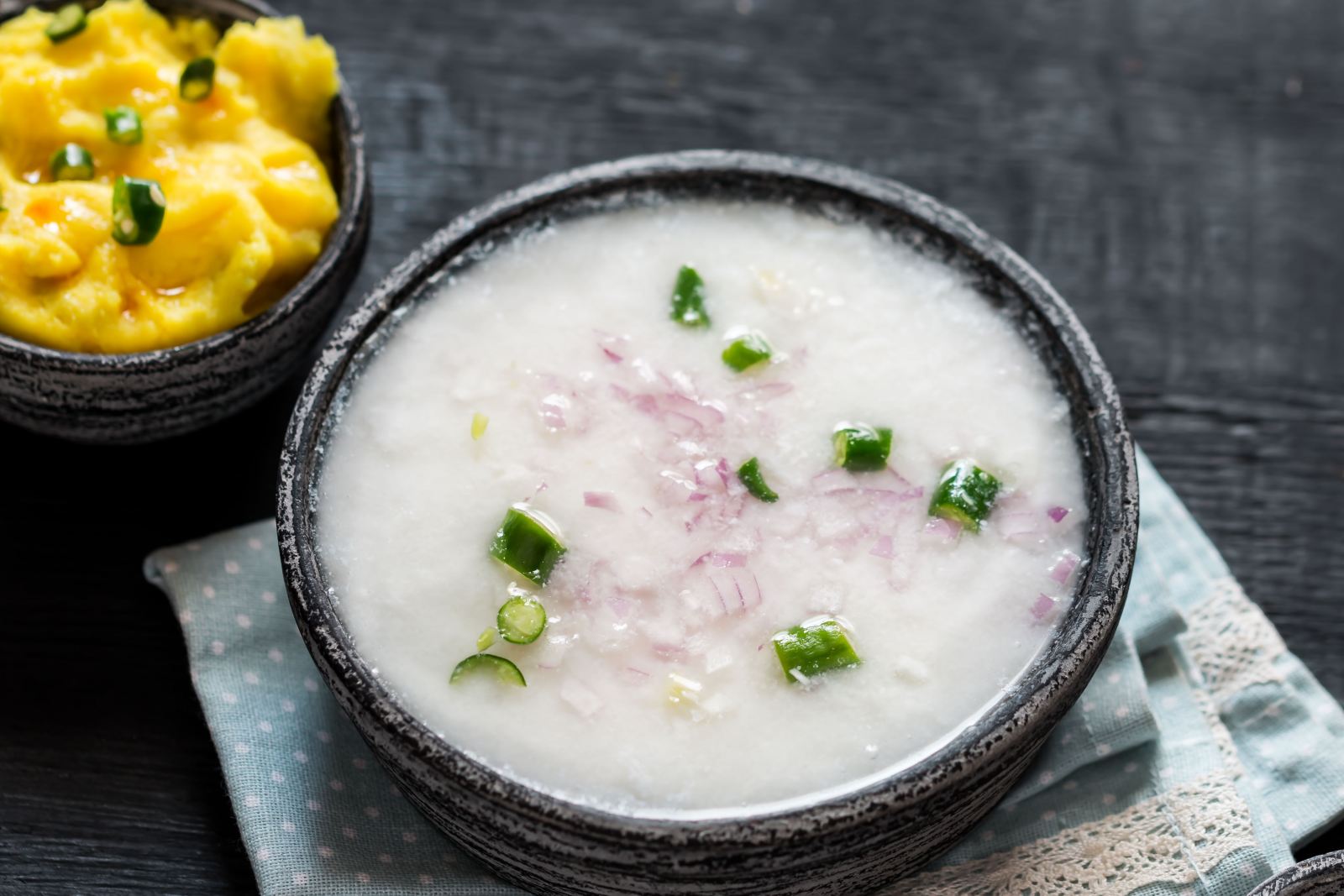 Assamese Poita bhat is a very humble breakfast dish. It's a healthy body coolant for summers with poita bhat with aloo pitika is so comforting! The slightly fermented rice has lot more health benefits. It is believed that regular consumption of this kanji can ease you from your stomach ulcers, prevents you from dehydration during summers, and is also rich is vitamins (vitamin B12 in specific). So next time you have leftover rice from your dinner, turn it into a soothing and comforting breakfast for next morning by soaking the left over rice in water overnight.
The fermented rice soupy kind of bhat is traditionally served with mashed potato which is seasoned with mustard oil and some green chilies for flavor. A very popular, simple, poor man's breakfast in Assam region is this Poita bhat with aloo pitika.
Here are a few more recipes from Assamese cuisine
Course:
North Indian Breakfast
Ingredients
For Poita Bhat
1 cup

Cooked rice

, soaked in 2 cups water over night
1/4 cup

Curd (Dahi / Yogurt)

, or ½ cup buttermilk
2 tablespoon

Onions

, chopped
2

Green Chillies

, finely chopped

Salt

, to taste
For Aloo Pitika
3

Potatoes (Aloo)

1/2 teaspoon

Turmeric powder (Haldi)

1 tablespoon

Mustard oil

2

Green Chillies

Salt

, to taste
How to make Assamese Poita Bhat With Aloo Pitika Recipe
To prepare Assamese Poita Bhat With Aloo Pitika Recipe, soak leftover rice rice in 2 cups water overnight.

Next morning, add beaten curd or buttermilk and mix well in a mixing bowl. Add salt, chopped onions and green chilies. Keep aside.

To prepare aloo pitika, boil potatoes, peel the skin and mash it well. Make sure no lumpy pieces are present.

Heat mustard oil in a kadai and when oil turns smoking hot, add turmeric powder.

Whisk it quickly and pour it into mashed potatoes. Mix well.

Add chopped green chilies and mix again. Aloo pitika is ready.

Serve Assamese Poita Bhat With Aloo Pitika Recipe for breakfast.